Theresa May's threat of a trade war with the EU is not "credible" and would be "very dangerous" for British jobs, the world's leading investment bank has warned.
The memo, seen by HuffPost UK, claims British firms will suffer because May and Brexit Secretary David Davis will not be able to achieve a comprehensive trade deal with the EU within their planned two-year timetable.
JP Morgan economist Malcolm Barr suggested that May was bluffing in her threat to turn the UK into an aggressive tax haven if the EU refused to agree a trade plan in time.
"One might expect a successful negotiating strategy to have ambitious objectives and a credible fall back position. May certainly has the former. But we doubt the Prime Minister has the latter," he wrote.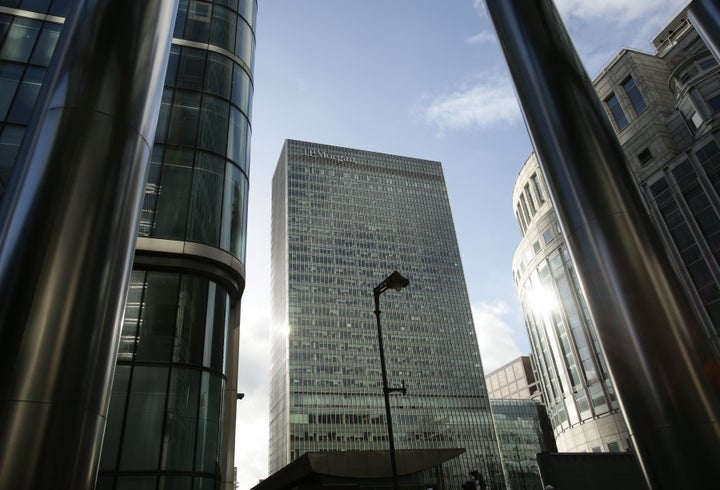 May delighted Eurosceptic Tory MPs on Tuesday when she suggested the UK would rely on minimum World Trade Organisation (WTO) trade rules if it could not sort a deal.
But the American investment bank was withering in its verdict on her speech.
"The notion that the UK can simply "fall back" to WTO rules as providing an alternative (as summarised in "no deal is better than a bad deal") is, in our view, very dangerous," Barr wrote.
"Significant parts of the UK service sector would, under these conditions, lose their ability to provide services to EU-based counter-parties overnight.

"Much of the plumbing that supports trade in goods and services on a day-to- day basis would be left without defined administrative processes and legal foundation. The imposition of tariffs is almost a side show relative to these issues."
He added that the threat of turning Britain into an offshore, low-tax rival to the EU was not viable and lacked political consensus need to make Europe really fear it.
"THE UK is threatening that under constrained market access it would reinvent itself as a pseudo-Singapore of Northern Europe via low corporate tax rates and a 'new economic model'.
"We note that the success of such low-tax entrepots has typically been at least partially based on the ability of firms to access markets in their locale, not on the withdrawal of that access. And, as we wrote yesterday, it is far from clear that there is a durable political commitment to the UK becoming a permanently low-corporate tax, low-regulation locale."
On May's planned timetable for concluding a new UK-EU trade deal by 2019, at the point when Britain formally quits the bloc, Barr made plain that it was highly unlikely.
The JP Morgan economist, who is based in London, forecast a difficult few years ahead.

"Taken as a whole, we do not view the no-deal WTO option as credible. So what happens in these negotiations? We assume that the EU will not seek a punitive arrangement for the UK, only that it will negotiate guided by its legitimate self-interest. Even so, we see a high likelihood of a disruptive and damaging outcome.
"For some time, we have argued that the bespoke FTA route would ultimately see the UK realise that it could not land the required deal within a pre-2020 election timeframe, while the option of a "WTO only" route would be recognised as untenable.
"Hence, it would be forced to prioritise a set of sectoral deals while seeking to extend the Article 50 process, and the result would be an exit under a hastily arranged patchwork of deals with some sectors seeing significant disruption upon the EU exit."
Barr aded that one alternative was that the EU would offer the UK a heavily modified temporary version of European Economic Area membership "to allow further time for discussion on future arrangements as the EU exit occurs"
"While that may have broader sectoral coverage, accepting it would come at high political cost for May, having eschewed the EEA route at the outset….Furthermore, we suspect that the EU itself will warn that the UK is trying to accomplish too much in a limited time frame, and may suggest other ways of moving toward those aims."
Davis insisted on Wednesday that his two-year timetable was achievable and that the EU accepted Britain had a 'realistic' plan for Brexit.
The pound rallied on Tuesday as markets seized on the certainty that the UK would pull out of the EU single market and customs union.
WPP ad firm chief Sir Martin Sorrell told the BBC: "businesses can now plan for the worst". HSBC's Stuart Gulliver said overnight 20% of his London staff could move to Paris.