A group of actors from hospital sitcom 'Green Wing' have joined real striking junior doctors on the picket line today.
The stars stood in solidarity with NHS medics at Northwick Park Hospital in London to protest against Jeremy Hunt's contract being imposed on junior doctors.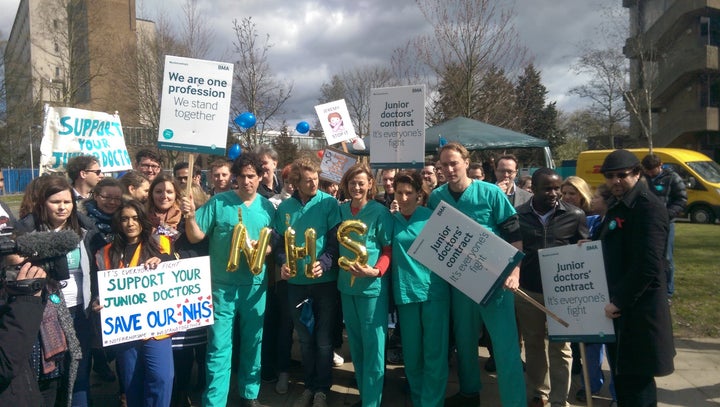 Writer and comedian Stephen Mangan, who played 'Guy' in the Channel 4 series, said he was "delighted to support" the striking doctors, appearing with four of his co-stars today.
"The country is overwhelmingly behind you," he wrote in a post on Twitter, along with a photo of himself with actors Julian Rhind-Tutt, Tamsin Greig, Oliver Chris and Pippa Haywood.
The five stars chose to support aggrieved medics at the north London hospital because this was where they filmed their popular two-series show.
Mangan told the BMJ that Hunt had made a "mess" of the contract negotiations and called on health ministers to reopen talks with the British Medical Assocition (BMA) to halt a series of planned strikes.
"Green Wing was, in many ways, absolutely ridiculous but it's nowhere near as ridiculous as the mess Jeremy Hunt and the Department of Health have made of these negotiations with the junior doctors," he said.
"We're here to support the docs at the hospital where we filmed Green Wing and to urge the government to listen to the medical profession's concerns so that this strike action, which no one wants, can end."
Bea Bakschi, a 29-year-old junior doctor GP trainee, said Mangan and his co-stars were "standing on solidarity" with strikers and had been "really really supportive".
He was not in the mood to talk though, making a quick escape for the Department of Health on his bike.