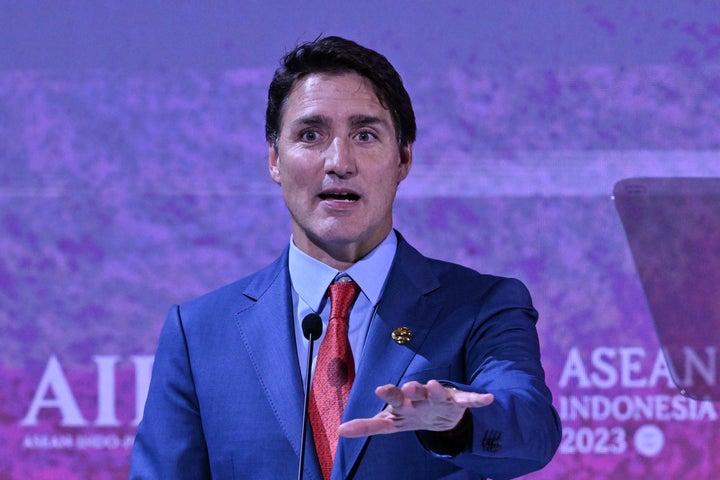 Justin Trudeau has spoken up after the Canadian parliament gave a Ukrainian man who fought for the Nazis in World War 2 a standing ovation.
Yaroslav Hunka was declared a hero by the Canadian House of Commons speaker, Anthony Rota, on Friday, while the Ukrainian president Volodymyr Zelenskyy was visiting.
Rota pointed to Hunka when he was sitting in the gallery, calling him a "Ukrainian hero, a Canadian hero", adding: "We thank him for all his service."
However, the 98-year-old veteran's connections to the Nazis have since been uncovered.
He actually served in a voluntary unit primarily made up of ethnic Ukrainians under Nazi command. The unit has been accused of killing Polish and Jewish civilians, but has not been found guilty of war crimes.
It was renamed the First Ukrainian Division before its surrender in 1945.
The speaker of the House, who had invited Hunka, said in a statement on Sunday that he only became aware of such information after the veteran's visit, and now "regrets" his decision.
"No one, including fellow parliamentarians and the Ukraine delegation, was aware of my intention or of my remarks before I delivered them," Rota said.
He added: "This initiative was entirely my own, the individual in question being from my [district] and having been brought to my attention."
He extended his "deepest apologies" to the Jewish communities around the world, and accepted full responsibility for the incident.
He apologised again in person on Monday from the house.
Opposition politicians have called on him to stand down.
But, Trudeau has not echoed these calls, even though they belong to the same Liberal party.
He told reporters on Monday that it was "extremely upsetting that this happened", while denying he had a private meeting with Hunka or had a hand in choosing to invite the veteran.
He added: "This is something that is deeply embarrassing to the parliament of Canada and by extension to all Canadians."
Ukrainians fought both for Germany and the Soviet Red Army during World War 2.
Some of those who joined the Nazis reportedly aimed to achieve independence from the Soviet Union.
The Canadian Jewish group, the Centre for Israel and Jewish Affairs said it appreciated the apology, but called for "proper vetting" to prevent "such an unacceptable incident" happening again.
Poland's ambassador to Canada has expressed anger too, saying he wants an apology.
This is an especially unfortunate turn of events because the Russian president Vladimir Putin has repeatedly claimed Kyiv is operated by neo-Nazis – and claiming his invasion of Ukraine will be a "de-nazification".
These claims are baseless – Zelenskyy is Jewish, and had relatives who died in the Holocaust. He was also democratically elected in 2019.
Trudeau noted on Monday that the incident in the Canadian parliament would help reinforce that rhetoric.
Kremlin spokesperson Dmitry Peskov has already waded into the saga, claiming inviting Hunka was an "outrageous" act.
He said: "Many Western countries, including Canada, have raised a young generation that does not know who fought whom or what happened during the Second World War.
"And they know nothing about the threat of fascism."