The presenter was paying tribute to her milkman on the ITV breakfast show, when she soon said something that had the studio erupting into giggles.
Kate said that her milkman Mick had been "amazing" and "kept her going" while her husband Derek Draper has been in hospital with complications caused by coronavirus.
She said: "He'll leave little notes saying, 'Do you need anything extra other than the milk?′ You know, like..."
Kate's co-host Ben Shephard burst into laughter, as did showbiz correspondent Richard Arnold and weather presenter Alex Beresford.
Realising her innuendo, Kate shouted: "No! No!
"I mean like bread, butter or orange juice," she insisted. "He leaves a little smiley face."
"I bet he does," Ben joked. "Are you still answering the door in your dressing gown and those fluffy slippers?"
"And a showercap!" Kate said.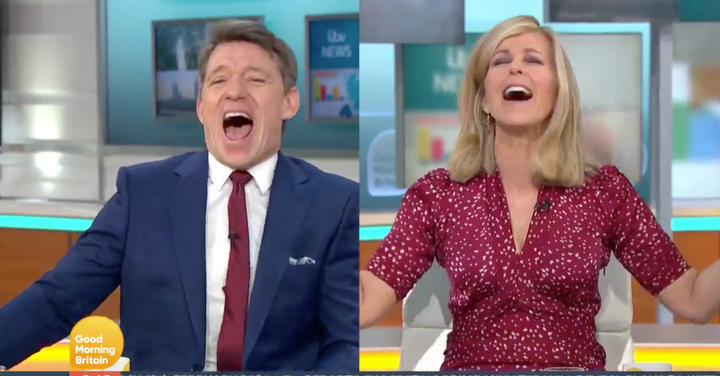 "Shall we move on to other people's messages before I get myself in trouble?" she said. "Even I didn't see that one coming!"
Derek has been in hospital for almost a year now, after contracting coronavirus in March 2020.
"I haven't seen him since Christmas, which means he's back into the situation of looking at strangers in masks," she said. "When you're someone like him that is dealing with a consciousness problem and trying to emerge, I can't help but feel like it's not very helpful."
Kate added: "That's very tough and, of course, there's no end in sight. That's a really tough thing.
"There's no one to blame, there's no one to be angry with, it's the situation we're all in."
Good Morning Britain airs weekdays at 6am on ITV.