Katie Hopkins was involved in a heated spat with a CNN presenter on Thursday after claiming that the network was "bias" in an interview, where she re-named the broadcaster the "Clinton News Network".
(See the full video of the interview at the bottom of this story)
The Daily Mail Columnist was interviewed by Hala Gorani and quickly got under the presenter's skin by suggesting the network supported Hillary Clinton.
After being asked if she thought Donald Trump would win the presidential race, Hopkins began by comparing the US election with the EU Referendum.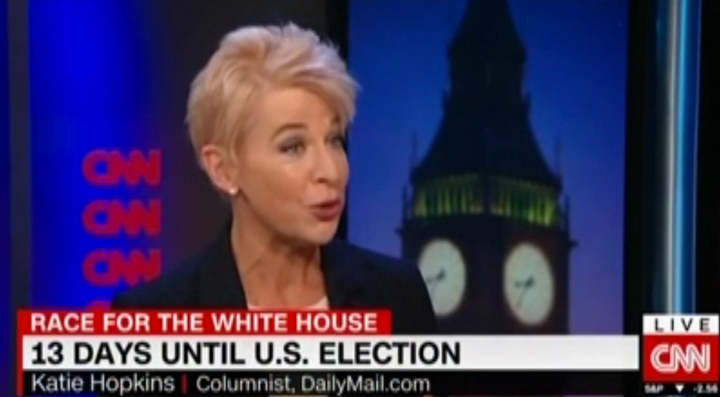 "I think he's (Trump) going to win. I think you guys are in for a big surprise, which I'm quite excited about," Hopkins said.
"We've seen quite a similar thing here in the UK with Brexit. We saw quite a lot of the liberal press sneering at Brexiteers, we saw a lot of the sneering we see from the Clinton News Network."
Gorani then interjects to clarify if Hopkins was referring to CNN as the "Clinton News Network".
Hopkins: "That's exactly correct."
Gorani then asks why and Hopkins explains that on Twitter Gorani had earlier mentioned Clinton had a 12 point lead, which was different to polls that were being referenced in their interview.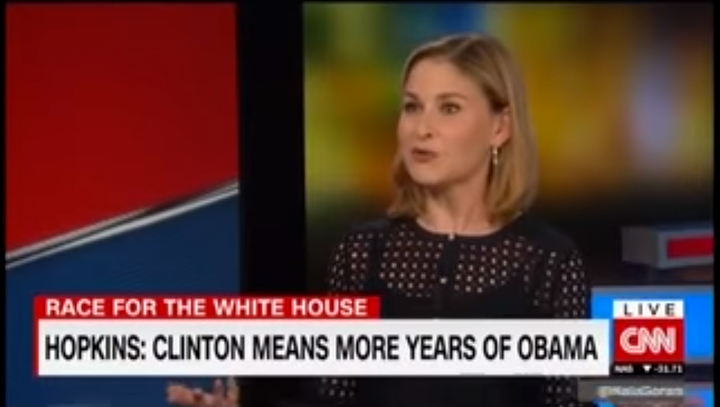 Before Gorani can reply, Hopkins adds: "It must be very hard for you."
The presenter then points out that the polls are "entirely different" and the network just "prominently" featured a poll that showed Trump had a "couple of points lead".
Hopkins then goes on to say that "we're all bored of the polls" and that no one should take any notice of them "whatsoever", before making another UK comparison and taking another shot at CNN's credibility.
"We learned that in the UK with Brexit. We learned that in the UK with the General Election.
"What I will say, having sat in the Republican convention in Cleveland and watched your news network... it is entirely bias in coverage. And I think Trump is doing a great job."
Gorani then becomes annoyed with Hopkins: "You keep making these accusations and quite frankly you can't back them up... not in air time..."
Later she adds: "I've worked here (CNN) 18 years and I can tell you there's nothing but balance."
Hopkins then attacks the network's coverage of the sex claims against Trump, saying that the broadcaster paints women as "victims", which she says many are not.
She then says 70% of polls show Clinton to be "utterly distasteful" before adding, "I find her abhorrent to look at... her little smile does nothing for me."
Hopkins then accuses Gorani of saying women "love Clinton", to which she responds: "You're literally misquoting me."
Gorani continues: "This conversation is going completely off the rails because it seems we're entering a post fact world where no matter what we say to you, you will actually deny facts and fabricate quotes to put them in my mouth."
The presenter then questioned Hopkins' support of Trump, and referred to some of the "absolutely vicious and disgusting" comments she made about immigrants in the lead-up to Brexit, such as referring to refugees as "cockroaches".
"Anybody who calls a human being a cockroach..," Gorani said, before Hopkins interjected with: "I don't think you speak for everyone, darling. Move on with your question."
The columnist then went on to say she backed Trump because he is a "small business owner... he really speaks to me and the people like me who work hard for a living... he gets things done."
Whereas Clinton, according to Hopkins, is "essentially just a wife of an ex-president."
Hopkins continued: "She was there supporting her husband while he was in the Oval Office with Monica Lewinsky on her knees next to him... that's not the strong kind of woman I want... that's not a strong woman to me, honey."
Gorani then objected to being referred to as 'honey'.
"If you call me, 'honey', that is very condescending," she tells Hopkins, before finishing the interview by asking the writer why she backed Brexit.
Hopkins explains Brexit was about "taking back control", then has a final stab at CNN, who she compares to the BBC.
Reaction to the interview has so far largely been from those supportive of Hopkins.
Although, not every one was in Hopkins' corner.