A boast by Katie Hopkins that she made a group of young people not vote in the EU referendum has been revealed as false.
The controversial columnist had posted a picture on Twitter of her with seven young voters at a Bite The Ballot event, claiming:
"I told these young people not to vote. And they didn't. Just call me the puppet master."
Her claim was rubbished by Jermain Jackman, a singer and political activist, who took the selfie of himself, Hopkins and the group of young voters.
Speaking to The Huffington Post UK, Jackman revealed that he knew most of those used to brag by Hopkins about her puppeteering skills had in fact voted on Britain's membership of the EU.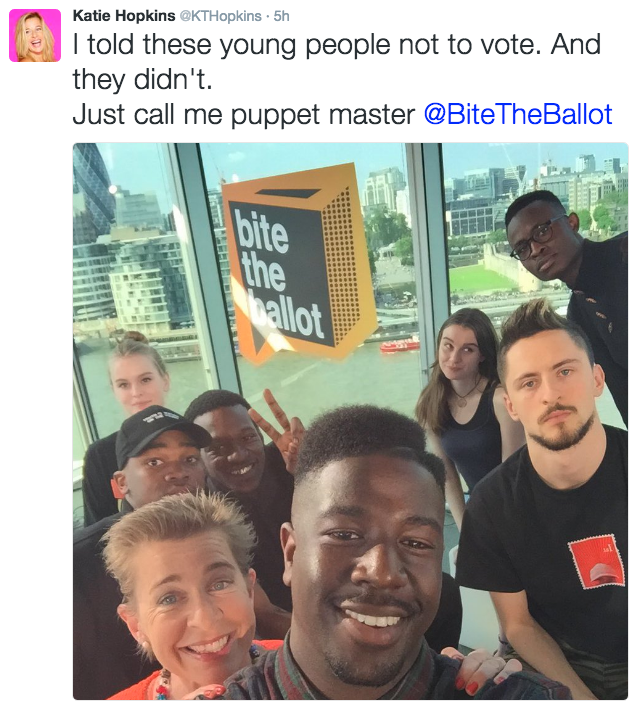 The only one he knew of who hadn't voted was under 18 and therefore ineligible to cast a ballot. But, he said, the boy - pictured on the far left of the photo wearing a black cap - had registered to vote.
Admonishing Hopkins' claim, Jackman said: "It's just a shame that we didn't get to remain in the EU, because I voted to remain, and I did vote - so that's a fact check for her and her tweet.
"I can guarantee that most of the young people, apart from one who was too young to vote, they all did vote and they voted to Remain."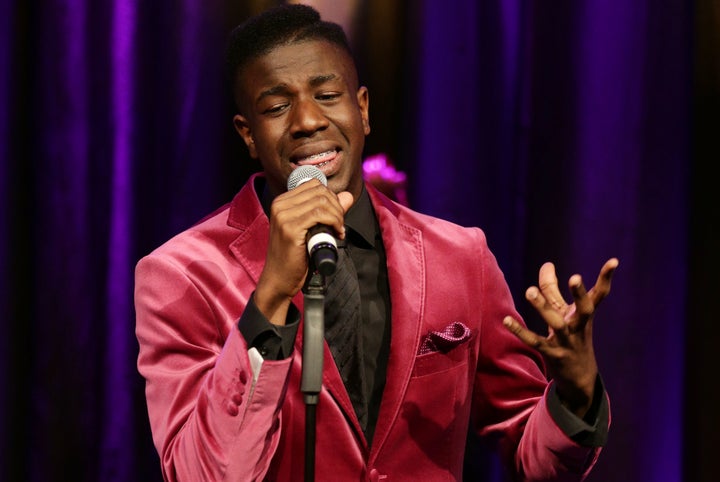 Jackman also warned that the false message used by Hopkins could "disappoint" and "discourage" many other young voters from engaging in politics, but vowed to keep fighting to encourage more under 25s to vote.
He also claimed to have received criticism from supporters when he took the picture standing alongside Hopkins, smiling.
"When I did the Bite The Ballot gig, a lot of people gave me stick for smiling in the picture because of Katie Hopkins.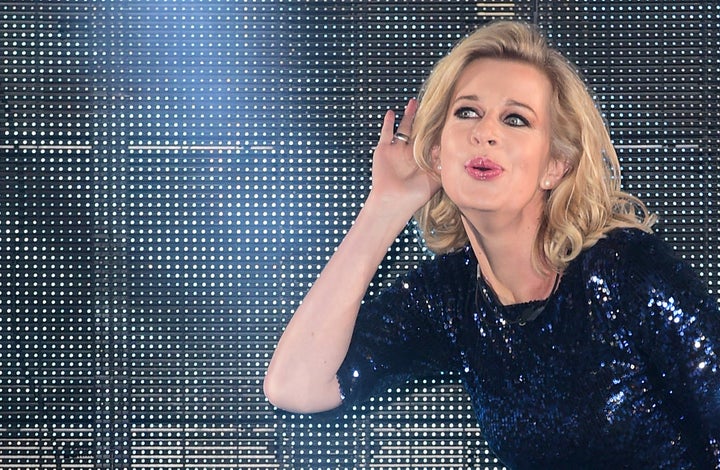 "I explained that Katie Hopkin's whole career is built on provoking people and getting a response from people - she doesn't know how to deal with kindness, and I was being kind to her.
"So I decided to kill her with kindness and facts."
YouTuber David Vujanic, also pictured in the photo, added that Hopkins had "outrageous beliefs".
He said: "We are the future, Katie isn't, let's give people like her less attention and focus on ourselves and what we can do to make this world a better place."
She told HuffPost UK: "I turned up to the Bite The Ballot event in my own time, in order to encourage young people to vote by telling them not to.
"That was on the basis that as someone with three small children under the age of 12, the things I tell them not to do are the various things that they do.
"So I do understand the psyche of young children - I'm including young people in that, of course."