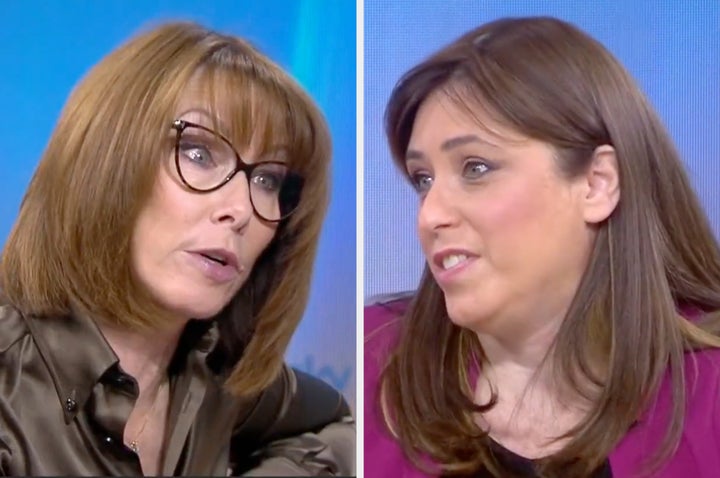 Kay Burley clashed with Israel's ambassador to the UK over the ongoing air strikes targeting Gaza this morning.
Since the Palestinian militants, Hamas, attacked Israel on October 7, and took more than 200 people hostage, Tel Aviv declared war and announced a siege on Gaza.
Amid growing calls for a total ceasefire, or a humanitarian pause in the air strikes to allow aid into the war zone, Israel's ambassador Tzipi Hotovely defended her country's actions.
She told Sky News: "We have no interest in hurting innocent people. Our only target is Hamas facilities."
"You are bombing them though," host Kay Burley said.
The ambassador replied: ″Oh really? Let me tell you something. The Royal Air Force in 1945 was trying to bomb a Gestapo HQ and they ended up bombing 86 innocent children.
″Was the Royal Air Force in charge of killing innocent children? The facts are yes, but their aim was Gestapo."
Burley asked: "So you accept you are bombing innocent people?"
Hotovely replied: "No – what I'm trying to say is, we're not bombing civilians.
"We are bombing military targets, according to the Geneva Convention, we absolutely have the right to do that.
"When those terrorists invaded, unfortunately, they are turning civilians into military targets."
The Geneva Convention forms the basis of much international humanitarian law and was officially adopted in 1949 following World War 2.
Its core principles include protecting the sick, wounded, medial and religious personnel, caring for the wounded, sick and shipwrecked during war at sea treating prisoners of war with humanity, and protecting all civilians – including those in occupied territories.
Hotovely continued: "It wasn't the aim of the Royal Air Force to kill those innocent children, but this is part of a war.
″We need to remember, Hamas was targeting our children, but we're not targeting any civilians, we're targeting only military targets."
Only on Wednesday, Israel locked horns with the UN's secretary-general Antonio Guterres after he said the Hamas massacre "did not happen in a vacuum" and that "Palestinian people have been subjected to 56 years of suffocating occupation".
He added: "But the grievances of the Palestinian people cannot justify the appalling attacks by Hamas.
"And those appalling attacks cannot justify the collective punishment of the Palestinian people."
Israel has since called for Guterres to resign and said it is banning UN representatives from visiting its country to "teach them a lesson".
She said: "As Oliver Dowden said, there is a serious condition in Gaza."
"Does that amount to a humanitarian crisis?" Burley asked.
The ambassador replied: "I would say there is a humanitarian crisis and Hamas is to blame for it.
"Because Israel allows medicine, food, water into the Gaza Strip."
She claimed the militants were stealing 24,000 litres of fuel, "abusing every international support" for its own war aims, and alleged the group is using people of Gaza as "human shields".
"I would like the world to join me and say, every civilian loss in Gaza – Hamas should be blamed for it," the ambassador added.
"Whoever is it to blame, doesn't mean that it isn't a humanitarian crisis," Burley pointed out.
Hotovely replied that people do need to think about who is to blame, because that is how to solve the problem.