Coronavirus has changed everything. Make sense of it all with the Waugh Zone, our evening politics briefing. Sign up now.
In his first PMQs as Labour leader Starmer said "something is going wrong" with the UK's handling of the crisis.
It came shortly before Matt Hancock, the health secretary, confirmed the UK was now "at the peak" of the Covid-19 outbreak.
But while Starmer and Raab took part in person, most questions from other MPs were asked via video link from TV screens hanging above the chamber to ensure social distancing.
Raab, the foreign secretary and first secretary of state, told MPs 69 NHS workers had now died from the illness, but was unable to give the same information for care home workers.
Labour said today the firms who had "not received a reply" from the government included Issa Exchange Ltd in Birmingham, which had offered a quarter of a million aprons and masks; Network Medical Products in Ripon, which says it can provide 100,000 face visors a week; and CQM Learning, which says it can provide 8,000 face shields a day.
Speaking in the sparsely populated Commons chamber, Starmer said: "A pattern is emerging here. We were slow into lockdown. Slow on testing. Slow on PPE. And now slow to take up these offers from British firms."
He told Raab PPE was essential for frontline workers "who are risking their lives to save ours".
"The least they deserve is the right protective equipment, and we've all heard countless examples of frontline workers not getting the equipment they need," he said.
"This has been a stress test of our resilience and the government plan is clearly not working."
Raab said getting PPE where it needs to be was "a massive international challenge that every country faces globally from China to Germany".
"Since the start of the outbreak, we've delivered one billion items of personal protective equipment and tens of millions have been distributed via the devolved administrations," he said.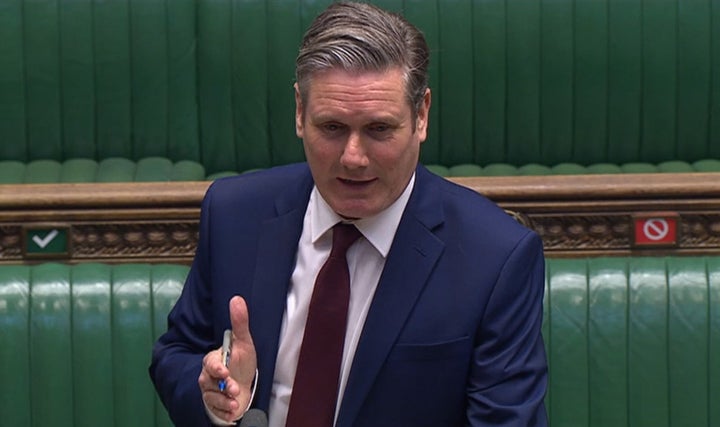 "I don't accept his premise that we've been slow. We have been guided by the scientific advice, the chief scientific adviser, the chief medical officer, at every step along this way," Raab added.
"If he thinks he knows better than they do with the benefit of hindsight, then that's his decision, but that is not the way we have proceeded and it is not the way we will in the future."
He said: "Eight thousand businesses have offered PPE in response to the government's call and every business receives a response."
This morning an RAF plane landed at Brize Norton from Turkey, after being sent to collect a shipment of PPE – including badly-needed surgical gowns.
McDonald wrote to the Commons Foreign Affairs Committee to say that his earlier evidence had been "incorrect" and reverted to the government's defence that the scheme was not initially joined because of a "communication problem".