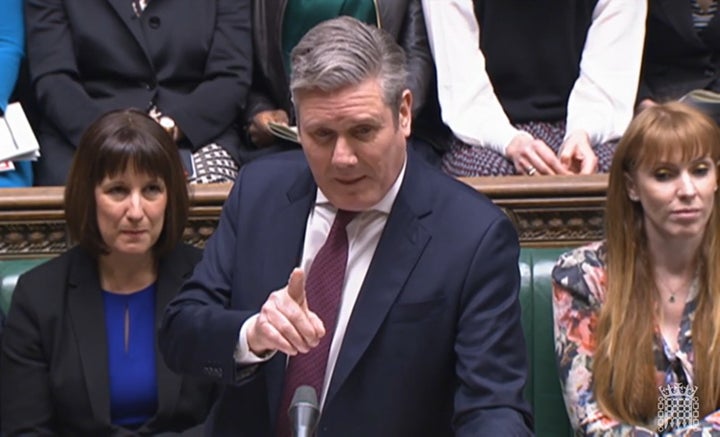 Keir Starmer has slammed Rishi Sunak for the "ridiculous, pathetic spectacle" of his failed plan to deport asylum seekers to Rwanda.
Speaking during PMQs shortly after the ruling, the prime minister said the government was now working to "finalise" a new treaty with Rwanda in light of the ruling.
Sunak added he could "change our laws" in the UK if needed to make it work.
He also suggested the government could ask another country to accept people seeking asylum in the UK as the court did say the "principle" of removing asylum seekers to a safe third country was lawful.
The flagship policy - first announced when Boris Johnson was still PM last year - was a key plank of Sunak's pledge to "stop the boats" carrying asylum seekers across the English Channel.
Starmer ripped into the prime minister and demanded he apologise for the wasted time and money.
"The most ridiculous, pathetic spectacle of all. His Rwanda scheme - cooked up with his national security threat home secretary - has blown up," the Labour leader said.
"He was told over and over again this would happen. That it wouldn't work and it was just the latest Tory gimmick.
"But he bet everything on it and now he is totally exposed. The central pillar of his government has crumbled beneath him."
Starmer said the PM was guilty of "wasting his entire time in office" on hoping the courts would approve the Rwanda scheme despite multiple legal defeats.
Right-wing Tory MPs have reacted with fury to the ruling, with one former cabinet minister warning it was a "confidence issue" in Sunak's judgement as PM and Tory leader.
Suella Braverman, who was sacked as home secretary on Monday and had been in-charge of the Rwanda policy, last night savaged Sunak, accusing her of ignoring her advice to prepare a "Plan B".
Sunak will come under intense pressure from right-wing Tory MPs to pull the UK out of the European Convention on Human Rights (ECHR) in order to implement the policy.
But new home secretary James Cleverly recently said he was "not convinced" that was a good idea.
And its judgement, the Supreme Court said it was not just membership of the ECHR which blocked the plan. "There are other international treaties which also prohibit the return of asylum seekers to their countries of origin without a proper examination of their claims," it said.
The court knocked down the law not because Rwanda itself was unsafe, but because there was a real risk people deported to Rwanda from the UK being sent back to their home country where they faced persecution.