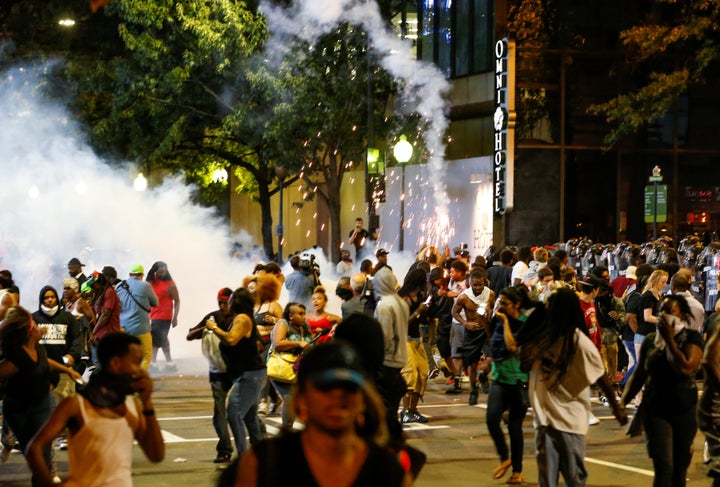 A video of police shooting dead a black man does not definitely show the victim was pointing a gun at officers, police have said.
The killing of Keith Lamont Scott, 43, has led to two nights of rioting in Charlotte, North Carolina, after his family disputed the police's claim he was armed.
Police said he refused to drop a handgun. His relatives and a witness to the shooting said Scott was holding a book, not a firearm.
Police Chief Kerr Putney said the video of Scott's death had no "definitive visual evidence" that the man pointed a gun at officers, though he claimed witnesses and other evidence backed up the police version of events.
Putney added the footage would not be released "to the masses" but said he hoped to be able to show it to Scott's family, as they have requested.
"As I said before, we're here to seek the truth so we're investigating to find the truth, the absolute truth, as best the evidence can show us," he told reporters.
Charlotte Mayor Jennifer Roberts told CNN she would review the footage, taken on dashcams and on officers' body cameras.
Todd Walther, from the Charlotte Fraternal Order of Police, told CNN: "You're still going to have that entity that's going to pick the video apart and put it out there that this was done wrong, or that was done wrong...
"The clear facts will come out, and the truth will come out."
The disorder broke out after a rally in response to Scott's death turned violent.
Protesters threw rocks and bottles at police in riot gear, smashed windows and doors and looted stores Charlotte.
Officers fired rubber bullets, tear gas, flash-bang grenades and used pepper spray to disperse the crowd.
A total of 44 people were arrested on the second night of disorder.
The slogan "Black Lives Matter", coined in response to the killings of hundreds of black people by US law enforcement, was spray-painted on windows.