Ken Loach is angry. The 80-year-old, whose career documenting Britain's social ills on film spans most of his adult life, is upset about the BBC interview he did just before meeting me.
Loach has made I, Daniel Blake, a film about one man's treatment by Britain's benefits system that left one critic in tears and won the prestigious Palme d'Or at Cannes, the biggest accolade for a director outside the Oscars.
But Loach says the BBC asked only about "benefit cheats and people getting benefits and not trying to look for work". "I didn't give them the answers they wanted, so it dominated the whole interview... Just repeating the same line of questioning," he says after sitting down, adding the "substance" of his film was lost.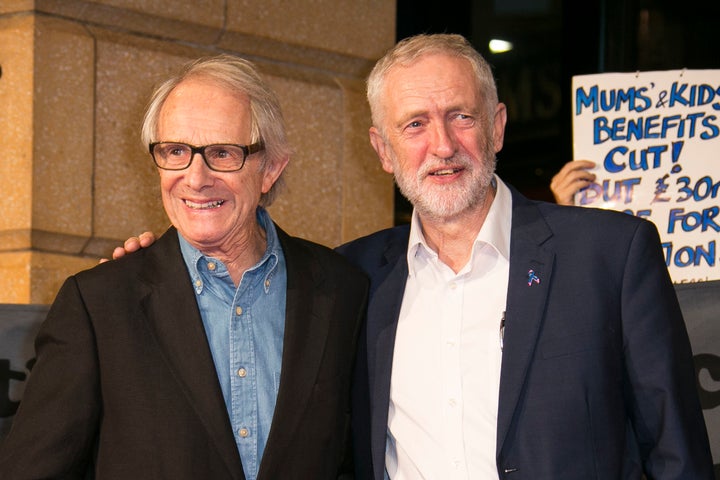 It feels like an understatement to say Loach is doing interviews to promote the film. It hardly needs it. Jeremy Corbyn told Theresa May to watch it during Prime Minister's Questions this week. It was denounced as "monstrously unfair" by Damian Green, the minister now in charge of the system the film condemns. He hastily added he had not seen it.
For Green's benefit: The film tells the story of Daniel Blake, a 59-year-old joiner who stops work after suffering a massive heart attack. His doctor says he is too unwell to work but the Department of Work and Pensions (DWP) declares him fit to work. This makes Job Seekers' Allowance his only option for benefits as he falls into poverty. But he will be sanctioned, with the money cut off, if he fails to prove he has been actively seeking work, which his doctor has said he is too unwell to take up.
When I went to see it, the audience sat in stunned silence as the credits rolled. Loach, his screenwriter Paul Laverty and their researchers heard stories from current and former DWP employees who are thanked but not named at the film's end. They heard about Job Centre staff being censured if they did not sanction enough people. One man with a long-term illness injured himself after falling at home and refused to get in the ambulance, afraid he would be kept overnight at hospital and then sanctioned for missing a Job Centre appointment the next day. "To live at that level of fear. These aren't cheats. Anybody could fall into that position," Loach says.
In a succession of media appearances in recent days, Loach blamed Labour MPs for the party's terrible polling, accused the press of bias against Corbyn and slammed the Tories for "conscious cruelty" over the benefits system.
"When you've really hit a raw nerve, you just realise how biased the mass media are," he tells me. "The BBC leads the way in echoing the views of the far-right tabloids." He says the press' attitudes to benefits claimants have a "malign affect" that "sets up a group of people who are less than the rest of us... who are not given the respect that everybody deserves".
Loach calls politicians' attack on his latest film "predictable". He tells me his famous 1966 film about homelessness, Cathy Come Home, triggered a similar reaction from politicians. "We were expecting it. They've been true to form," he adds, saying Green and his predecessor Iain Duncan Smith must know the film is accurate. "Either they know it's true or they're in denial. It's easy enough to discover, just go along to the nearest food bank and you'll have a notebook full of stories."
We meet at his Soho offices in a low-ceilinged room with a single table and chairs, film posters on the walls and cardboard boxes of film canisters on the floor. Loach is slightly stooped and as softly-spoken as he is angrily emphatic. We're ostensibly here to talk about the film but the conversation moves to Corbyn without my prompting.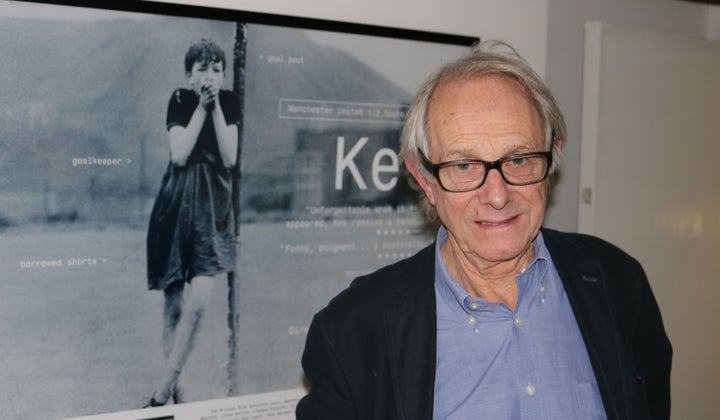 He complains The Guardian does not support Corbyn. When I suggest this is "telling" about the Labour leader's abilities to win support, Loach says: "It's the most telling of all. That's who would you would expect to support these policies. They don't attack the policies, they attack him... If The Guardian spoke up for him, the BBC would feel more compelled to reflect it. There isn't a single broadsheet that supports [Corbyn]. The BBC and ITV feel justified in adopting the same stance."
The film seems to have riled the Tories on the issue of benefits more than anything Labour has said under Corbyn. As well as Green's condemnation, the DWP called it "a work of fiction, not a documentary". Loach clashed on BBC Question Time with Communities Minister Greg Clark over it. Films can reach further than politicians whom people simply ignore, he says. "It's a different medium isn't it? People switch off from politicians... They feel [politics is] a private discussion with private gossip and something from which most people are excluded. Politicians don't speak for them."
Loach believes Corbyn would end the DWP declaring the unwell fit to work and the sanctions given out for minor infractions. When I ask Loach what he meant when he accused the Tories of "conscious cruelty", he says they are setting people up to fail by making sanctions inevitable. "Staff have told us if they don't sanction enough people, they are then trouble. We've seen an email that went round to all staff showing the number of sanctions each job coach had given. The only the three who had done the most were satisfactory. The rest had to improve... In other words, they had to improve by sanctioning more people, regardless of what they had done."
Loach thinks a more right-wing Labour leader would not radically alter the system. "They might make the minor adjustment but they wouldn't do anything substantial." He is adamant Labour's unlikely leader could reach Downing Street.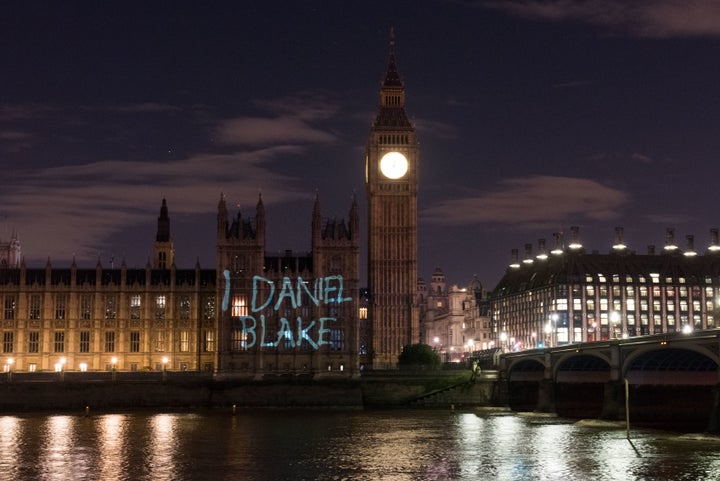 Loach says "almost all" the party's bad polling is down to MPs resisting Corbyn's leadership. Policies like re-nationalising the railways or removing private subcontractors from the NHS are popular, he says, but "when people are told they're Labour policies under Corbyn, they're against it. The policies are popular. He's got that right. It's the divisions in the party that are ruining it."
My attempts to get him to agree Corbyn's troubles securing support have something to do with his shortcomings as a politician fail. The nearest I come to success is when Loach concedes the detail of Corbyn's policies needs developing. "It's very hard, they're just beginning. The party machine is not working with him... [Corbyn] needs a strong group with him, as anybody would."
Loach quit Labour in the late 1990s under Tony Blair, having joined in 1964 to canvass for Harold Wilson.
Loach says he would not have believed two years ago a party could attract so many members. But he is unsure he would ever return as one himself. "I don't think it matters much if I'm inside or outside to be honest," he says, but then tries to rephrase. "No, don't let me say that." He thinks. "Because of the film, we can all say what needs to be said... I can say I support Jeremy and John McDonnell. I can say that from outside the Labour Party."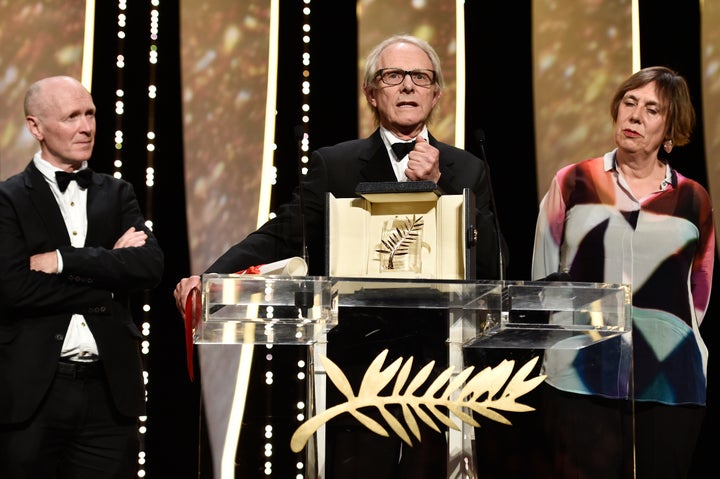 He calls Theresa May "tedious beyond words" and a "plastic confection". "She's a Tory machine politician and she will do what Tory politicians do," he says. "The interests of business are profit. That means they've got to put their investment where the labour's cheapest. Otherwise they can't sustain a profit to match their competitors. If their profit doesn't match the competitors, the investors will leave them and and go to where they can make big profits.
"That's the logic of [The Conservatives'] system. They have to support that big business, that corporate interest. If they support that, that means they have to collude in supporting a vulnerable workforce.
"A vulnerable workforce means a pool of unemployed and it means low taxes. It means labour laws that won't defend workers' interests. The logic of their situation precludes compassion, if, by compassion, we mean everybody having a life of dignity and security."
If the Tories are destined to be indifferent to the sort of people Loach makes films about, does backing Corbyn make sense when Labour are so low in the polls under his leadership? "You've got to assert basic principles. It's not about taking one step back to have two steps forward," Loach says. "I'm not a politician. People who make films are there to assert basic principles of how we should live together and to say that loud and clear sometimes... That's our role."
But he admits it will be a "struggle" for Labour to win. "In 1945, the press called for Churchill to be elected and the people elected Labour. The ruling class couldn't believe its eyes. Why shouldn't the same thing happen again?"
Loach calls Corbyn's rise "a great hope" when he first mentions him in our interview. Towards the end, I ask what hope he has for people like those depicted in I, Daniel Blake. He pauses and sighs. "Well, I don't see any hope without change. There's no hope as long as this situation, this political settlement, goes on." He calls Labour MPs hostile to Corbyn "the primary obstacle". He then apologises for "going on" about them.
Loach has made films about homelessness, Britain's brutality in war and workers' rights, among other themes. If he had to decide which injustice his next film were about now, what would it be? "I don't know. I think there's so many." What he comes up with sounds like a unifying theme that draws together his whole career.
"The nature of work is very interesting. We've gone from job security to what the Europeans call precarious work. You can have a contract with an employer. You have to be available to that employer all the time but the employer has no commitment to give you any work at all.
"That instability, where it's impossible for people to plan families, impossible for people to even get a home that isn't rented, impossible to imagine a life of security."
I ask if Britain is a fairer society than 50 years ago. He immediately says no. He feels the ideal of the welfare state - that "we are our brother's keeper, our sister's keeper" - is gone. He condemns "Neo Liberal" trade deals like Ceta and calls the EU "a project to support big capital", though he voted to remain so he could forge links with other European parties on the Left.
He has voted Labour at times since quitting the party, even at the last General Election, despite having "no illusions" about Ed Miliband. "It's still the party of the working class... Electoral politics is a tactical game," he says. When you make films, however, "you go for the big ideas."
I, Daniel Blake is in cinemas now