One of the largest Ku Klux Klan groups in American is to hold a "victory parade" to celebrate Donald Trump's presidential election win.
The Loyal White Knights of Pelham, North Carolina, says on its website that its parade will take place on December 3 but does not specify when and where it will take place.
The website features a picture of Trump on its front page where "Trump = Trump's race united my people" - is also written.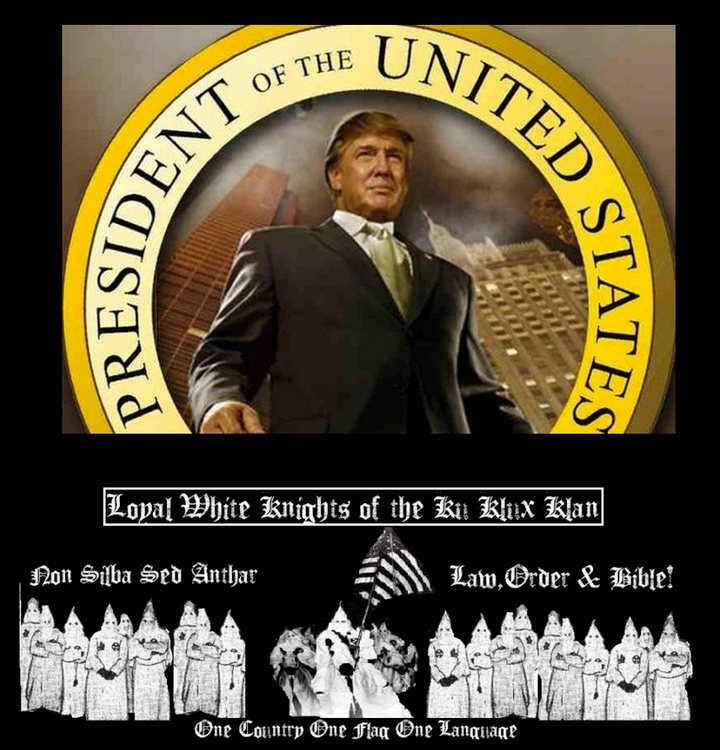 According to the Los Angeles Times, the Loyal White Knights has between 150 and 200 members.
The Anti-Defamation League told the newspaper it was "perhaps the most active Klan group in the United States today".
Last year, it was part of a South Carolina protest against the Confederate flag's removal from the state Capitol.
Several Klan groups endorsed Trump during his election campaign including well-known former Klan leader David Duke, who on Tuesday lost a Senate bid in Louisiana.
A prominent KKK newspaper, the Crusader, also previously appeared to endorse Trump for Presidency by published his campaign slogan - Make America Great Again - on its front page.
The Trump campaign was criticised for initially refusing to denounce the support but later labelled the Klan's efforts "repulsive".
In a statement it said: "This publication is repulsive and their views do not represent the tens of millions of Americans who are uniting behind our campaign."
During his campaign Trump called for a total ban on Muslims entering the the US and repeatedly called for a wall along the Mexican border to stop illegal immigrants getting into the US.
While denouncing protests in America over his win, Trump has not yet commented on the parade which has further fueled anger over his victory.