Labour is set to enter the next election without a clear commitment to remain in the EU in a Brexit referendum, the party's conference has decided.
After a heated debate in Brighton, delegates voted to support Jeremy Corbyn's plan to delay a decision until after a Labour government has negotiated a new 'soft Brexit' deal with Brussels.
Under Corbyn's plan, a special party conference will be held to pick a side before a new referendum is staged.
Rival plans to unequivocally back Remain were defeated, despite a strong campaign by pro-EU activists and shadow cabinet ministers including Keir Starmer, Tom Watson and Emily Thornberry.
Thornberry had warned that if the party risks losing key parliamentary seats if it went into the snap election this autumn without a clear pro-Remain position.
During the debate, many turned it into a test of loyalty to the Labour leader, urging colleagues to "trust" him on the party's tactics.
But there were fractious scenes in the conference hall after National Executive Committee (NEC) chair Wendy Nichols refused to call a detailed card vote and instead relied on a show of hands.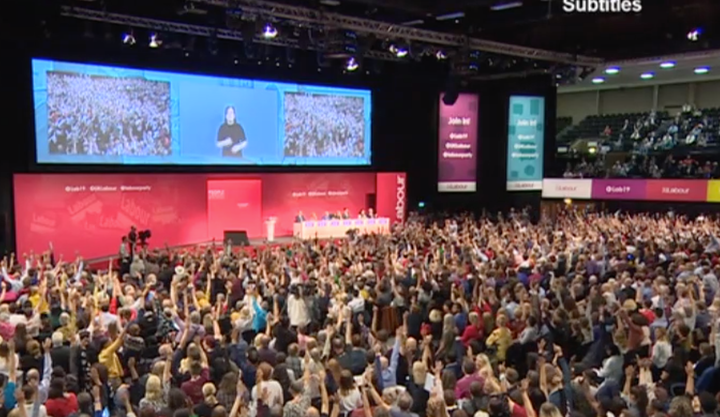 After consultation with general secretary Jennie Formby, Nichols ignored angry shouts from delegates who demanded that votes from trade unions and local parties should be counted individually.
The result is a big victory for Corbyn, who had asked the party to back his plan to hold off on taking a view either way until after he was in Downing Street.
Earlier, shadow Brexit secretary Starmer and shadow foreign secretary Thornberry had pleaded with conference to opt for a policy to "campaign energetically" for Remain in any referendum.
Thornberry said: "I believe we must strive night and day, whatever it takes, to keep Britain in the European Union."
In his own speech, Starmer added: "If you want to fight for Remain. Vote Labour. You know where I stand on the question of Remain: I've said many times that I will campaign for Remain."
And London Mayor Sadiq Khan tweeted that he felt the vote was not representative of party opinion.
Unite general secretary Len McCluskey told the conference on Monday morning: "I implore you, please give Jeremy the support he needs later, so that Prime Minister Corbyn can lead us to a bright new dawn."
Pro-EU campaigners had their hopes raised earlier in the day when Britain's biggest union, Unison, came out in favour of a motion to campaign for Remain.
But in the end, it appears that grassroots organisation Momentum played a key role after it told its members to vote the motion down and to throw their weight behind Corbyn's plan instead.
The ruling NEC put out a statement on Sunday calling for a second referendum which gave the public "a real choice between a sensible Leave deal or Remain".
"The NEC believes it is right that the party shall only decide how to campaign in such a referendum – through a one-day special conference, following the election of a Labour government," it said.
The statement was controversial as it was approved not by a meeting of the NEC but by an email round-robin to its 39 members. At least 10 members did not reply to the email, but of those who did it was passed by 17 to 10.
Some Labour MPs who had called for a clear Remain pledge said they were 'disappointed' but consoled that at least Labour was now committed to a second referendum.
Liberal Democrat leader Jo Swinson, whose party now backs the reversal of Brexit, was quick to pounce on the result.
"Jeremy Corbyn has again shown a total lack of leadership on Brexit and settled on yet another fudge on the biggest issue facing our country," she said.
Michael Chessum, of the leftwing anti-Brexit group Another Europe is Possible, said: "A fudge is not a unity position. It is deeply divisive among members and risks losing a large chunk of our voter base."
Mike Buckley, Director of Labour for a Public Vote, said: "The sad fact is that by failing to back Remain, and to take a clear position on the biggest political issue of the age, we will still fail to offer the clarity that voters need.
"In May we lost millions of voters to the clearly Remain-supporting Greens and Liberal Democrats."
Naomi Smith, of pro-EU group Best for Britain, said: "Despite being a Remain party, Labour has dodged the most important political choice in generations."