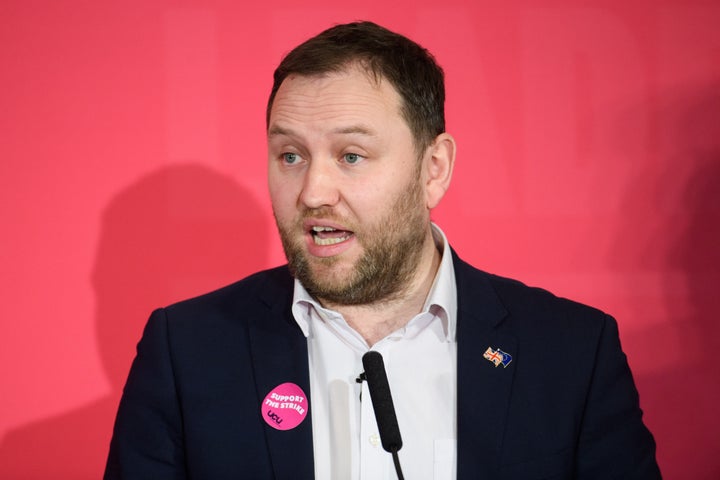 Labour is investigating anti-Semitic abuse sent by party members to deputy leadership contender Ian Murray, HuffPost UK can reveal.
Murray received a string of abusive messages after he sent out his first campaign email to Labour's more than half a million members last month.
In the email, sent on February 21, the former shadow minister underlined that he was proud to have been nominated by the Jewish Labour Movement because he wanted to "tackle the stain of anti-Semitism in our party".
Under party rules, each candidate receives an allotted number of emails that are distributed by the party, although responses are sent directly to individual campaigns.
He also set out how he was backed by Tony Blair and Gordon Brown, the only candidate to have won the support of both in the race which ends on April 4.
Murray's rivals for the deputy slot are Angela Rayner, Rosena Allin-Khan, Dawn Butler and Richard Burgon.
But in response to his email, Murray was met with a rash of vitriolic messages from members, including claims that "the Jews thought they owned the Labour party" and that he was a "Mossad agent".
Among the messages seen by HuffPost UK are the following:
"Hi I don't know anything about you but I personally feel ashamed about anybody in the Labour Party associating themselves with a bunch of war criminals and latter-day Nazis who are committing genocide and being sold weapons by this country to do it in Israel so if you're proud of being associated with them are you at another on the payroll or Mossad agent in the Labour Party what a disgrace every time you go to sleep at night think about the children and the women and the men and the injured and then named in the disabled in Palestine you are a disgrace…"

"I'm sorry Ian but I can not support any candidate that operates on behalf of a political racist movement like the Jewish Labour Movement. Those that prioritise their race or religion ahead the Labour Party should not be allowed to become a member… It is a pity that the Jews thought they owned the Labour Party and it was a Zionist movement supporter and now their nose has been knocked out of joint they are showing, like yourself, where your true loyalties like...firmly in the CIA-Mossad HQ in Tel Aviv (which I know well)."

"It's now four years since the anti-Semitism charge against the Party was mobilized by external bodies such as the JLM who have manipulated like putty, and it is now blindingly obvious that the JLM will never be satisfied. As a concerned member, I have followed the saga very closely but I am still mystified of where this widespread 'infection' can be found."

"A biased MSM bought & paid for by a billionaire corporate & establishment elite. This included lies, more lies & just downright dishonest fake news. The biggest example of this was the Tory MSM weaponisation of anti semitism against a lifelong anti racist & defender of the Jewish faith (JC). The failure of the entire party too property explain the arguments regarding those unfounded attacks, which are & have been organised by supporters of Israel & their lobby (Dame M Hodge etc.)."

"YOU CERTAINLY WON'T GET MY VOTE YOYU BLAIRITE ZIONIST!!"

"The right-wing Blairite faction along with the Israeli Lobby put paid to any chance of a socialist Labour Party taking office."

"As you will note I am disappointed at the tone of your email, I would have expected a representative of my party to have been less influenced and manipulated by a biased media, in the control of an elitist group whose vested interest is to maintain the status quo and their financial interests and neuter Labour opposition."

"The Blairites are destroying your party. So is the israeli lobby. Labour is rudderless. I supported Labour for 35 years and can no longer do so. Some of your MPs behaved abominably to Corbyn, the party is incredulous, whilst good people have been expelled at the behest of the Israeli lobby, war criminal Blair gets to remain. Sickening."

"you are proud to have the support of the Jewish Labour movement. Again a group of people who tried to destroy Jeremy Corbyn and Socialism by conflating anti-Semitism with anti-Zionism. Anyone with an ounce of compassion for humanity would condemn the Zionist movement for its despicable treatment of Palestinians."

"Oh my word. Labour should stand for the working classes but it seems your priority lies with the JLM. the antisemitism charge is a smokescreen to validate the Israeli Govt's blockade of Palestine and you should be protecting the majority of our millions of citizens not just a few thousand of a small minority."

"I've resigned from the Labour party due to the behaviour of certain MPs toward the anti semitism that is claimed to be rife in the party. I am not jewish. I do not know which jews to believe. Michael Rosen and numerous other jewish voices have been sadly ignored by the Labour Party. Why? The lies published and backed by so called leaders of the party, have forced me to rethink."
As well as being endorsed by the Jewish Labour Movement (JLM) in the contest, Murray is also a longstanding member of Labour Friends of Palestine.
The Edinburgh South MP has forwarded the messages on to the party's HQ. He has also reported a number of additional abusive emails and replies from individuals who say they have already resigned or been expelled from the party.
Murray told HuffPost UK: "These sickening replies may be from a minority of members, but they demonstrate that anti-Semitism is still a major problem in the Labour Party.
"I have sent these emails to the party and have demanded urgent disciplinary action is taken, and I encourage all leadership candidates to do the same with any emails they may have received.
"The last few years have seen bullying and intimidation inside the Labour Party that should utterly shame us. And there is nothing that should shame us more than the anti-Jewish hatred in our ranks.
"I never want to knock on a door again when the resident won't vote Labour for the first ever time because of anti-Semitism.
"If elected, I will take responsibility for rooting out anti-Semitism, and if it's not done under my watch then I'll resign as deputy leader, because I won't tolerate anti-Semitism within the Labour Party."
A Labour Party spokesperson said: "The Labour Party takes all complaints extremely seriously, which are fully investigated and any appropriate disciplinary action is taken in line with the party's rules and procedures."
It is understood that where other campaigns have made complaints of a similar nature, investigations have been launched and action has been taken, including suspensions.