Lucy Powell suggested on HuffPost UK's Commons People podcast that refusing to vote would amount to "putting two fingers up" to ex-Labour voters who back Brexit.
The shadow business minister said it was "better to be strong" and take a position.
Labour leader Keir Starmer is currently trying to contain a shadow cabinet row over whether the party should back any deal or abstain.
On Thursday, he acknowledged the "different opinions" in Labour but said "a deal is obviously in the national interest" and stressed the party would take a united position,
A UK-EU trade deal could be agreed with days as negotiations draw to a close.
Reports suggest that some shadow cabinet ministers may quit if Labour backs the deal.
The Times named shadow chancellor Anneliese Dodds, shadow trade secretary Emily Thornberry and shadow justice secretary David Lammy as among those who have reservations about voting in favour.
Powell, who worked on a review of Labour's crushing December 2019 election defeat, suggested her party would have sought a softer Brexit.
But she described Johnson's proposed deal as something that can be "built on", whereas no-deal would be a "catastrophe".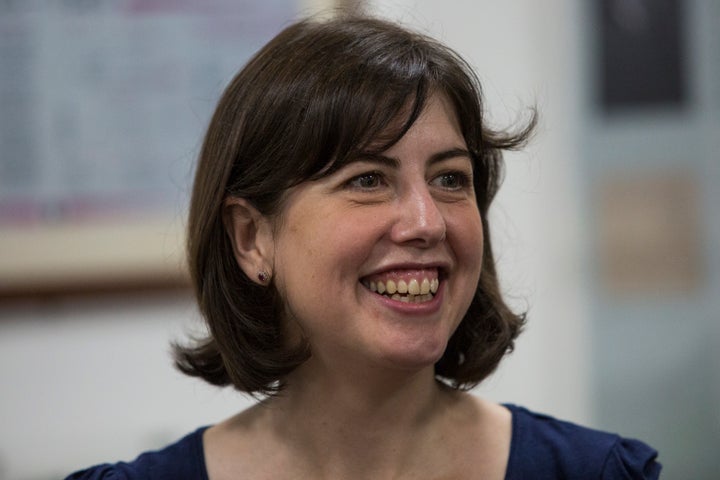 Powell told Commons People: "I think having a skinny deal or whatever, a kind of basis of future negotiation and relationship-building is very important, even more so because of the economic crisis and the pandemic we're in — businesses need that certainty.
"I think it's quite hard for us to oppose that on that basis."
Powell also warned that the vote would be highly significant for so-called red wall Leave voters who switched to the Tories last year.
"These long term trends in our voter coalition are not going to go away," the Manchester Central MP said.
"It's not just about Brexit, although Brexit was a big symbolic expression of Labour losing touch with its traditional voter base.
"And we can't keep putting two fingers up to people if we want them to vote for us again and support us and be part of the agenda that we want for the future."
She added: "It was unbelievable - I went round loads of red wall seats during the election campaign - how many people on how many doorsteps knew exactly how their Labour MP had voted on all of these issues.
"It didn't matter... that they had actually rebelled the Labour whip a number of times, people knew all the other times that they'd voted to kind of block Brexit if you like, so to speak in their cases.
"So these votes do carry weight and people do watch them.
"That's what I would urge colleagues to think about really."
Put to her that abstaining was not an option on this vote, Powell replied: "I don't think so, I think you've got to have a strong position on it, even if that's difficult.
"But obviously whipping decisions and the decision on how we'll vote on it hasn't yet been taken and it's above my pay grade. But yeah I think it's better to be strong on these things."
"If the choice is a deal or no-deal, then a deal is obviously in the national interest"
Earlier, Starmer told reporters: "We'll have a look at that deal as soon as we see it and make our decisions then, but I can't emphasise enough how a deal is in the national interest.
"We don't know that there will be a deal – I hope there will.
"As soon as there's a deal we'll look at it, but if the choice is a deal or no-deal, then a deal is obviously in the national interest.
"The Labour Party has pulled together hugely in the last few months, presenting a strong united front, and we will do the same on this issue.
"Of course there are different opinions, as you would expect, but we will pull together, discuss it as a team and be united."
It came as Jacob Rees-Mogg confirmed the controversial Internal Market Bill would return to the Commons on Monday.
It remains to be seen whether the government will try to reinsert law-breaking clauses that would allow ministers to renege on the Withdrawal Agreement Johnson signed with the EU earlier this year.
Any such move would be highly provocative with negotiations on a trade deal drawing to a close.
And it is believed that a decision rests on whether the UK and EU reach a deal in the coming days on future trade arrangements.