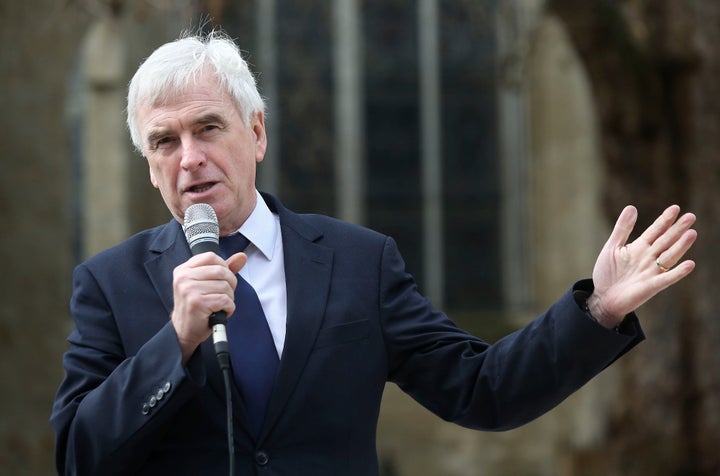 John McDonnell has said there is an "open door" for any Labour MPs to come back and serve in the shadow cabinet following Jeremy Corbyn's re-election as leader.
The shadow chancellor said this morning there would not be a reshuffle until the party's National Executive Committee (NEC) meets to decide whether to re-introduce elections to the frontbench.
However a source close to Corbyn told The Huffington Post that McDonnell was wrong and a reshuffle would take place before the NEC decision.
McDonnell told BBC Radio 4's Today programme he would like to see "virtually all" the MPs who quit the Labour frontbench ahead of the leadership contest return. "Anyone who has resigned, this is an open door, we have asked them to come back," he said.
But speaking to party members at a fringe event at the Labour Party conference in Liverpool last night, he attacked the MPs who had tried to oust Corbyn.
"This coup was not about our performance, this was about the establishment basically saying to all of you, how dare you elect a socialist as leader of the Labour Party," he said.
McDonnell told the BBC this morning Labour "being an effective opposition before the leadership election started" and was "ahead of the Tories in the polls".
On an average of the polls, the Conservatives have been ahead since the 2015 general election. As FullFact notes, three of the polls taken over the last year have shown Labour ahead of the Conservatives. One poll after the referendum result showed Labour was tied with the Tories.
The shadow chancellor was echoing comments made yesterday by Len McCluskey, the general secretary of the Unite union, who said the "mass hysteria" of Labour MPs who triggered the leadership election were responsible for the party's current bad poll rating.
However former shadow cabinet minister Lisa Nandy told a fringe event hosted by The Huffington Post yesterday that this was wrong.
"Senior members of the leadership are out saying we were ahead in the opinion polls, and we were doing well and just needed to go back to what we were doing before. I just don't agree with that because I can feel the public moving away from us," she said.
Nandy also said she would not return to the shadow cabinet unless MPs were given the right to elect the frontbench. She said that it was "really important" that Corbyn had a mix of elected and appointed frontbenchers to show "he means it" about unity.
Popular in the Community