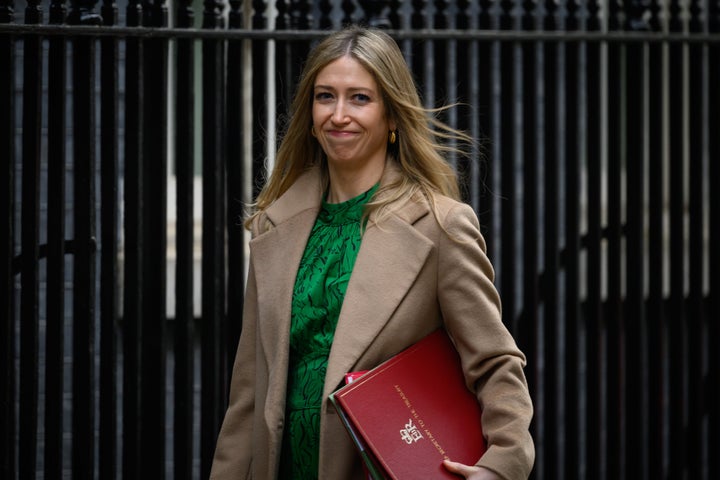 A Conservative minister is facing a backlash for suggesting people with mobility and mental health problems should do "their duty" by working from home.
The comments by Laura Trott, the chief secretary to the Treasury, came as the government is expected to announce plans to force those with mental health or mobility problems to find work they can do from home, or risk losing their welfare payments.
Trott dismissed concerns over the welfare shake-up, saying that those who can "should work" – arguing there was a "duty on citizens" to do so.
The disability equality charity Scope led the criticism of the "absurd" comments, and accused the minister of "dehumanising" disabled people.
Rishi Sunak is set to make changes to the "unsustainable" welfare system, with money saved from a benefits crackdown likely to help pay for tax cuts in Jeremy Hunt's autumn statement on Wednesday.
In a post on X, Scope said: "Disabled people do not have a duty to work unsuitable jobs. Let's get that clear. The government *does* have a duty to not dehumanise the million disabled people who want to work but are denied the chance. It's a duty the government is failing on
"Laura Trott's comments today are absurd. It's completely irresponsible to suggest that people who are unwell have a duty to work through it. Comments like this fuel a dangerous narrative. One that demonises disabled people, and paints them as burdens on the taxpayer.
"The suggestion that disabled people can simply work from home is totally impractical too. You only need to take a look at the DWP job site shows how few vacancies offer fully remote working as an option."
It went on: "These comments come on the eve of the autumn statement, where the chancellor is expected to announce a 'benefits crackdown'. But we've had decades of tightening sanctions, and it has never worked. The government's own research shows that sanctions are counterproductive."
Pressed about the changes, Trott had told Sky News: "I think that if you can work as a principle, you should work, and that is what the government believes. That's been the thrust of all of our policies.
"Of course, there should be support for people to help them into work or to help them with issues that they're facing, but ultimately, there is a duty on citizens that if they are able to go out to work, that's what they should do."