Lib Dem members have voted overwhelmingly to back Jo Swinson's policy to revoke Article 50 and cancel Brexit if she becomes prime minister after a general election.
The party approved the plan at their conference in Bournemouth on Sunday afternoon.
According to the new policy, the party would interpret an election victory as an "unequivocal mandate to revoke Article 50 and for the UK to stay in the EU".
"The Liberal Democrats are crystal clear: if we win the next election, we will stop Brexit," Swinson said.
The Lib Dem leader said until there was an election she would continue to work "cross-party" to block a no-deal Brexit and support a second referendum.
"People deserve better than Boris Johnson's no-deal Brexit and Jeremy Corbyn's Labour Brexit," she said.
"At the next election, voters can instead choose the Liberal Democrats, and our clear and unequivocal policy to stop Brexit."
The move will provide a clear dividing line with Labour at the next election - which is expected to be held as soon as November.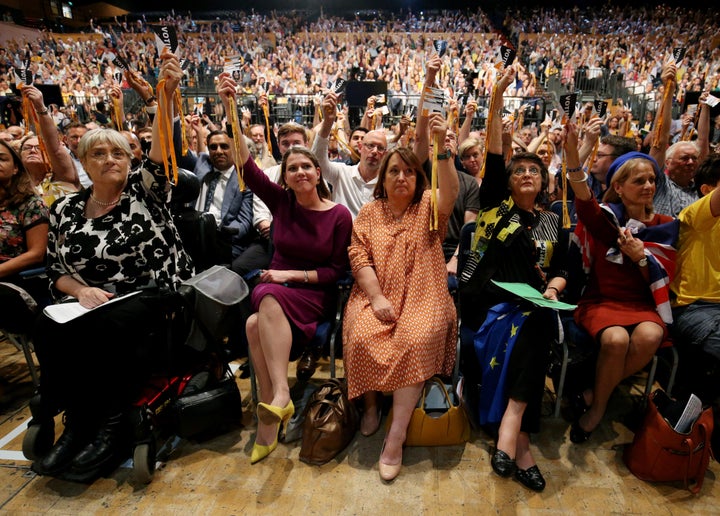 Jeremy Corbyn has promised to hold a second referendum should be become prime minister but has not gone near suggesting Article 50 should be revoked.
There are also divisions within the party over whether Labour MPs should campaign for Remain or not at any referendum.
The Lib Dems have been boosted in recent weeks by a series of defections from other parties.
On Saturday they unveiled former Tory minister Sam Gyimah as their latest MP.
Vince Cable, the former Lib Dem leader, told the party conference today he expected more defections to follow.
"Within the next few weeks and months I hope and expect that the trickle from both sides will become a flood," he said.
James Cleverly, the Conservative Party chairman, said revoking Article 50 would "overrule one of the largest democratic votes in British history".