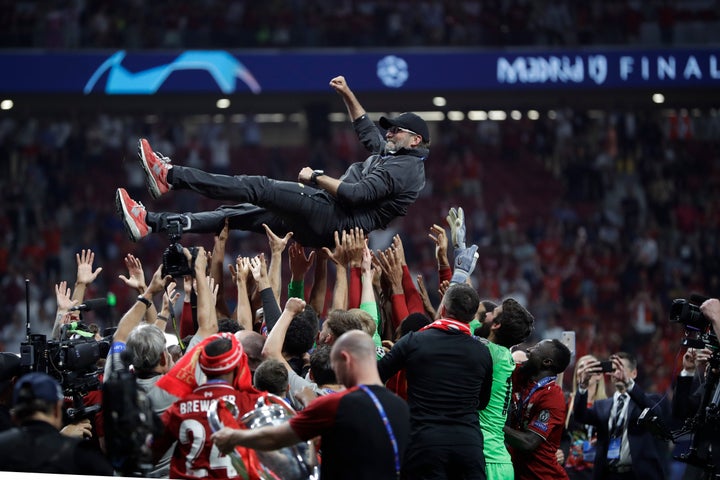 A year after Real Madrid broke their hearts, Liverpool went to Madrid and found redemption. Fourteen years after a fifth European Cup had been achieved through remarkable resilience, bravery and spirit, similar hallmarks carried them through to a sixth. In the bowels of the stadium that belongs to Atletico Madrid, myths were laid to rest, legends were born, and a false dawn became a glorious sunrise.
The jubilant scenes after Liverpool's 2-0 win over Tottenham in the final, both in the stadium and back home, painted the story, of how much this meant to everyone associated with the club. Football is a game of maddening tribal collectivism, fans trudging through rain, wind and snow to see failures, disappointments and near glories. But when it clicks, when it pays off, the walk is worth it. And of course, as their famous song You'll Never Walk Alone alludes to, at Liverpool no-one really walks alone.
Certainly not with Jurgen Klopp as manager now anyway. He joins a pantheon of managerial greats to have led Liverpool to European Cup glory, and in doing so reminded the world that football belongs to communities and not just those with money.
The uproar about the limited distribution of tickets coupled with their steep prices didn't stop Liverpool supporters flocking in their thousands to Madrid. The city became a sea of red and white, of mostly Liverpool, but enough Tottenham to remind people there was another English team in the final. The captivating scenes should also have been a warning to Uefa and others running the sport that fans are the beating pulse of every football club. It's not just revenue but the atmosphere and sense of history that they bring with them.
People are entitled to dispute this, certainly as the game becomes drunk on wealth, and a sense of local attachment of clubs is eroded by TV companies, exorbitant ticket prices and speculation about playing games overseas. Supporters are marginalised and the working-class touch of the English game has been all but lost. Certainly at Liverpool, fans have sometimes been ignored over ticket prices, while the club have also spent significantly.
But it would be wrong to dismiss the positive social effects of football, particularly in the sense of local pride and communal solidarity it can create, qualities that Klopp understood. Crowds drenched in euphoria today are rare sights, much less so in cities ground down by years of state abandonment. In times of difficulty, of crisis, of social strife and divisions, football can bring them together, create that pride in something that they all belong to, something they all have a shared ownership of. Liverpool belongs not just to its owners, but to its supporters, to its city.
Proof? The hundreds of thousands that packed the streets of Liverpool the day after they beat Tottenham, to celebrate the open bus team parade of the trophy. As does every other club. This is something Klopp understood, coming from Germany where supporters were a vibrant voice in how clubs were run. There was more collective involvement, greater association with the supporters, and dialogue built on good relations and trust. German football recognised that supporters were an integral part of the game.
Klopp's own tactical approach is a ferocious resurrection of old English values in collectivism, industry and heart that demands breathless support from their local fans. He described emotions as vital to the game, and the fans are at the heart of that. Three moments highlighted this. The 2-1 defeat at home to Crystal Palace in his first season, when he was sad that fans departed early because of how it betrayed acceptance of defeat and loss of faith. The second was when he and the players linked their arms and sung along with the fans to the rendition of You'll Never Walk Alone after beating Barcelona 4-0. The last was when they again sung to the fans in another spine-tingling rendition, this time after winning the trophy. Four years after the fans left their seats early, he kept them glued to theirs and reminded them that they were central to the club, to the team.
Klopp reawakened Anfield, made it alive and crackling, and created a new legend by reminding everyone of an old principle that the local does matter, that football cannot sever its link from the communal realms it existed in. Barcelona succumbed to Anfield's magic, swept by the frenzy of the local support, the ocean of red flags, banners, scarves and humanity aching for European glory. There are reasons that European Cup nights at Anfield are special. Klopp reminded people of it, and made the fans valued, a twelfth man in the process. This is something money cannot reproduce, no matter how much the wheels behind it are being cranked and turned by state powers.
The final itself was a grim spectacle. Liverpool sat off, organised, disciplined and compact, a shape necessitated by their early goal. Tottenham were built for running into open swathes of green but instead encountered a mass of red they could not get past at all. For them it was a missed opportunity, but they will be back. Liverpool will regard this as the beginning of something great. The sun is only just rising on this special team, led by a manager who understands the club's ethos and the place of the fans and their special banners at the club.