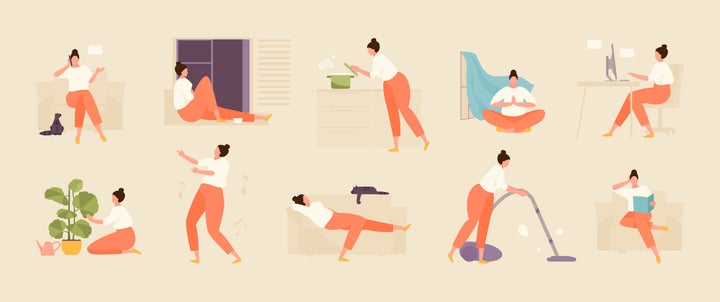 We've had to get creative when finding ways to stay occupied during lockdown. Some people have gone all out – crafting makeshift Wetherspoons pubs in their gardens to feel right at home. Others have opted for simple tasks: finally getting into that book they bought months ago, or getting stuck into nature.
So if you're in need of ideas,or simply want to know how the HuffPost team has been spending their time (good and bad), read on. I asked around our virtual office to see what's been keeping people busy – and what they'd rather not be doing right now. From best to worse, here are our lockdown activities.
1) Admiring nature in all its forms.
Without a doubt, this is the top preoccupation among HuffPosters right now. "I love planting vegetable seeds and watching them sprout," says one editor, while our senior reporter says he's been "watching foxes and squirrels and birds turn my garden into a utopia", while another colleague else has been stalking the woodpecker at the back of their house – "I'd been hearing him pecking away for weeks but can't see him". Plus who doesn't like the blossoms and butterflies.
2) Cycling those big, empty roads.
Meandering through an empty city on your bike is something you rarely get to do in London. What a dream. And if you live in the countryside, even better.
3) Learning how to make tacos.
I can vouch for this one. I'm not usually a fan of cookery classes, but after coming across it on this bumper list of online activities, I decided to give it a go. An hour and a half later, I had homemade salsa, homemade tacos, and a lovely veggie filling. In fact, they were so good, I made them again the next night.
4) Doing Yoga.
Specially, yoga with Adriene. Her 30-day 'Home' course has captured the hearts of millions during lockdown. But tell us, how do we stay motivated when the month is up and we no longer get to hang out with our BFF and Benji the dog?
5) Playing Animal Crossing.
Our Life reporter says she's been playing a "disgusting" amount of this on her Nintendo Switch – which arrived just in time for quarantine! "It's been a great escape from lockdown life and very therapeutic. A lot of my friends and family are on it too, so we've been bonding by playing together and staying connected."
6) Baking Bad.
Yes, we're all loving the banana bread – and even those who aren't usual master bakers are having a go. It might not always go right (see: our Life reporter, Tasha Hinde) – but it's a right laugh in the process. The reason it doesn't rank higher? Sometimes, just sometimes, baking can cause a lot of unnecessary stress.
7) Actual cooking.
We'll let you into a little secret. The HuffPost canteen is the best. But now we're all working from home and staying indoors rather than going out to eat with our mates, we have both the time to cook and imperative to cook for ourselves. We've been drooling over so many delicious recipes but is this a habit we'll continue in our post-corona life.
8) Online beer festivals.
Drinking a crate of beer on a Friday night while listening to the brewers discuss how it was made? Brilliant. Spending the whole day on the sofa the next day because you just can't move? Not so brilliant. How are you hanging? Let me count the ways.
9) Bingeing TV.
We have all the time in the world to watch TV and we don't need any motivation for doing so, but some of us were getting TV-ed out. We'd completed Tiger King, won at Quiz and even Googlebox was following a law of diminishing returns. Then, Normal People dropped on iPlayer and we've feasted on the lot, downloaded the Spotify mix, listened to the accompanying podcast and been left browsing Argos for Connell's sexy chain.
7) Zoom calls with friends.
Catching up with your nearest and dearest is great, especially if you're having a drink or two. But sadly, the constant scheduled Zoom calls are stressing a few of us out – and we're suffering from screen fatigue. Sorry, not sorry.
8) DIY.
9) Running.
The park paths might be busier with runners, but for those who were happy joggers before lockdown – it's just not as fun anymore. "I haven't been for a single run during lockdown because it feels like a government mandated run and it's sucked all the enjoyment out of it," says one HuffPost staffer.
Plus, those who are new to running just hate it. "I get bored, I get the worst cramps, physically and mentally my body just doesn't want me to run further."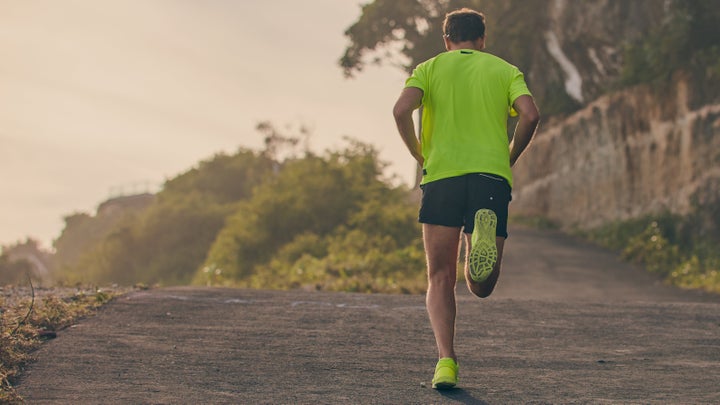 10) Sunbathing in the garden.
This is great if you have a garden and it's sunny. Not so great if you're in a block of flats, or when the heavens open. A tricky one, thus it's lower ranking. Though if you fancy sunbathing indoors, here's our uiltimate cheat's guide.
11) The endless housework.
12) Obsessing over loo roll.
Anyone else stressing about getting down to the last roll and wondering whether there will be any left in the supermarket? Deary me, it's not March anymore.
13) Sorting out holiday cancellations.
A few of us have had our dream holidays cancelled in lockdown. And if that weren't already bad enough, we've then have to go through the long and arduous process of refunds, vouchers, complaints, insurance policies. Hands down, the absolute least fun way to spend the rest of quarantine.