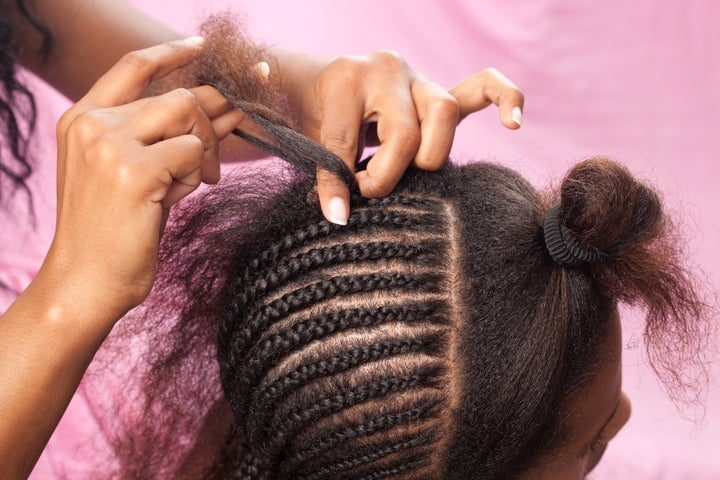 A secondary school in north London has reversed its decision to ban its students from wearing cornrows, HuffPost UK can reveal.
St. John's Senior School in Enfield sent a letter to parents, dated September 12, outlining a number of appearance regulations to which female students were expected to adhere on a trial basis.
The letter stated that all plaits were to be thin to medium, adding that cornrows and knotted braids were not permitted.
The letter read: "As you are aware we have a number of rules at St. John's, tried and tested over a long period of time, that aim to ensure that every pupil looks neat, tidy and presentable.
"We are very loathe to make exceptions to our standards."
The school's headteacher, Alexander Tardios, told HuffPost UK that given concerns raised about the policy, a decision has been made to abandon the new regulations, and parents will be notified accordingly.
He said: "The approach reflected in our letter was to be on a trial basis. However, in light of concerns raised by a number of parents and pupils following receipt, we appreciate that, while we believe it is appropriate to place a restriction on hair length, our proposals would be unduly restrictive on the styles girls may wish to adopt.
"As such, we confirm that the school will not be implementing the restrictions numbered 1 to 6 in our letter, subject to the requirement of length and, of course, neatness."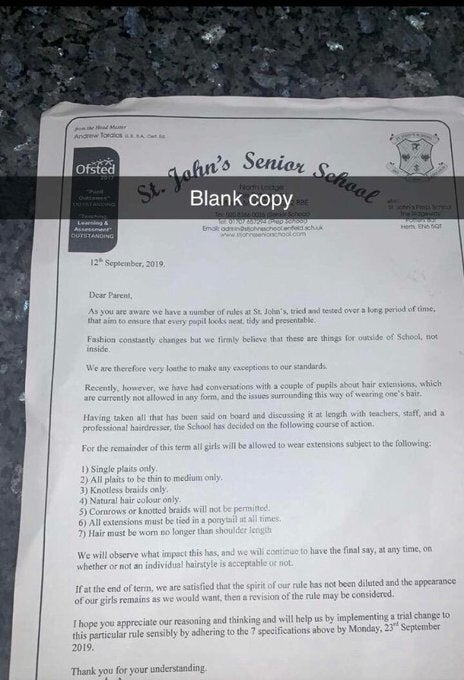 Tardios said the letter was sent following the increased use of hair extensions by girls at the school and in an attempt to ensure a uniform but fair approach, particularly with regard to hair length.
The school's decision to reconsider its policies comes after a photograph of the letter went viral on social media on Friday afternoon and critics pointed out that the new policy unjustly targets black girls.
By the time the school announced that it would abandon the new policy, the photo had been shared on Twitter more than 6,000 times.
One online user wrote: "This is so disgusting. They are targeting young black girls and our hair. What does hair have to do with learning ???"
"This is outrageous," another person said. "But cornrows aside... I don't understand the obsession with what's on top of a girl's head, as opposed to what's IN their head."
"It's clearly a discriminatory policy," another critic said.
In December, HuffPost UK reported on a slew of headlines that exposed apparent racial bias across schools in the UK - from black students being suspended from school for wearing dreadlocks to a teenager allegedly being threatened with suspension for wearing bantu knots.