Lung cancer is thought to be the eighth most common cause of cancer-related death in the UK.
Certain factors can increase your risk of developing lung cancer, such as smoking or exposure to certain chemicals. But it's estimated that around 6,000 people in the UK who have never smoked die of lung cancer every year.
This is greater than the numbers of people who die of cervical cancer (900), lymphoma (5,200), leukaemia (4,500) and ovarian cancer (4,200).
In April 2019, a group of public health experts warned that lung cancer in people who have never smoked is "under recognised" and "presents a diagnostic challenge", particularly for GPs seeking to balance over-investigation with early diagnosis and high quality care.
So how can you spot the signs?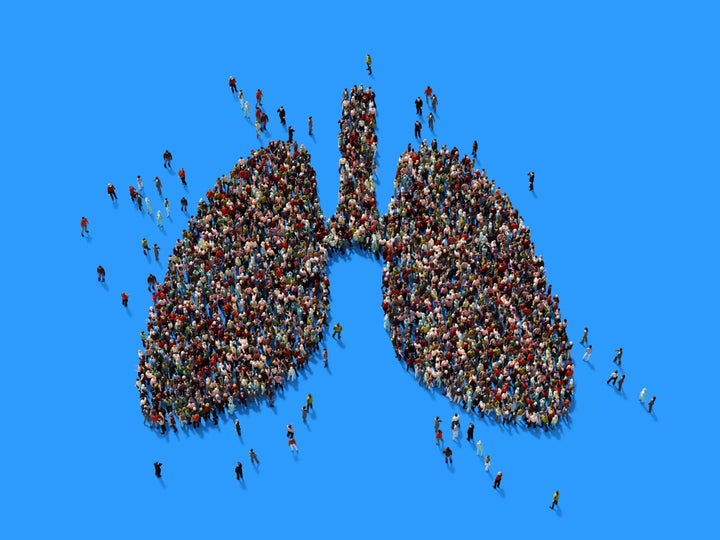 Symptoms
It's important for everyone – both smokers and those who have never touched a cigarette – to be aware of the key symptoms of lung cancer. These include:
:: A cough which doesn't go away after two to three weeks
:: A long-term cough which worsens over time
:: Persistent chest infections
:: Aches or pains when breathing or coughing
:: Tiredness or lack of energy
:: Loss of appetite or unexplained weight loss.
There are also some less common symptoms of the disease to be aware of. If your fingers change shape (becoming more curved or their ends becoming larger); you have a high temperature; difficulty or pain when swallowing; wheezing; a hoarse voice; swelling in your face or neck; and persistent chest or shoulder pain, you should see your GP.
Causes among non-smokers
Major contributors to lung cancers in non-smokers include second-hand smoke, occupational carcinogen exposure and outdoor pollution.
Globally, the use of solid fuels for indoor cooking and second-hand smoke exposure are important contributions to lung cancer in never-smokers and disproportionately affect women.
Professor Mick Peake, from the University College London Hospitals Cancer Collaborative, said the stigma of smoking has been the major factor behind the lack of interest in, knowledge of and research into lung cancer. As a result, he said, people who have never smoked and go on to develop lung cancer are "disadvantaged".
Dr Jodie Moffat, Cancer Research UK's head of early diagnosis, told HuffPost UK: "As the smoking rate in the UK continues to fall, we need to consider other risk factors such as age, air pollution and workplace risks so that we can prevent, diagnose and improve survival for everyone.
"We encourage anyone, regardless of whether they smoke, to tell their doctor about anything unusual like a cough that won't go away or a change to an ongoing symptom. In most cases it won't be cancer, but it's best to get it checked out."