A man died after his 'irritable bowel syndrome' was discovered to be a 6kg tumour the length of a domestic cat, that was strangling his appendix.
Now, Nicky Boardman's GP widow Kerry Boardman, of Dartford, has revealed how Nicky's tumour could have been growing in him for five years before he was diagnosed with cancer of the appendix in May 2013.
However, it was only confirmed as this after he collapsed outside the Apple store he managed in Bluewater shopping centre, Greenhithe, Kent, in March 2013.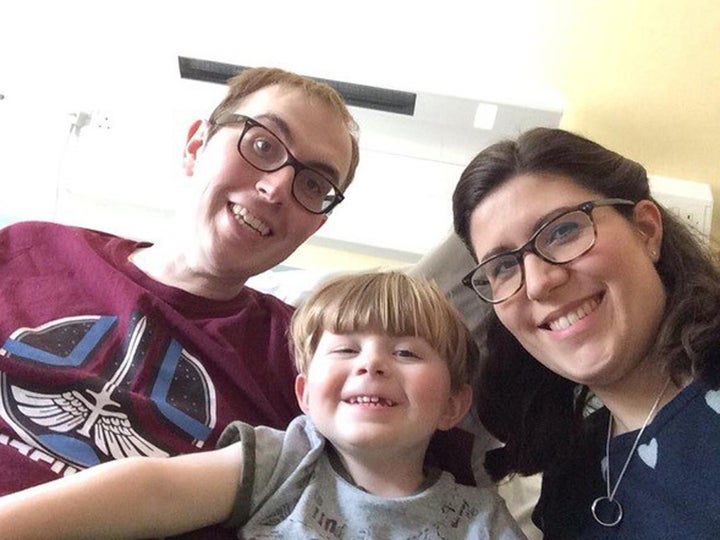 Nicky, who was just 34 when he died 18 months after he was diagnosed, first started experiencing stomach pain and needing to go to the toilet more often towards the end of 2012.
In January 2013, blood tests indicated an inflammation somewhere in his body – it was not clear where, and his GP planned to organise repeat testing but in March that year, before tests could go ahead, Nicky collapsed outside work with a major rectal bleed.
As Nicky had lost a significant amount of blood, he was hospitalised for a week, where he was given blood transfusions.
Kerry, now 37, recalled: "It was a very worrying time as we didn't know why he had collapsed or what the final diagnosis might be."
At that stage, medics believed it was an inflammatory bowel condition, like ulcerative colitis or Crohn's disease.
But when medication for ulcerative colitis did not help, Nicky – dad to Ethan, now six- feared it was something more serious.
"Nicky didn't fit the pattern for cancer," his wife continued. "The age group of people normally affected are in their 60s, so although we mentioned it, we never expected that diagnosis."
However, a biopsy in April 2013 at Fawkham Manor Hospital, Kent, revealed a strange lesion in Nicky's bowel.
Kerry said: "I knew it was cancer when we spoke to the consultant, because he mentioned a lesion, but still we never thought we would be told it was incurable.
"I remember sitting with the oncologist and I just felt like I was hearing him through water."
In May 2013 further scans confirmed a large tumour filling Nicky's pelvis.
Kerry added: "We knew all the way through that his treatment was palliative and symptom control and buying time."
Nicky received six months of chemotherapy from May 2013 for bowel cancer, which reduced the tumour for them to consider.
But, after suffering agonising pain, he was admitted to Darent Valley Hospital in Dartford in November 2013.
Further investigations revealed that Nicky had a very rare cancer of the appendix.
Doctors believed the tumour – which by this point weighed nearly a stone - had been growing inside him and effectively strangling his appendix for five years.
Kerry explained: "It was very rare and it was even more rare for someone so young to get it."
In January 2014 Nicky was transferred to specialists at the Basingstoke Colorectal clinic, who performed a 12-hour operation to remove the tumour that was by this point the size of a large domestic cat.
They also removed his peritoneum, part of his prostrate, part of his bladder and part of his ureter.
The right side of his large bowel was removed as well as part of his small bowel and his abdominal cavity was filled with a heated chemotherapy solution, to kill any remaining cancer cells.
The bladder and ureter were attached back together and a stoma collected waste from the large bowel.
Released from hospital in April 2014, despite having to use a wheelchair, Nicky was determined to make the most of family life.
Kerry said: "He really held on to hope. He would hear 'years' when anyone discussed the time he had left and I would hear 'months.' He needed to stay positive, he couldn't give up and I certainly wasn't about to give up on him.
"He kept going for me and Ethan. He was determined to be a brilliant dad to Ethan."
But Nicky continued to deteriorate and although they did not know exactly how long he had left, his hospital stays were more frequent and Kerry knew there wasn't much more time together.
"It was something he didn't want to hear," said Kerry. "It was a difficult conversation when I had to say to him, 'I think this is the terminal phase now, because unless there is a miracle, this isn't going to change.
"This was an incredibly difficult conversation to have."
Nicky agreed to go into a hospice and died on March 8, 2015.
Kerry said: "It was heartbreaking. We still miss him a lot, but we just take each day as it comes. I'm constantly making reference to Daddy. Ethan looks like him and acts like him, so I can't help but mention him a lot."
Although Kerry and Ethan miss Nicky every day, they have received support from Ellenor Hospice – a charity funded by Comic Relief to support families through the loss of a loved one.
She said: "They are very much part of helping people to live with terminal cancer or other life limiting conditions. They are just a tremendous support, you know you can just pick up the phone and know that someone will help you.
"We've been raising money for Comic Relief to help give back. Ethan's school will be raising money for them this year as everyone will be wearing red."