Keir Starmer has said the public do not want Matt Hancock to resign after the health secretary's department was found to have acted unlawfully.
Speaking to LBC on Monday morning, the Labour leader said while Hancock should "apologise", he should remain in post.
"At the moment in the middle of the vaccine, my strong feeling is that the vast majority of the public would say, for heaven's sake what you should be doing here is making sure he's working really hard to get that vaccine rolled out properly, rather than calling for him to resign," Starmer saiid.
"He should apologise and come and explain to the House, of course he should."
Starmer also rejected the suggestion from a member of the public on the call-in show that he was "tap dancing for the Tories".
"I get attacked for supporting the government, I get attacked for attacking the government," he said.
"Which makes me think, it's a difficult judgment, probably we are getting it about right."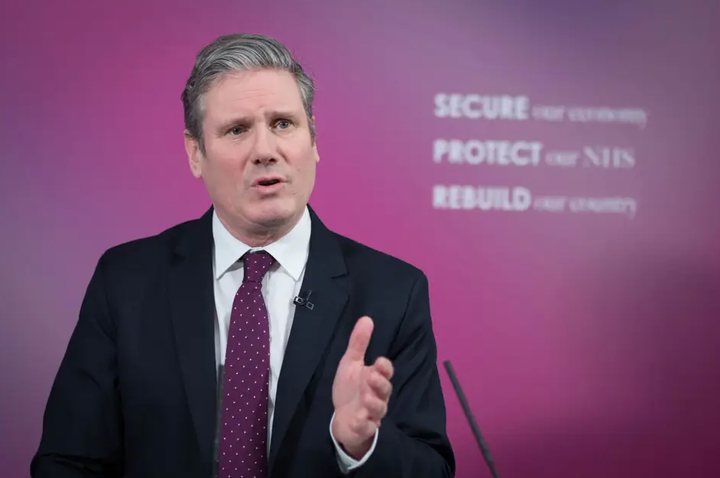 The government is required by law to publish a "contract award notice" within 30 days of the award of any contracts for public goods or services worth more than £120,000.
Hancock has refused to apologise and suggested ensuring the transparency returns were published in the required timeframe would have cost lives.
"People can make up their own view about whether I should have told my team to stop buying PPE and spend the time bringing forward those transparency returns by just over a fortnight," he told the BBC's Andrew Marr Show on Sunday.
"Or whether I was right to buy the PPE and get it to the front line. You tell me that that is wrong. You can't. And the reason you can't is because it was the right thing to do.
"Legal cases about timings of transparency returns are completely second order compared to saving lives."
Some Labour MPs have said the health secretary should be removed from post.
Richard Burgon, who served as Jeremy Corbyn's shadow justice secretary, said: "Matt Hancock broke the law over PPE contracts He needs to resign. If he won't, he should be sacked."
Nadia Whittome, the MP for Nottingham East, said: "The government awarded public contracts to Tory friends and donors. Matt Hancock acted unlawfully keeping it secret. He should resign."
Rachel Reeves, the shadow Cabinet Office minister, has written to Hancock asking him to commit to "publishing all outstanding contracts, winding down emergency procurement powers and reintroducing tendering".