They also come in four different ethnicities - Asian, African-American, Caucasian and Latino.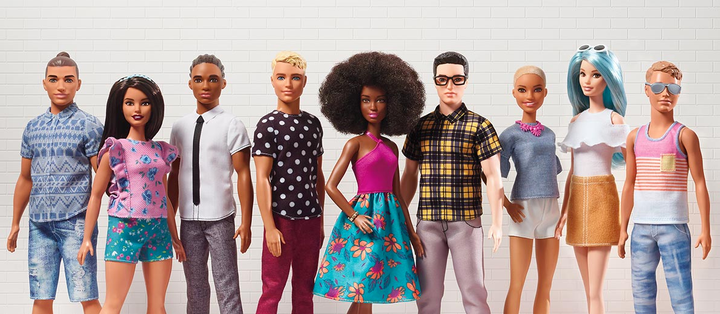 The American toymakers said in a statement: "Kids everywhere will have infinitely more ways to spark their imaginations."
You may recall that Mattel had a similar shakeup at the beginning of 2016, in an effort to counteract a slump sales by 13%, but that was only for Barbie.
This time round, 15 new Ken dolls have been created, with three distinct body types; broad, slim and original, and options with freckles and cornrows.
One even has a trendy man bun.
Barbie general manager Lisa McKnight told the BBC that updating Ken was an important part of the company's future, she said: "By continuing to expand our product line, we are redefining what a Barbie or Ken doll looks like to this generation.
"Evolving Ken was a natural evolution for the brand and allows girls to further personalise the role they want him to play in Barbie's world."
Most of the dolls are currently available to customers in the United States, Canada, and the United Kingdom, and preorder is available for other dolls that will not be ready until autumn 2017 and spring 2018.
A 'Let Toys Be Toys' spokesperson told HuffPost UK: "Diversity and choice in all toy and play choices are essential for all children, so it's great to see Mattel giving Ken a makeover for the 21st century.
"We know that both boys and girls enjoy playing with Ken and Barbie: small world and doll play contribute to social and communication skills, so important in the early years for both girls and boys."
Mattel first launched their plastic icon in 1959 and has sold over a billion of the dolls worldwide - making it the company's largest and most profitable line ever