Once a month, Battersea Dogs and Cats Home transforms into a hive of excitement. Long tables filled with colourful wool and knitting needles become flanked by people crafting tiny toys and blankets for the centre's feline inhabitants.
The rescue centre partners with Love Knitting to run a monthly session where volunteers can pay to knit little gifts for the cats, such as blankets and toys.
The idea is that the cats keep these items so they have something familiar to take with them when they eventually find their forever homes.
This summer, the rescue centre has been particularly under strain.
"Kitten season is upon us and has been longer than usual," JoAnna Puzzo, Battersea's cattery team leader, told HuffPost UK at one of their sessions held on International Cat Day (8 August).
"A lot of cats are still not being neutered and having litter upon litter upon litter of kittens. When their owners can't rehome them or they're stuck with these litters, they bring them in to us. Or, unfortunately, sometimes we see them dumped or abandoned and we take them in."
Usually the kittens are rehomed after a week or two, however it's taking longer this year because there are so many of them.
"We're hoping they'll find homes soon," Puzzo added.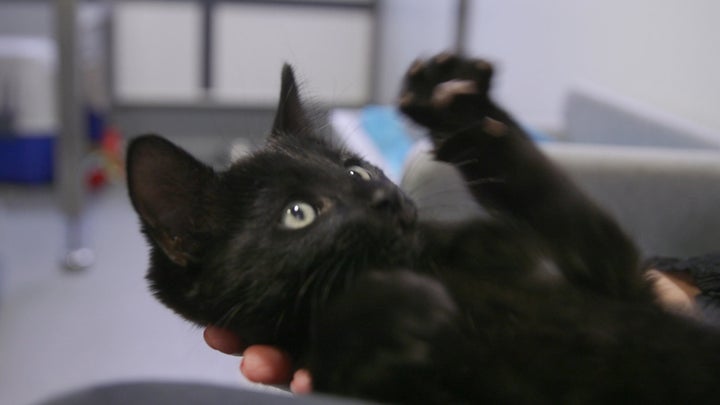 The centre has approximately 200 cats on site or being fostered at any one time. Meanwhile the average stay for a cat is 22 days.
Discussing the part they play in helping the cats feel more at home, Scott Wellard, a volunteer, told HuffPost UK: "It's nice for the kittens to have something to play with that's been made with love."
Suzie Evans, another volunteer, added: "They deserve a lot considering what some of them have gone through. Some of them have had a poor start in life and they need a bit of comfort."
One of the cats who went through a particularly hard time was nine-month-old Pearl, who was repeatedly kicked by a group of children in a local park.
Thankfully, a member of the public intervened and took Pearl to Battersea.
"Pearl was quite nervous and shaken when she arrived, but our vets checked her over," Puzzo said.
"She was healthy, no bruises or broken bones, and thankfully found a new home this past weekend.
"It's a happy ending for a sad story."