More people are having "life-saving" conversations about their mental health - but men and older people are far less likely to do so, a landmark survey has found.
Nearly half of us have discussed mental health in the last three months - which was described as a "tipping point" for the issue - and 82% say discussing their own issues was helpful, according to YouGov's poll, the most comprehensive survey of its kind for 20 years.
The gulf between the sexes is large, with only 37% of men saying they discussed mental health compared with 54% of women. A total of 57% of those aged 18 to 24 had, compared with just 32% of those over 65.
The poll was conducted to coincide with the launch of a series of films for the Heads Together campaign, launched by the Duke and Duchess of Cambridge and Prince Harry.
The films feature people talking about their mental health, often with the person they first opened up to.
The films in full:
The YouGov poll surveyed 5,000 people and shows 46% had had a conversation about mental health and 48% had not.
"The nation is at a tipping point in our willingness to talk openly about mental health, and it is young people who are taking the lead," YouGov chief executive Stephan Shakespeare said.
"While nearly half of the British public has had a conversation about mental health in the past three months, there is still a long way to go.
"This is especially true among groups who are less likely to speak out, such as older people and men.
"This study, one of the most comprehensive ever carried out on the topic, shows how important talking about mental health can be."
Just 41% of people surveyed agreed with the statement: "I find talking about my mental health helpful."
But, of those who had discussed their own mental health with someone else, 82% said they found it helpful.
Paul Farmer, the chief executive of mental health charity Mind, said: "As a nation, we need to stop shying away from talking about mental health and break the silence and stigma that can be so damaging to those of us living with mental health problems.
"You don't need to be an expert to start a conversation and there are no hard and fast rules for what to say. It needn't be daunting to have a conversation, just be kind, compassionate, listen and don't judge."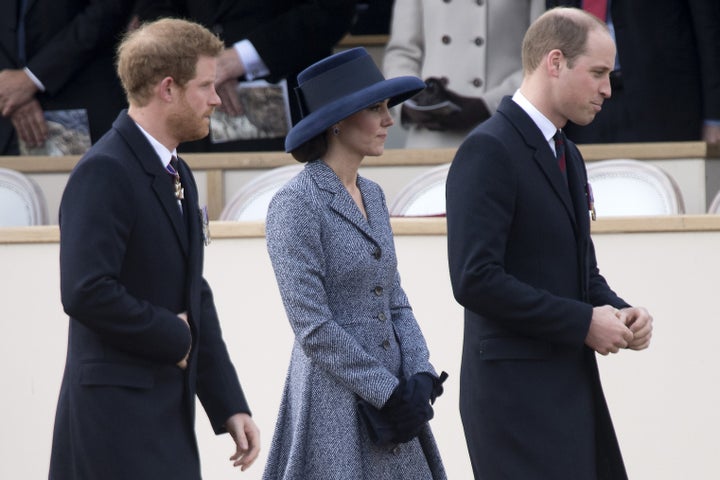 Prof Stephen Scott, an academic in childrens' health at King's College, London, said adults could set examples for children by being frank about their problems.
It is estimated that half of mental health problems start before the age of 14. The Duchess of Cambridge is passionate about children's mental health and guest-edited HuffPost UK's Young Minds Matter series on the subject.
Prof Scott said: "I work with disturbed adolescents and it is incredible how powerful a major figure 'coming out' by talking about a mental health problem can be.
"Mental health problems can carry huge stigma, and sufferers can feel shame, bad inside, and wounded for life.
"When they see an iconic role model, whose outward public face is strong, admitting to difficulties, it helps them feel much more normal about themselves, and able to see their way to a positive future."
The Heads Together films feature, among others, Alastair Campbell, cricketer Freddie Flintoff, Ruby Wax and Professor Green, who lost his father to suicide.
Farmer said of the films: "It is truly groundbreaking... These films have the power to spark life-changing and, in some cases, life-saving conversations. We hope that there will be a snowball effect with more and more people seeing the benefits of speaking out and supporting each other."
Stephan Shakespeare said: "We are at a moment of opportunity in opening up to this vital health issue."
The Duke and Duchess of Cambridge and Prince Harry, who launched Heads Together last May, said: "We have seen time and time agin that shattering stigma on mental health starts with simple conversations.
"When you realise that mental health problems affect your friends, neighbours, children and spouses, the walls of judgement and prejudice around these begin to fall.
"We all know that you cannot resolve a mental health issue by staying silent."
YouGov polled 5,003 British adults online from February 21 to 28.