An eco-charity is threatening Michael Gove with legal action amid claims he is using ministerial powers to "delete" regulations on hazardous pesticides post-Brexit.
The Chem Trust says the environment secretary has laid a last-minute amendment to Brexit legislation which would "substantially weaken" UK law and oversight of chemicals.
The charity says the move, being pushed through using executive changes to the EU Withdrawal Bill - which ministers said was aimed at copying EU laws onto the UK statute book - is "the first concrete evidence" of Brexit being used "as a cover for deregulation".
It has hired legal firm Leigh Day and sent a letter to the minister - passed to HuffPost UK - warning the government it is preparing to launch a judicial review.
In particular, the charity is concerned about endocrine disrupting (EDC) pesticides - a substance widely used in US farming - being permitted in the UK for the first time.
The EU refused to allow EDCs after the World Health Organisation warned the substance is "suspected to be associated with altered reproductive function in males and females; increased incidence of breast cancer, abnormal growth patterns and neuro-developmental delays in children; as well as changes in immune function".
Eco-chiefs fear the potential drop in standards paves the way for a post-Brexit trade deal with America but without proper scrutiny.
After HuffPost approached the Department of the Environment, Food and Rural Affairs, it said it was "promptly addressing" a "drafting error" in the legislation and insisted protections would be maintained "in full".
Chem Trust has not yet withdrawn the letter, however.
Greenpeace UK's chief scientist has told HuffPost UK the move is a "prime example" of Brexit being used to downgrade environmental protections.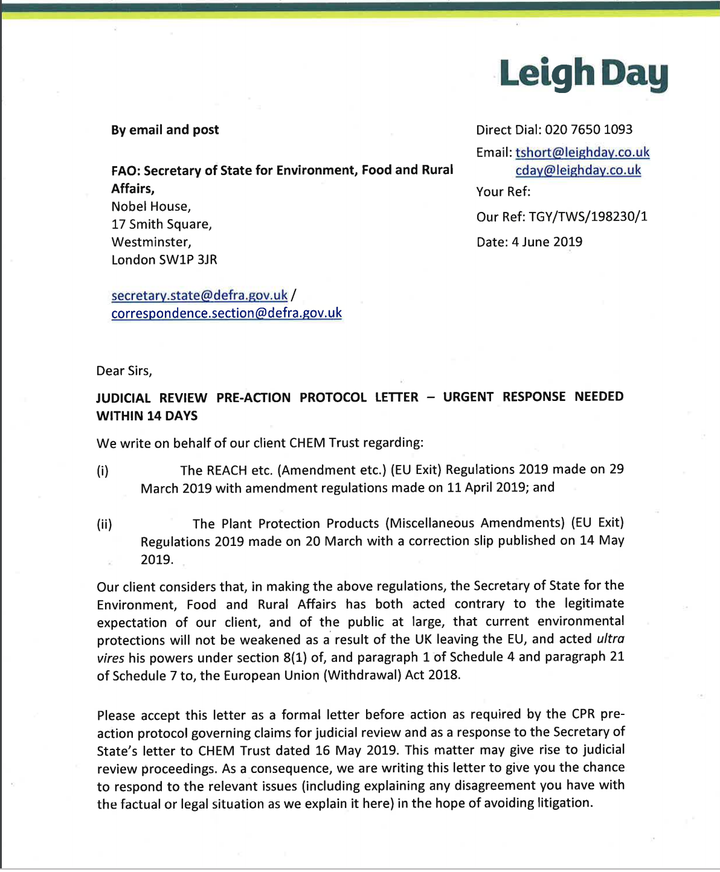 It comes as Theresa May used one of her final acts as prime minister to try and secure a legacy on climate change by committing the UK to a target for cutting annual emissions of greenhouse gases to net zero by 2050.
Gove, meanwhile, is among ten MPs vying to replace May as the UK's next PM.
Unless the legislation is amended before exit day on October 31, UK laws will allow the use of EDCs, says Chem Trust.
Kate Young, Brexit campaigner at Chem Trust, said: "Chem Trust finds it shocking that a detailed analysis of the laws that the government claimed would copy-over EU environmental and health protections actually finds that a number of key protections, including against endocrine disrupting pesticides, have been deleted.
"The government must amend these laws now, to re-introduce these protections, otherwise we may have to proceed with the next stage of this legal process, a full judicial review.
"We have recently seen worrying statements from the US on how the EU's criteria for identifying EDCs in pesticides could disrupt trade and urge the UK government against relaxing vital environmental protections in the pursuit of future free trade agreements."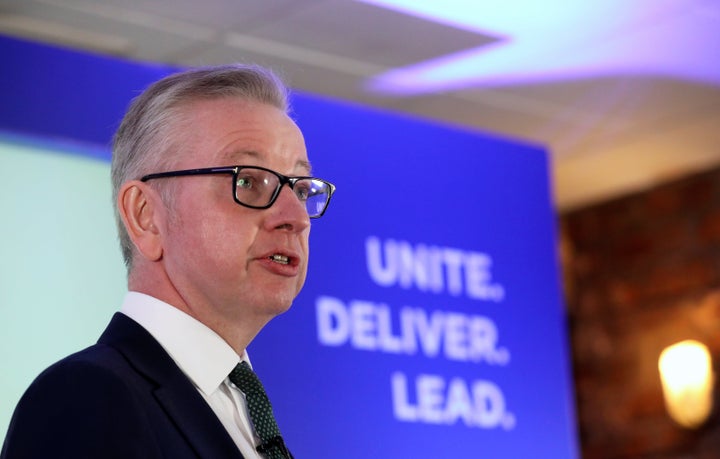 Doug Parr, Greenpeace UK chief scientist said: "It has long been a concern that Brexit is being used as a cover for the deregulation of a raft of standards in the UK compared with the EU. This looks very much a prime example of it in action.
"Crucial health and environmental protections are at risk of disappearing altogether, exposing us to potentially dangerous chemicals - something I very much doubt anyone thought they were voting for in the 2016 referendum."
Amelia Womack, deputy leader of the Green Party, said there is "considerable scientific and public concern about endocrine-disrupting chemicals", adding: "The public was promised under the Withdrawal Act that protections would not be weakened when EU rules were transferred into UK regulations, but this is clearly not what is happening."
She added: "The Chem Trust is highlighting critical issues with this legal challenge, and we commend them for it.
"Of course the best option for our future would be to remain as a member of the European Union, retaining all of the environmental protections that offers, and not have to fight at great cost and effort to maintain what has already been won by hard campaigning in the past."
A Defra spokesperson said: "As the Environment Secretary has repeatedly made clear, the UK's high level of environmental protection will be maintained outside the EU whether we leave with or without a deal – including maintaining controls on endocrine disrupting chemicals.

"The REACH etc. (Amendment etc.) (EU Exit) Regulations 2019 do not substantially alter the chemicals regulatory regime in the UK. They simply ensure that, in a no deal scenario, we would be able to continue to produce, supply and import chemicals when we have left the EU, while maintaining the high regulatory standards we have now."