Michelle Obama offered a sage word of advice on "how to stay calm in times of trouble", as she delighted the audience on the UK leg of her 'Becoming' book tour.
The popular former US First Lady was rapturously applauded before being interviewed by Late Show host Stephen Colbert during a packed out show at London's O2 Arena on Sunday night.
Asked by Colbert about the advice she would give the UK amid "conflict", "confusion", and "fear about what the future will bring", Obama told the 15,000-strong audience: "Don't be complacent, and don't become so cynical that you just turn off.
"Because democracy never stops. Just because you get cynical and emotional about it, it keeps going. So we cannot afford to sit on the sidelines."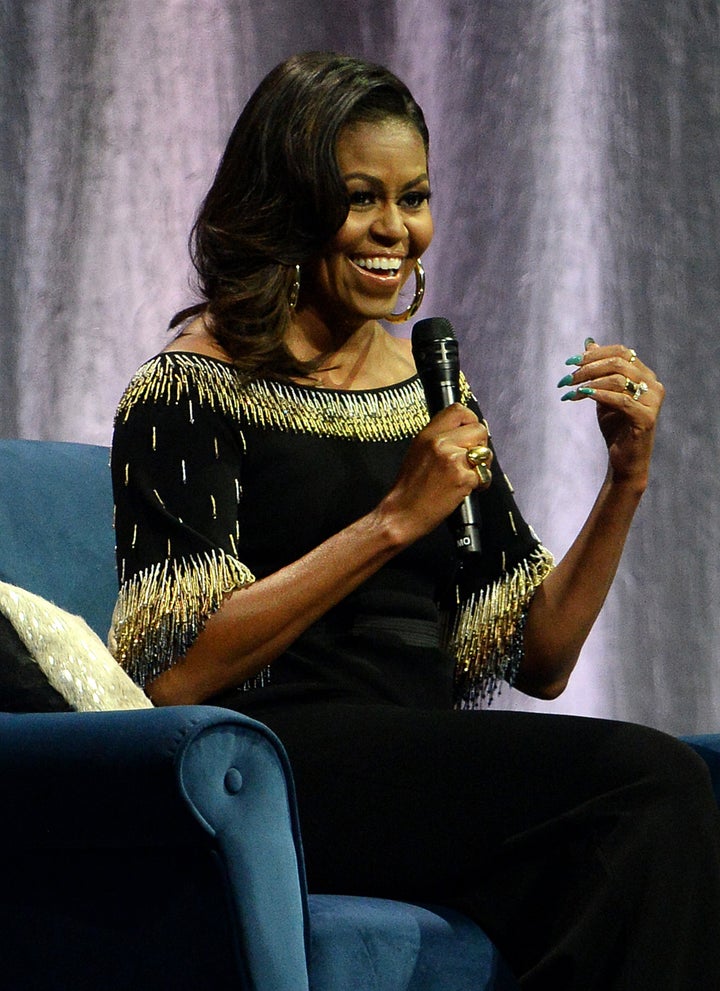 Referencing the state of politics in the US, she added: "In all truth, that's what we have to learn to be, is a little more empathetic. Because people are afraid. Because the world is changing so fast. And their fears are real.
"We may not agree with them, but some people don't know what their place will be in this new and changing society, this new and changing world."
Obama, who has admitted she dislikes politics and has ruled out her own career in the fraught field, continued as the audience cheered: "It's time for us to roll up our sleeves, and if we're not happy with the state of things, then in democracies we have votes.
"But that means we've got to pay attention, and we've got to be engaged, and we can't take our rights and liberties for granted."
Stylish in a custom beaded Stella McCartney jumpsuit, the former lawyer recalled the well-documented time she broke protocol by hugging the Queen during a visit to London in 2009.
Asked if she would do anything differently, she said: "What is true among world leaders is that there are people who handle protocol, and usually the people they're representing don't want all that protocol.
"But in that moment, no. That was absolutely the right thing to do, because it was the human thing to do."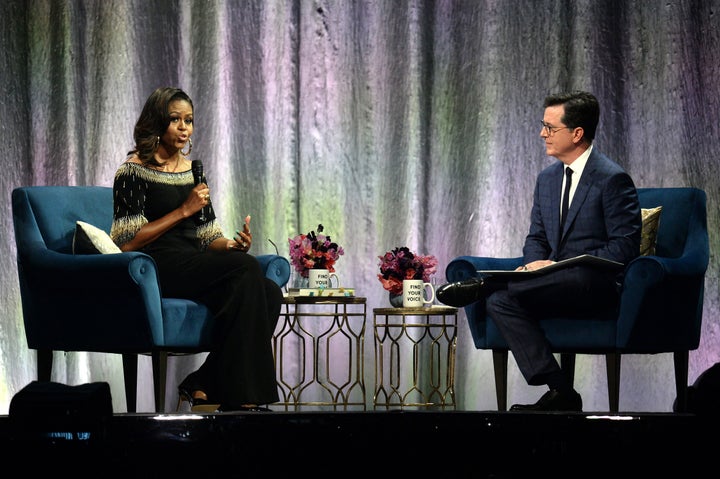 Obama revisited a selection of topics she touched on in her bestselling memoir, including bringing up a young family in the White House, and her feelings about President Donald Trump.
"Think of the things that people complain about that my husband did or didn't do, let's just stop now, and take a moment. For anybody who had problems with Barack Obama, let's just think about what we were troubled by.
"There were never any indictments."
She later added: "We have to be very careful with our words. Because I had to think about that - the words that were uttered about my husband, what meant to my two daughters."
Trump was the main figure behind the "birther movement" which falsely claimed President Obama was not born in the US and therefore ineligible to run for office.
In her book, Michelle referred to Trump as a "bully", calling his claims "crazy and mean-spirited...its underlying bigotry and xenophobia hardly concealed".
Obama's wildly successful memoir is on track to become an all-time bestseller, having already sold 10 million copies worldwide.
It charts Obama's journey from her childhood in the South Side of Chicago, her career, family, and her time at the White House.
Within two weeks of release, Becoming had sold the most copies of any book in the United States.
Her North American and European tour has taken her to various cities on the continent, including Copenhagen, Paris and Amsterdam.
Her London stop follows a smaller show at the capital's Southbank Centre last year, which famously saw tens of thousands of people disappointed at not being able to get a ticket.
Former President Barack Obama is set to release his book next, with Michelle indicating that he will know "this summer" when he is due to finish it.