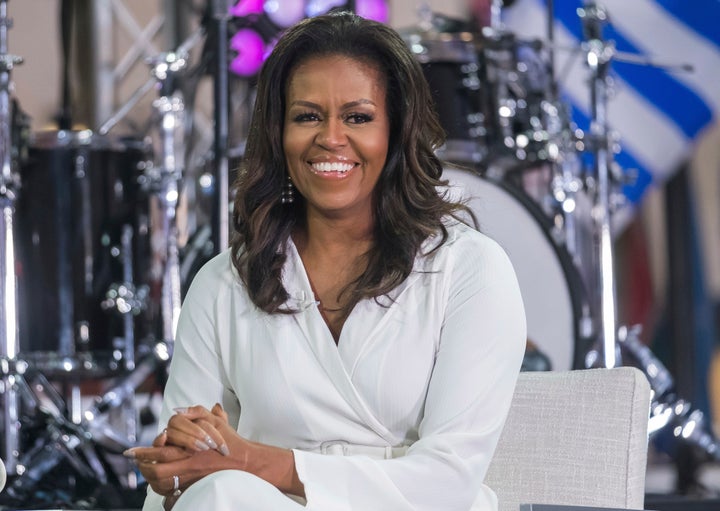 More than 55,000 people tried to buy tickets to see Michelle Obama speak at London's Southbank Centre – for an event that could seat just 2,700 people.
An allocation of tickets for 'Becoming: An Evening with Michelle Obama', went on sale at 10am on Thursday, but just 30 minutes later it had sold out, the centre announced on Twitter.
Lucy Pasha-Robinson, a reporter at HuffPost UK, was 55,000th in the queue at 10.30am. In a message informing her of her place, she was told: "Being part of the waiting room or the queue does not guarantee access to seats as there is a finite allocation which could sell out before you reach the front of the queue."
One Twitter user, Davida, wrote: "I have three devices queuing up for the Michelle Obama event at the Southbank Centre. Device 1 is in 966th place. Device 2 is in 28,100th place. Device 3 is in 42,167th place. If I don't get in, I just want the records to reflect that I tried, yea? Okay, thanks."
Another, Dr Alice Lilly, said: "The good news is that I'm in the queue for tickets to see Michelle Obama at the Southbank Centre; the bad news is there are 38,000 ahead of me in the queue".
On the controversial re-sale website Viagogo, one seat for the event was being sold for up to £10,000 by 11am. The Southbank centre said it was taking the issue of secondary ticketing "very seriously"
"If we find tickets on sale without our authorisation by any unauthorised third parties they are identified and cancelled," it said in a statement.
News of the visit was announced last week on the Southbank's website, where it was billed as an "exclusive" in conversation with the acclaimed novelist Chimamanda Ngozi Adichie about Obama's forthcoming memoir, 'Becoming', which will be published by Penguin.
It promised to "invite audiences into [Obama's] world, chronicling the experiences that have shaped her—from her childhood on the South Side of Chicago to her years as an executive balancing the demands of motherhood and work to her time spent at the world's most famous address."
The Southbank Centre and Penguin Live said they would be donating 300 free tickets to secondary school pupils from across London and the UK, as well as some local charities. The Royal Festival Hall auditorium seats just over 2,700 people.