Michelle Obama's memoir Becoming is on course to become the most popular autobiography in history – it has sold more than 10 million copies in just five months.
The publishers, Penguin Random House, who also own the rights to Barack Obama's unpublished book, say 618,000 of those books were sold in the UK.
Becoming has been praised for appealing to women across different ages and stages in life – talking about everything from her childhood, careers and time in the White House, to miscarriage and using IVF to conceive daughters Malia and Sasha.
Here, HuffPost reporters and readers share what the book has meant to them.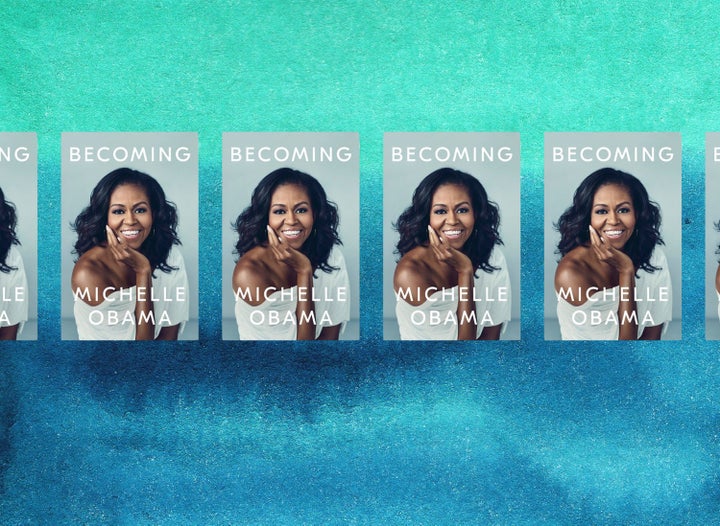 "It was the first time I had any insight into her as a normal woman, not just an icon"
Jameela Raymond, 29, HuffPost UK reader
I read the book and listened to the audiobook – so double the Michelle and double the fun. I already knew she was amazing, and she was a (hyper) visible First Lady for me, but it was the first time I had any insight into her as a normal woman, and not just an icon.
Her relatability for so many women, especially women of colour and black women, is so significant – from her relationship with her stay-at-home mother and her overwhelmingly hard-working father, to being told what she would never achieve. This pushed her to work even harder and prove people wrong.
As someone who tries to follow processes and make plans far in advance, it was a refreshing reminder to read about her similarities to me – and how those plans affected her happiness. It was also important to be reminded that no matter how much you plan and plan and plan, those plans can fade even further from reality if your life partner decides to run for President.
Her descriptions of her relationship with her husband left a real impression on me, and again, made this otherworldly couple so much more relatable. Their debates around whether or not to have children, the community they built together in Chicago, and their respect for each other's opinions reminded me that even the most phenomenal people in the world have to put in work to have a successful relationship.
"Her story captured my heart and inspired me"
Isabel Togoh, 25, HuffPost UK reporter
While reading Michelle Obama's masterpiece that is Becoming, I struggled to put it down. From tales of travel, self-discovery, love, connection, conflict, family ties, illness, death, career, friendship, academic life, quarter-life crisis, life lessons, growth – it's a rich tapestry of life, in all its twisting, turning glory.
Obama is an unapologetic black woman from the south side of Chicago, yet for the most part her story is relatable across race, gender and geography. Plus, it is written in an accessible way. I read it at the start of the year and other books which have followed haven't topped it. It is simply wonderful, I think.
Of all the parts I enjoyed, the section where Michelle and Barack meet for the first time is the part I still cannot stop thinking about. Imagine if they knew their lives were about to change!
Even though the world has been introduced to her story many times and the book doesn't contain a whole lot that we didn't already know, hearing all those stories and more consolidated and in her own words was a special experience. Her story fully captured my heart and inspired me.
"It shows women's 'striver' mentality"
Catherine Barton, 35, HuffPost UK reader
It's hard to imagine that a book by the first black First Lady growing up in Chicago in the 60s and 70s could be that relatable to a white suburban mother who grew up in England in the 80s and 90s – but she pulls it off. It shows the universality not only of having kids, but also of the 'striver' mentality found in lots of women and how to reflect on that.
I loved the piano story – a tale of how she struggled to find her place on the keyboard when performing at her first recital, because on her teacher's piano the middle C key had a chip on it. It showed me how kids from less well-off backgrounds struggle – even when they make it 'into the room' – because of all sorts of factors from their upbringing more privileged people wouldn't think of.
As a mum-of-two myself, trying to find the right balance between work and childcare, I found the tales about daughters growing up inspiring. I have adopted her label of "the diaper bag years", which not only makes me laugh, but also reminds me that it really is just a brief phase and it'll be over before I know it, so I've got to enjoy my kids while they're so small.
And also the way Michelle built a career she loved, by meeting people, trying stuff out and daring to take a 'swerve'. This was so practical and, for me, not like other "inspiring" people who just say, "yeah, chuck your life upside down and just do it". You could see how she'd really had to think it through. A lot of women will be able to relate to that check box mentality of life: work hard, tick something off, onto the next thing.
"She presents her truth on her own terms"
Nadine White, 26, HuffPost UK reporter
Sure, she's generally regarded quite fondly across the world but parts of the global media have vilified and ridiculed Michelle Obama – remember those ape and masculinity references? For too long, we saw the former First Lady through the lens of someone else's camera and the flash of another's pen. Through Becoming, she presented her truth on her own terms.
Michelle utilised her autonomy to choose the stories and photographs that she wanted to share with us, and did so with her usual poise, grace and eloquence.
The act of writing down one's accomplishments and documenting important moments is one of self-validation; in a world that can be a terribly cold and cruel place for women, and black women in particular, that is vitally important. Becoming is the rewriting of pages of history, scrolls of literature, halls of institutions and compositions of entire movements that have excluded the perspectives and narratives of black people.
Part of the beauty of this memoir was that we got to witness her evolution into the woman she is today. It demonstrated that anything is possible – and we can accomplish our wildest dreams if we are prepared to do the work and believe in ourselves.
We all work hard to earn our money – so it shouldn't feel like hard work to spend it well. At HuffPost Finds we'll help you find the best stuff that deserves your cash, from the ultimate lipstick to a durable iron to replace the one that broke (RIP). All our choices are completely independent but we may earn a small commission if you click a link and make a purchase.