Mike Pence, a staunch abortion rights opponent, is about to be deluged with certificates for donations to America's biggest abortion provider given in his honour.
People have been donating to Planned Parenthood in the name of the Vice-President Elect, as they fear what the new administration could do to the organisation once in power.
Pence, a born-again evangelical Christian, led a national fight to defund Planned Parenthood and forced many of its clinics to close in Indiana.
As Governor of Indiana, Pence signed one of the strictest abortion laws in the country.
It banned abortion even in cases where the foetus has a "genetic abnormality" such as Down syndrome. Doctors are legally liable if they had knowingly performed such a procedure. The Supreme Court stopped the law going into effect.
This has left abortion rights advocates as fearful of Pence as they are of President-Elect Donald Trump, who infamously said women who underwent illegal abortions should be punished as well as the doctor.
Donating to Planned Parenthood have surged in recent days, with donors giving Pence's details, saying the donation is a gift in his honour.
This means Pence's office will receive a certificate giving him the good news that the organisation he opposes has been given money.
Katy Perry gave the organisation $10,000 after the election result last week.
Comedian Amy Schumer and actresses Jaime King and Ashley Hinshaw were among those posting photos of Instagram of how to make donations in Pence's name.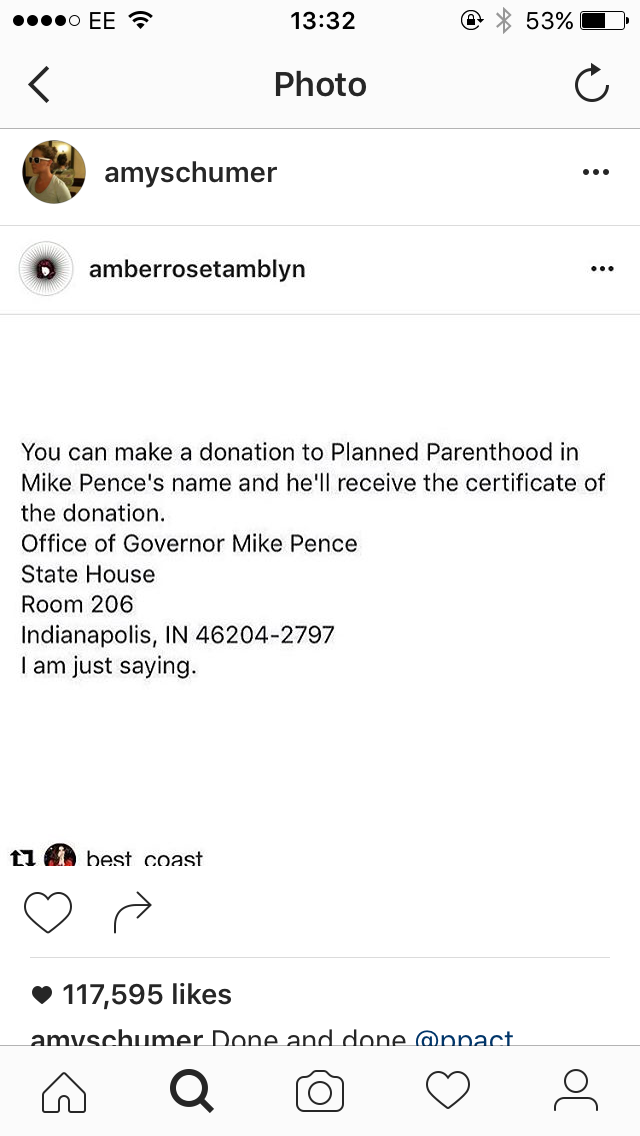 Planned Parenthood said it was "blown away" by the scale of donations but did not say much it had received. It said it was also receiving donations in honour of narrowly-defeated Hillary Clinton.
Donations to Planned Parenthood in Pence's name were first made in 2011, when, as a congressman, he introduced a bill to withdraw all federal funding from Planned Parenthood
Trump wants to cut Planned Parenthood's funding and is expected to nominate a judge who opposes abortion rights to the Supreme Court.
He said during the campaign: "Hillary Clinton's unwavering commitment to advancing taxpayer-funded abortion on-demand stands in stark contrast to the commitments I've made to advance the rights of unborn children and their mothers when elected president.
"I am committed to defunding Planned Parenthood as long as they continue to perform abortions and reallocating their funding to community health centers that provide comprehensive health care for women."
Though Trump has already softened his stances on certain issues since the election, he has reiterated his commitment to reducing abortion rights.