Thousands of students have been left 'disgusted' and 'appalled' after alt-right journalist Milo Yiannopoulos was nominated to become rector at the University of Glasgow - a position that represents the entire student body.
More than 3,000 people have signed a petition demanding that the former Breitbart tech editor is removed from the candidacy, accusing him of spreading a message of "hate and violence".
One graduate commented on the letter: "Glasgow, both University and city, has never condoned fascism and hate against women and minorities. This is not us."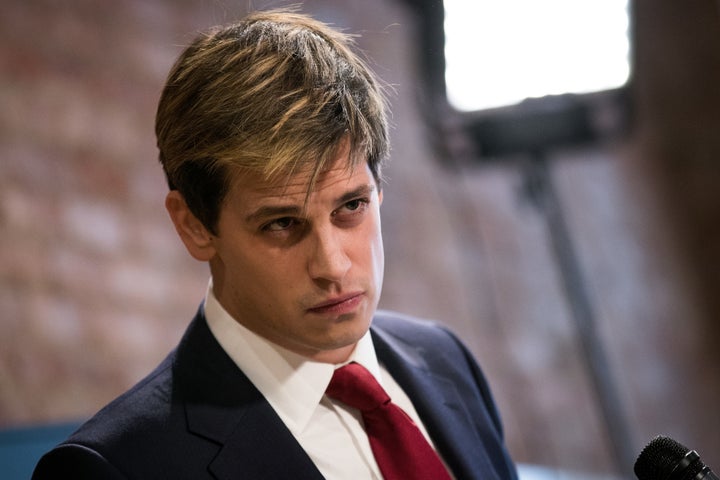 The petition, started by student Holly Hallam, reads: "Yiannopoulos currently serves as one of the most recognisable faces of the 'alt-right' movement - in other words, neo-fascism.
"As well as outing and bullying individual transgender students at universities he has spoken at, he also received a Twitter ban for racist and misogynistic abuse of actress Leslie Jones," it continues.
"More recently, publishers Simon & Schuster terminated a book deal with Yiannopoulos after he condoned statutory rape."
The petition also calls for Professor Jordan Peterson, a University of Toronto lecturer who refused to use gender neutral pronouns, to be removed from the ballot.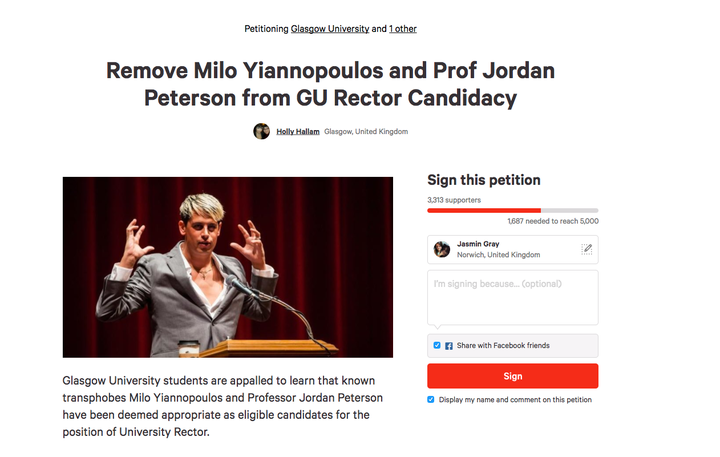 "The transphobic, misogynistic, violent ideologies perpetrated by these candidates not only put vulnerable students at the university at risk of harm, but are in direct violation of the university's Equality & Diversity Policy," the open letter continues.
"Their inclusion as candidates is utterly inappropriate at best and potentially dangerous at worst."
While largely a ceremonial role, the rector of the university is chosen by Glasgow students as their representative for three years and is expected to attend meetings about student resources.
One signatory commented: "I'm disgusted that Glasgow University would stoop so low as to condone and normalise hateful speech and behaviour by allowing these dangerous men to be considered for a position of power within a supposedly forward thinking, liberal educational institution."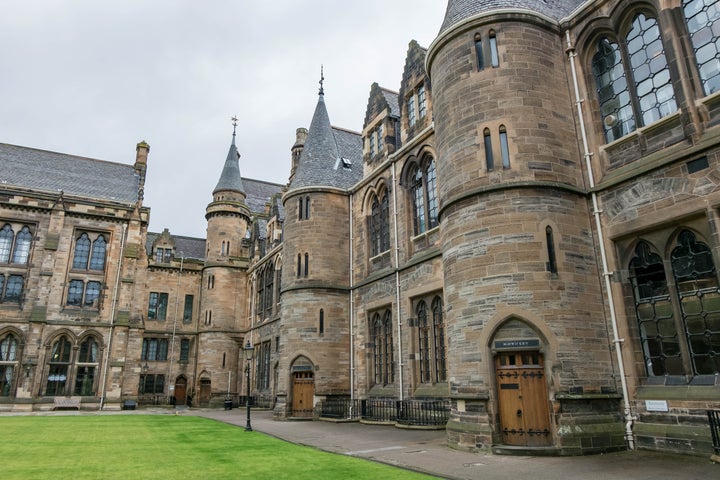 Glasgow University alum Stuart Watson added: "Removing these names from candidacy will send a clear message that hate-speech and pro-fascism do not have a home in Glasgow."
The university's feminist society has also voiced its opposition to the nomination of the reporter, who is often referred to as the "darling of the alt-right".
Some students believe Yiannopoulos - who was nominated alongside human rights lawyer Aamer Anwar and former Lib Dem MP Vince Cable - is the best person for the role.
More than 3,000 people have liked a Facebook page titled "Milo for Rector - University of Glasgow", which states that Yiannopoulos' election would symbolise the end of the "intolerant, authoritarian silence-everyone-who-disagrees-with-me attitude".
"It is dangerous to our university, to our society, and frankly to our lives," the anonymous group adds.
While it has yet to be officially confirmed whether Yiannopoulos will attend hustings for the nominees next week, he wrote on Facebook:
"Currently investigating whether a trip to Glasgow is feasible. One trip from me and I'd be sure to win the election."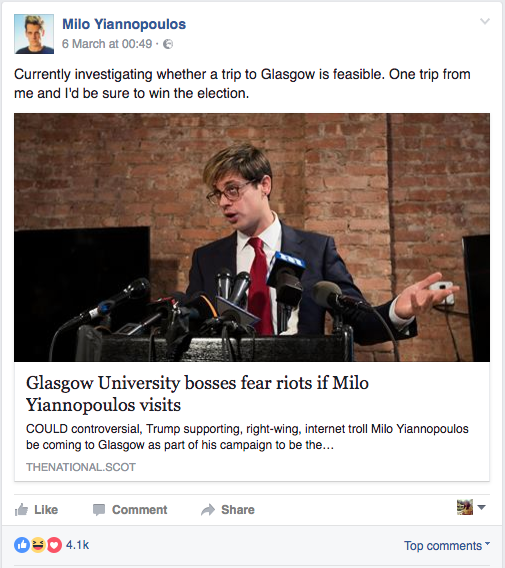 Yiannopoulos' nomination follows a series of controversies sparked by his "Dangerous Faggot" college tour.
Glasgow University's current rector Edward Snowden will be replaced on March 21 following a student vote.
President of Glasgow University students' representative council Ameer Ibrahim said: "While a number of views have been expressed over the list of candidates, all candidates currently standing have met the criteria to stand through the nomination process as set out in the election guidelines, and all forms have been verified.
"The election is a democratic process. We would encourage all students at this time to look into the campaigns of individual candidates, and come to an informed decision in casting a vote for the individual who will become our next university rector."