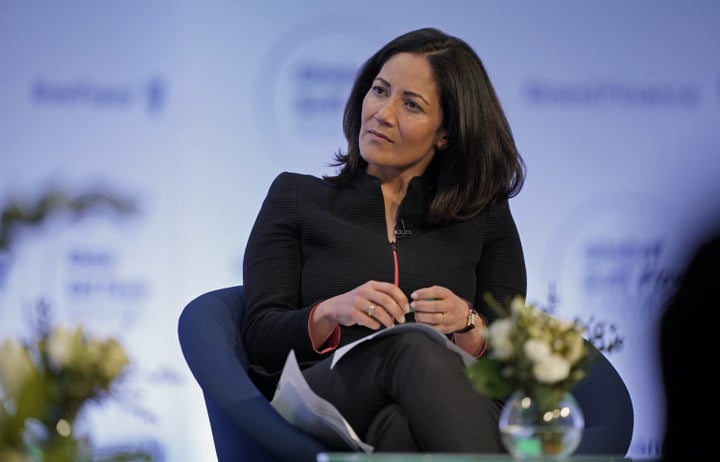 BBC journalist Mishal Husain clashed with an Israeli colonel this morning over the broadcaster's coverage of the devastating blast at a Gaza hospital last night.
Palestinian authorities blamed an Israeli air strike for the blast, but Tel Aviv has said a misfired rocket by jihadists was responsible.
On Radio 4′s Today programme this morning, Husain interviewed Colonel Peter Lerner of the Israeli Defence Force (IDF).
She asked him Israel would be willing to allow an independent investigation into the hospital explosion.
But Lerner told her it was a "ridiculous question" and said: "When Hamas says something no evidence is required – you quote them endlessly and they are repeated.
"But when Israel says something you ask 'where's the evidence?'"
Lerner added: "We are a serious military. We take our business extremely seriously. We initiated a senior, high-level investigation in order to get to the bottom of what happened yesterday and what happened is a very clear reality.
"The IDF did not conduct a strike against the hospital because we do not target hospitals. Mistakes can happen, but this was not one of those.
"We checked on our radars and found the route of the rockets and found that one of them had fallen short. But you do not have to take my word for it, all you need to do is see Al-Jazeera. They broadcast the rocket launches and one of them falling inside Gaza."
Husain replied: "You are putting forward many bits of information, but it would support your version of what happened if you were willing to submit it to an independent process because it's clear how important this is to everyone."
Lerner hit back: "You are willing to accept at face value what a terrorist organisation that butchers babies in their bedrooms as fact and question a professional military that brings a whole series of facts that are actually based on intelligence, on operational data and knowledge."
He added: "You have a huge responsibility in these times as the BBC - your listeners are dependent on you to get this information. When you for several hours were broadcasting an Israeli strike on a hospital, you were doing them a huge disservice.
"It is not an independent investigation that is required, it's basic decency. You cannot trust a terrorist organisation that butchers babies in their bedrooms. You just cannot trust any word that they say."
Later in the interview, Husain said: "The reason I am asking if you are willing to submit to an independent inquiry is because there have been a number of times that the initial Israeli version of events turned out not to be true."
"That is the reason that there is often a lack of trust in what your initial statements are about a particular incident," she added.
But Lerner replied: "This isn't an initial statement by an IDF spokesperson. This is a high-level investigation promptly launched, promptly engaged after the attack in order to get to the facts and this is why we are able to present such a series of issues that actually prove that you were misled by Hamas.
"You listened to them, you trusted them. Unfortunately you need to be a bit more responsible about that reporting."
Defending the BBC's coverage, Husain said: "The coverage has been reflecting the two different versions of what happened at the hospital and attributing the different versions to who is putting them forward."
The corporation issued a statement about their "poorly phrased" coverage of the pro-Palestinian marches which took place across the UK at the weekend.
During a news bulletin on Monday, the BBC presenter Maryam Moshiri explained how Rishi Sunak had visited a Jewish school in London.
She said: "The visit followed several demonstrations across Britain during which people voiced their backing for Hamas."
Moshiri later apologised on X (formerly Twitter), saying: "We accept this was poorly phrased and was a misleading description of the demonstration."
Several hours later, a different new anchor read out a similar message, saying: "Earlier on BBC News, we reported on some of the pro-Palestinians demonstrations at the weekend.
"We spoke about several demonstrations across Britain during which people voiced their backing for Hamas.
"We accept that this was a poorly phrased, and was a misleading description of the pro-Palestinian demonstrations."