As France's law banning super thin models comes into effect today (8 May), it is another step toward the protection of fashion models against mistreatment.
Originally passed in 2015 by France's National Assembly, the law requires all models to submit a health certificate before they can be booked for a job to ensure they're not being pressured to maintain an unhealthy weight.
Israel, Spain and Italy have already banned the booking of models with a BMI (Body Mass Index) of 18 or below.
The UK has yet to follow suit, but that doesn't mean moves aren't being made to safeguard models.
The British Fashion Council has previously spoken about not enforcing a minimum BMI, as it believes it is an inaccurate measure for young women. Instead, the organisation says it has "a focus on looking after models [and] encourages health and wellbeing with healthy food and drink provided backstage at shows".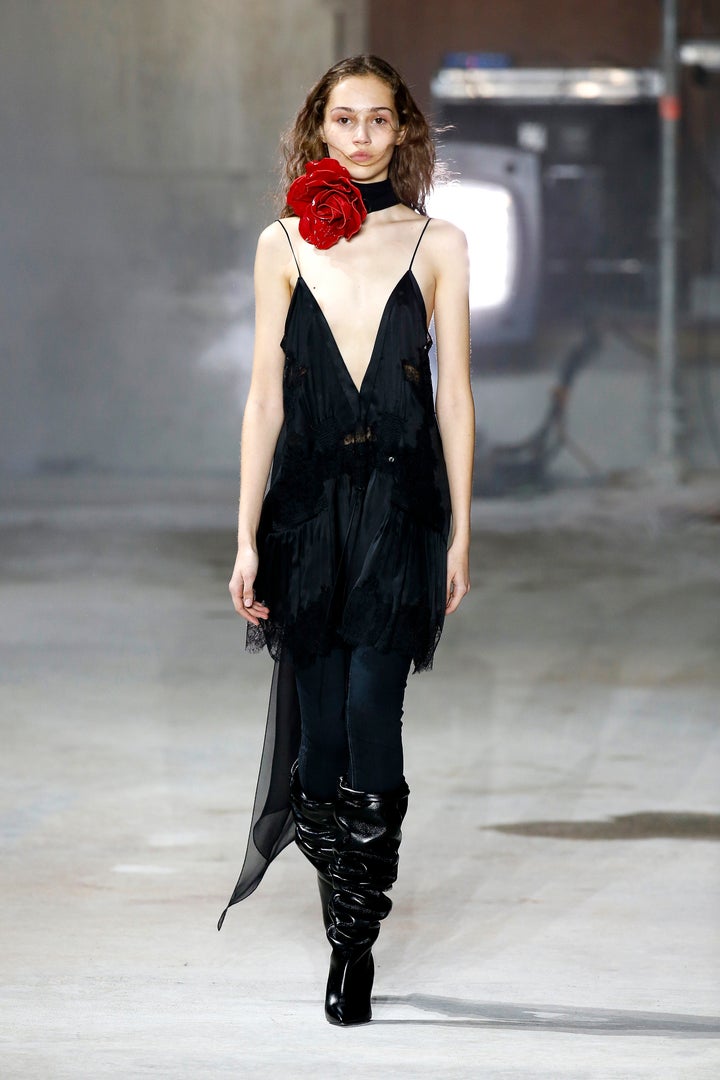 Over the past few years other changes have been also made.
Back in 2012, Vogue used its June editions across 19 countries to launch a new model health initiative. The Condé Nast title outlined a six-point pact aimed at promoting healthy body image and a better work environment for the models it used in photoshoots.
The Health Initiative, which was supported by Alexandra Shulman on behalf of British Vogue, Anna Wintour for the US iteration and Emmanuelle Alt for Paris, vows to continue the work begun by the British Fashion Council and the Council of Fashion Designers of America in terms of promoting healthy body image within the industry.
And in 2015, eating disorder experts S. Bryn Austin and Katherine Record asked the U.S. Occupational Safety and Health Administration to prohibit the hiring of models with a BMI of less than 18.
They claimed this ban would "go a long way toward preventing serious health problems among young women - including anorexia nervosa and death from starvation."
The authors noted that the average runway model's BMI is typically below the World Health Organisation's threshold for medically dangerous thinness for adults - a BMI of less than 16.
"Models have died of starvation-related complications, sometimes just after stepping off the runway," Austin and Record wrote.
Occurring during the same year as France's initial law plan, it is hoped this legislature will be in place in the near future to further protect American models.
More recently, fashion show casting director James Scully vowed to call out the mistreatment of models, and he's stuck to his word for 'Business Of Fashion'.
Scully took to Instagram after several models complained to him that during a casting for Balenciaga's autumn/winter 2017 runway show, 150 hopeful models were left for many hours in a dark stairway waiting to be seen.
"I was very disturbed to hear from a number of girls this morning that yesterday at the Balenciaga casting Madia and Rami (serial abusers) held a casting in which they made over 150 girls wait in a stairwell - then told them they would have to stay over 3 hours to be seen and not to leave," Scully wrote.
"In their usual fashion they shut the door, went to lunch, and turned off the lights to the stairs - leaving every girl with only the lights of their phones to see."
Balenciaga revealed it had issued an apology to the models involved and had broken ties with its Paris Fashion Week casting agency.
To the outside world modelling holds a glamorous allure, but the mistreatment of models is all too prevalent and industry insiders, like James Scully, and influential voices like Vogue, are providing a hope of seeing change in the near future.