A mixed martial arts (MMA) ring girl has questioned why photos of her breastfeeding have received a backlash when her bikini snaps don't.
Jackie Owens, a mum-of-three from Missouri, shared side-by-side pictures of her in her bikini in the ring and breastfeeding her youngest daughter on The Badass Breastfeeder Facebook page.
The mum pointed out that one of the photos received negative comments, despite a similar amount of skin being revealed in both.
"I've shared my nursing photo (on right), on breastfeeding page threads several times," Owens continued.
"It is currently circulating and being shared on Facebook and Instagram breastfeeding pages, which I absolutely LOVE because it should be seen and normalised.
"I am a MMA ring girl, which I also love. I am paid to wear similar bikinis, booty shorts, revealing tops, take pictures with fighters and members of the audience.
"These pictures also circulate through the internet.
"I have received an amazing amount of support, and criticism, ironically, on different ends of the spectrum, even from the same individuals.
"Guess which one had positive vs. negative feedback.
"If seeing the picture on the left is ok with you, then seeing the picture on the right should be ok with you."
People commenting on the Facebook photo came to Owens' defence.
"You look gorgeous in both, but the breastfeeding pic is stunningly beautiful and displays a mother's love all the way," one person wrote.
"Ridiculous that people don't see that."
Another woman commented: "I love both pictures, they are both very strong in different ways.
"I wish that breastfeeding was as (or more) accepting to society as it is to advertising these as a sexual image to sell a product. It disgusts me to think it's not."
The Facebook post, shared on 12 May, has been shared more than 100 times and had 1,300 likes at the time of writing.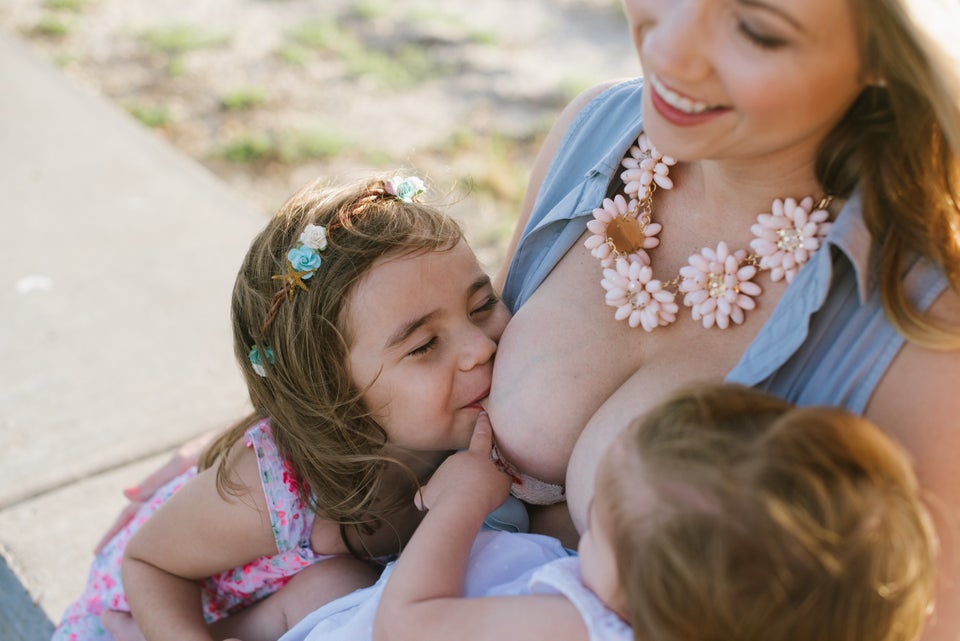 Breastfeeding Tandem Photography