We all know the misery of trying to sleep on a plane: the eye mask that lets the light in; the serial seat-recliner in the row in front of you; the near-on impossibility of finding a travel pillow that doesn't crick your neck; and finally dropping off – only to find your neighbour needs the loo.
Or you could just find a spare bit of floor and lie down there. Well, if it's good enough for Liverpool FC and Egypt football star, Mohamed Salah...
This year's Golden Boot winner was on a flight out to the team's hot weather training camp in Marbella, Spain, ahead of Liverpool's Champions League final against Tottenham, when he was caught in the act... of napping.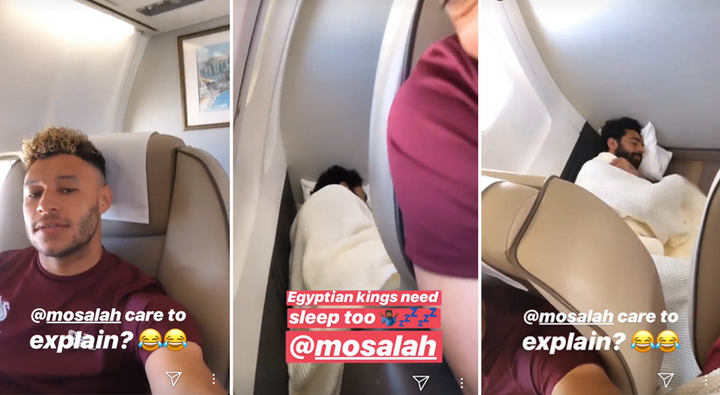 Salah was captured on Instagram by his teammate Alex Oxlade-Chamberlain, who panned over the top of his own seat to show the Egyptian midfielder wrapped up in a blanket on the floor – with an airline pillow folded in half (we've all been there) – trying to catch some kip on the flight.
Some of the other Liverpool players, including Virgil Van Dijk and Dejan Lovren, soon gathered around row 20 to witness the sight. As Oxlade-Chamberlain put it: "Egyptian kings need sleep too".
These include staying away from the light (that means your phone and TV screen), listening to white noise, and avoiding sugary snacks. Or, as the cast of TOWIE taught us: no carbs before Marbs, Mo.