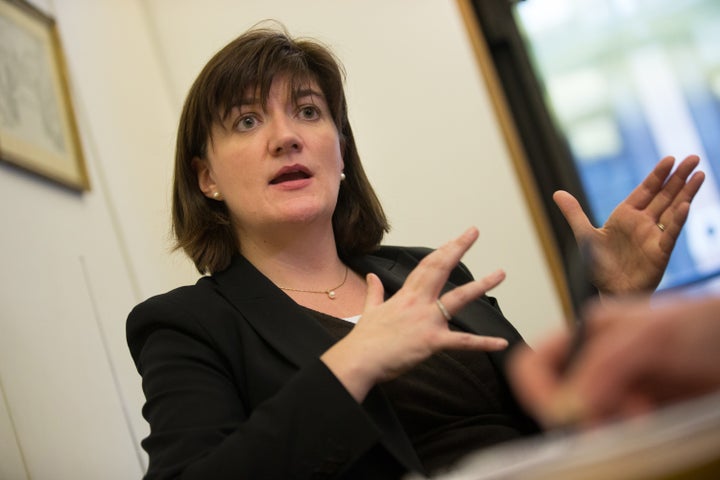 Around 80 Conservative MPs from the moderate wing of the party held talks in Westminster on Wednesday evening as part of a fight back against their right-wing colleagues.
Last night, 50 MPs from Jacob Rees-Mogg's hardline Brexiteer European Research Group (ERG) met in parliament and reportedly openly discussed staging a coup against Theresa May.
HuffPost UK understands this evening's gathering included pro-Brexit Development Secretary Penny Mordaunt, Education Secretary Damian Hinds, Solicitor General Robert Buckland and Deputy Chairman of the Conservative Party, James Cleverly.
The meeting came ahead of a special three-hour cabinet session on Thursday to discuss preparations for a no-deal Brexit. Ministers are due to publish guidance on what will happen if the UK exits the EU without agreeing a new deal to things such as mobile phone roaming charges, passports and driving licenses.
Wednesday night's meeting, organised by the Tory Reform Group, also included pro-EU former education secretaries Nicky Morgan and Justine Greening,
Morgan told the meeting that the MPs in the room "need to help heal division" and "stand up against the louder voices".
"It is the One Nation Tories, the broad church, that wins marginal seats and when you are too shrill, too ideologically-driven then you lose those voters," she said.
"We believe in the politics of inclusion, not exclusion, and we have seen in the United States what happens when we let the politics of exclusion win.
"The world is not black or white, it is not seen through an ideological prism - we need a pragmatic, realistic Conservative Party."
Foreign Office ministers Alan Duncan and Alistair Burt, who recently hit out at Boris Johnson for his attacks on the prime minister, attended the reception.
Other Tory MPs who heard the call to arms included the chairman of the foreign affairs committee, Tom Tugendhat, and constitution minister, Chloe Smith.
Rees-Mogg, the ERG's leader, today downplayed any suggestion his group was orchestrating plot, as did former Brexit Secretary David Davis.
But splits within the party over the prime minister's Chequer's plan for Brexit have threatened to tear the party apart.
Steve Baker, a former Brexit minister and influential member of the ERG, has warned May up to 80 Tory MPs will vote against her proposal.
Under party rules, if 48 MPs – 15% or the parliamentary party – submit letters, a vote of no confidence would be triggered.
However, to remove May as leader, plotters would need 158 Tory MPs to vote against her.
If the coup failed, party rules dictate that the PM would then be secure in post for at least a year.
Related