More than half of all girls (54%) do not have high body esteem and many are missing out on key opportunities in life, according to a new global report.
The research by Dove, given exclusively to HuffPost UK, interviewed more than 5,000 girls aged 10-17 across 14 countries.
It found that having higher levels of body esteem - defined as how individuals evaluate their own physical appearance - has a lasting impact on a girl's confidence, resilience and life satisfaction as she enters adulthood.
In contrast, girls with low body esteem are more likely to succumb to beauty and appearance pressures and will withdraw from fundamental life-building activities such as socialising or joining clubs.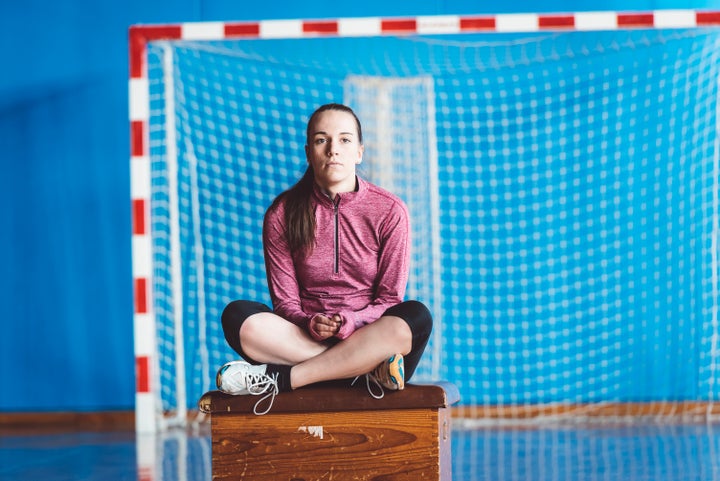 The body esteem of girls in the study was assessed using the Mendelson scale, which is a measure made up of 18 statements.
Girls were asked to signify how much they identified with negative statements such as "there are lots of things I would change about my looks if I could" or positive statements such as "I am proud of my body". They were then given an overall "body esteem" score.
The report found that almost six in 10 girls globally have avoided an activity because of the way that they look. This rises to three-quarters (75%) for Russian and Indonesian girls.
In comparison, 53% of girls in the UK have avoided an activity because they felt badly about their appearance while Japan came out as the least affected, with just 22% of girls saying the same.
Louise*, a 17-year-old from south east England, told HuffPost UK that anxiety about her appearance changes the way she socialises.
"A lot of the time, I may not go out. I feel like other people will hate what I look like, because I hate it," she said.
"I'll say I can't go to dinner and make excuses not to eat because I don't feel good about my body that day. I don't want to show myself off, because I don't want other people to see me because they'll think I'm fat."
Louise said the one-dimensional image of beauty we see portrayed in the media is contributing to the low self-esteem girls her age and younger feel.
"A lot of it is to do with social media and the way people like Kylie and Kendal Jenner are presented as society's 'beauty' because they're so skinny," she said.
"All these models you see are so skinny and it gets it in our heads, and my head, that I have to be skinny because they're skinny."
Sadly, Louise's experience is not unique. The report found that globally, five in 10 girls (55%) will not spend time with friends and family, participate in activities outside the house, or try out for a team or club if they aren't happy with the way they look.
This number significantly increases to eight in 10 (80%) for girls with low body esteem, but actually drops to four in 10 (41%) for girls with high body esteem.
The survey also found that girls with low body esteem feel additional pressure to get good grades in school, get married and never make mistakes compared to those with high body esteem.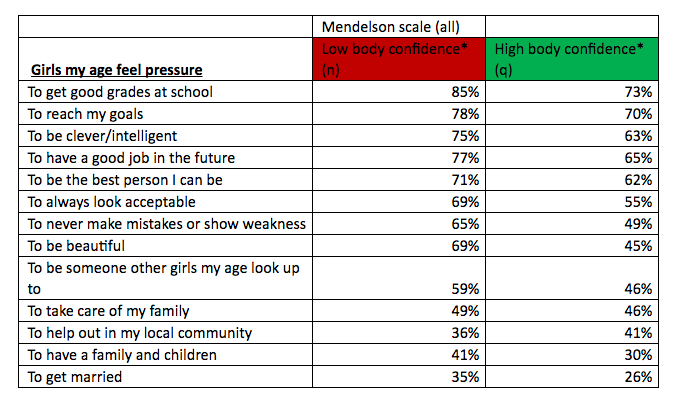 Abiee Harris, a 20-year-old Girlguiding peer educator, said body image was a major concern for her as a teenager and impacted her school life.
"I remember when I was 10, I got so upset with how I looked that I'd hide when I got changed for PE and asked my mum to help me lose weight," she told HuffPost UK.
"At secondary school I didn't want to put my hand up in class in case I had sweat patches and I sometimes wouldn't wear clothes that I really liked because they were too tight fitting.
"Looking back now there was nothing wrong, but it was still holding me back. I'm quite confident about my body at the moment, but even now I have a few
wobbles."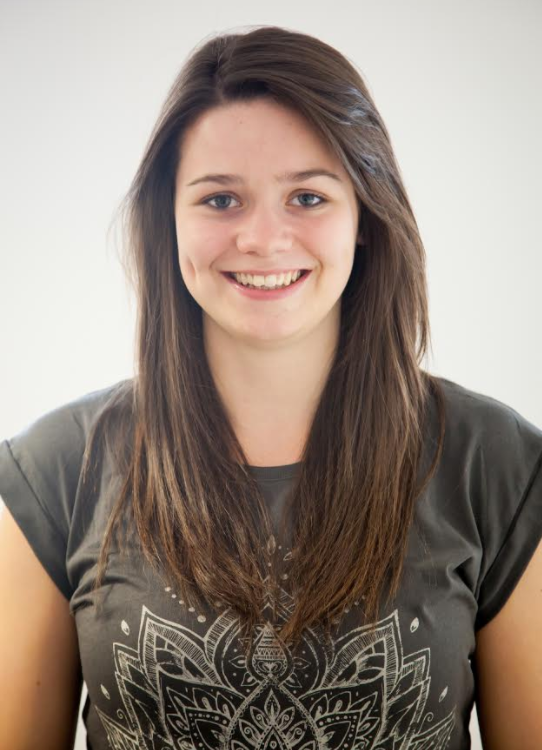 In her role at Girlguiding, Harris she still sees teenagers having the same concerns she did as a youngster.
"When I run sessions with groups of girls as the peer educator for Girlguiding, they talk about the 'image myth' and it's scary that girls all come out with the same idea and vision. That's what they'e aspiring to be and it's sad to see that," she said.
While girls show increasing awareness of the media's role in driving unattainable beauty ideals, the report found that only those with high body esteem seem equipped to respond to these pressures.
A total of eight in 10 (78%) with high body esteem said they think they are beautiful even if they are different from what they see in the media. This is compared to only one in 10 (12%) girls with low body esteem.
It's perhaps not surprising that seven in 10 (68%) of girls overall said they wish the media did a better job of portraying women of diverse physical attractiveness, age, ethnicity, shape and size.
Despite previous research suggesting that image-based social media such as Instagram could be having a negative impact on young people's mental health, the Dove report suggests girls may be using social media in order to build body confidence.
It found that girls are using social media as a platform to confidently express their individuality, with half (51%) saying they feel more confident interacting with people online.
Commenting on the finding Jess Weiner, professor at the University of Southern California (USC) Annenberg School of Journalism, said in a statement: "Girls worldwide are harnessing the power of social media to democratise the beauty narrative whether we are a part of it or not.
"They are forming their own online communities to talk about the issues that matter most to their physical and emotional health and flooding the space with their diverse stories and images. They are becoming the subject of their own stories and not the object of someone else's."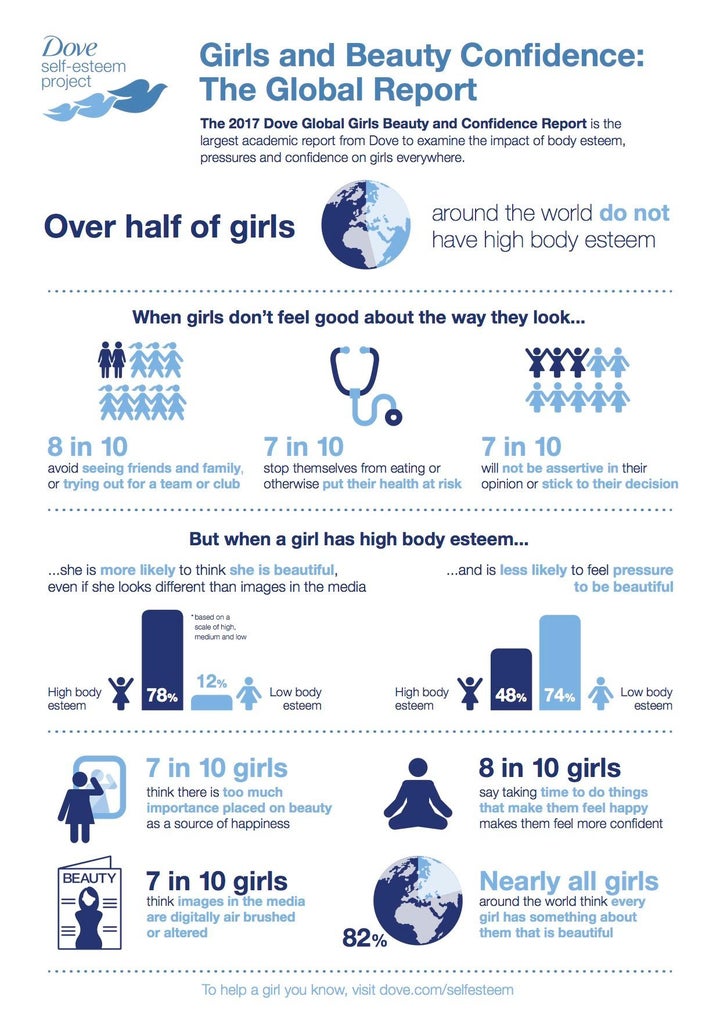 Dr Phillippa Diedrichs, associate professor at the Centre for Appearance Research at the University of West England, told HuffPost UK that she's not surprised by the Dove findings.
"The findings in Dove's paper are supported by academic
research where we see body image concerns impacting all key areas of girls' lives. This includes their mental and physical health, social lives, and their education and work aspirations," she said.
"While I'm not surprised, I am motivated to stop this. There are tangible steps we call take to address this issue and it's not a time for us to be complacent."
As well as challenging appearance-based bullying, Dr Diedrichs said we should be mindful of the conversations we have around women and girls relating to physical appearance.
"Seemingly benign comments like 'you look great, have you lost weight?' or 'that dress really suits you, it makes you look tiny' can reinforce the pressure on them to look a certain way," she explained.
"On a community level, we can ask our local schools what they are doing to promote body confidence and steer them towards evidence-based resources that have measurable impacts after just a few lessons."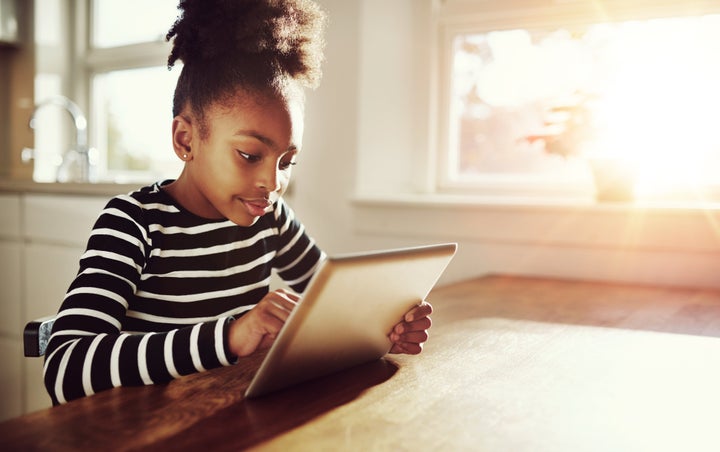 Encouragingly, the report also highlighted some more positive findings.
It found that eight in 10 (82%) girls think they have something about them that is beautiful, and nearly all (80%) feel more confident after taking time to do things that make them feel happy about themselves, their bodies and their health, such as reading or exercising.
Sophie Galvani, global vice president of Dove Masterbrand, said it is "hopeful" to see girls are aware and taking their own steps to create change, "but they can't do it alone".
"Our research shows that a girl aged 17 is more likely to experience lower happiness and life satisfaction than a 10-year-old," she said in a statement.
"This is a crucial moment in a girl's life where proactive intervention and support is needed, and that is exactly what the Dove Self-Esteem Project is designed to do – its evidence based tools, interventions and workshops are proven to help build positive body confidence in young people, and ultimately help the next generation reach their full potential in life."
*Name changed to protect anonymity of interviewee.
The study surveyed girls from across the world, including: India, the US, UK, Brazil, China, Japan, Turkey, Canada, Germany, Russia, Mexico, South Africa, Australia and Indonesia.
According to Dove, the countries were selected in order to adequately represent the diversity of girls in terms of culture, beliefs, social pressure and economic development as well as a fair representation of the diversity of culture and tradition around beauty. The sample was intended to be broadly representative of girls population in each country in terms of age, region and social grade.