A mother's honest admission about the moment she first felt like a parent, has struck a chord with other mums and dads.
Anna Whitehouse, founder of website Mother Pukka, revealed that it wasn't when giving birth that the reality of parenthood hit her. It was three weeks later.
"This was the moment I felt like a parent," Whitehouse wrote when sharing a photo of her (now three-year-old) daughter Mae, as a baby in her pram with a bottle of wine in the cup holder.
"It was 32 degrees and I was trapped in a stifling Amsterdam apartment. I was crying, a three-week-old Mae was hollering – the sort of squawking that has Social Services perking up – and Douglas our dog was whimpering about his life choices."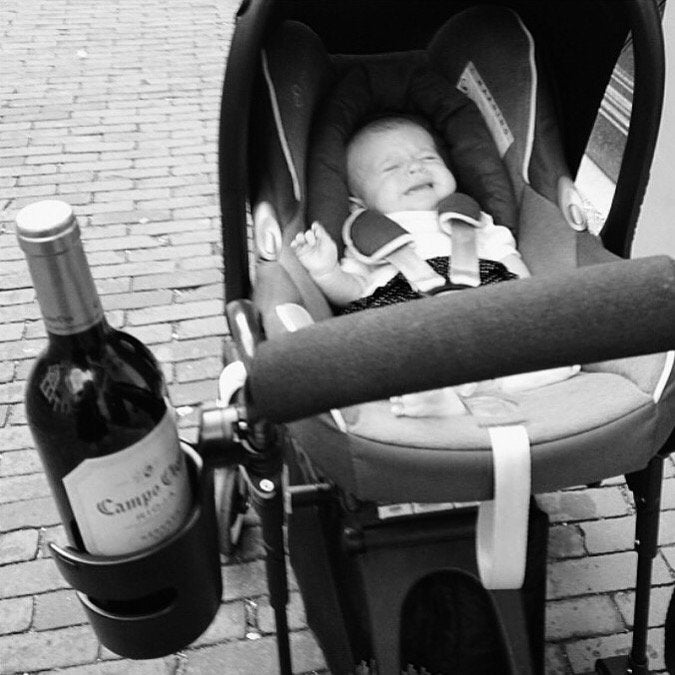 Whitehouse called a friend who was bed-bound after a tricky birth, who knew exactly what she needed in this moment of crisis.
Whitehouse explained: "She simply said: 'Grab something [booze-based], anything, and get your pillowy ass over here.'
"This was the photo I What's Apped her as I headed over for a bosomy maternal squidge.
"I remember thinking, it's not going to be easy, this parental thing but there will always be a way forward. (Even if it's not what Bugaboo's brand team had in mind.)"
The post resonated with many parents on Instagram and was liked nearly 2,000 times within a day of Whitehouse's blog being published on Monday 8 August.
"This hit a nerve as the mum of a three-week-old screamer," commented one parent.
Another added: "I wish I had Instagram when my boy was born - not to post endless photos of him, but to see posts like this and realise I wasn't the only one struggling with the Noise Maker. He is, at least, much quieter now, nearly nine years on!"
Whitehouse told The Huffington Post UK she believes sharing moments like these can help stop parents feeling isolated.
"I just came across this photo and it brought me back to those messy, stressy, don't-trust-yourself-crossing-the-road days of having a newborn," she said.
"Sure no-one can prepare you for it, but I do think we as parents can unite in the madness.
"My whole reason for launching Mother Pukka was to laugh more than I cry.
"However you parent - eco warrior, cupcake baker, boob feed/ bottle feed/ Instagram feed - humour is the common denominator.
"To see other people laughing and tagging their newborn mama mates under that photo where I was a total maternal catastrophe has made everything worthwhile - Mother Pukka, indeed."