A mum claims she heard an Asda staff member call her eight-year-old son 'fat' and she was outraged by what managers offered her by way of apology.
Louise Walker was shopping for a paddling pool with her son Reece Stevenson at the supermarket's Living outlet at Manchester Fort Shopping Park in Cheetham Hill, on Friday 29 July.
Walker, 31, from Salford, said after the incident her heartbroken son asked her: "Why did they say that? I can't help it."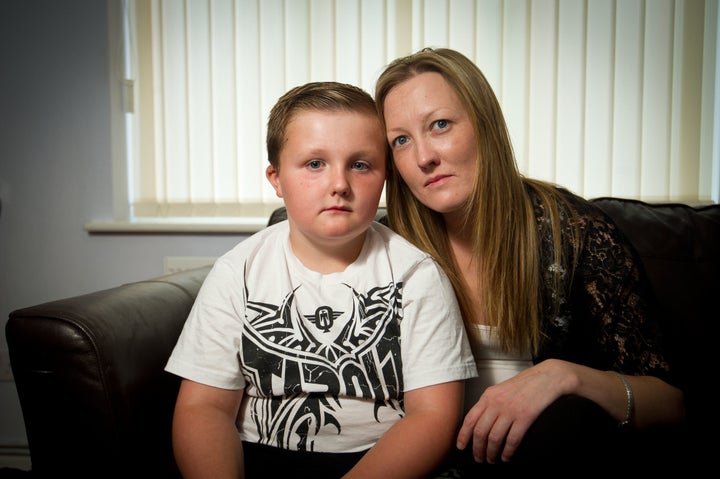 Walker said Reece excitedly ran ahead of her onto an escalator, past a shop worker.
She said she then heard the assistant call Reece 'fat' out loud.
"The worker didn't see me walking behind, and thought no-one had heard. But I did," Walker told the Manchester Evening News.
"I couldn't believe it. I was absolutely fuming, I was disgusted.
"I confronted the worker who claimed they were talking about a woman - another customer - but there was nobody else near at the time.
"I had to walk to the other side of the store to calm down, I was furious. I heard the worker later admitted what they had said to the store manager."
She complained to a supervisor and said head office bosses later offered her a £10 gift card by way of apology for the incident.
Walker said Reece, who is 'sensitive' about his weight, didn't hear the shop assistant call him fat, but heard his mum talking to a supervisor later about it.
"They've not really done anything. I complained to them and they offered Reece a £10 gift card to say sorry," Walker added.
"Reece isn't fat - he's short and stocky and he's only young. But he is sensitive about his weight.
"A £10 gift card is a joke. It isn't any sort of compensation considering what happened.
"What happened was really personal and not nice at all."
Asda bosses said they offered Reece a gift card to say sorry, but said its value was more than £10.
A spokeswoman would not comment on whether the member of staff had been disciplined, but added: "We are very sorry for any distress this situation has caused to Ms Walker and her son and are investigating what happened.
"Our colleagues in store have apologised directly to Reece and offered a goodwill gesture to go some way towards making up for any upset caused."