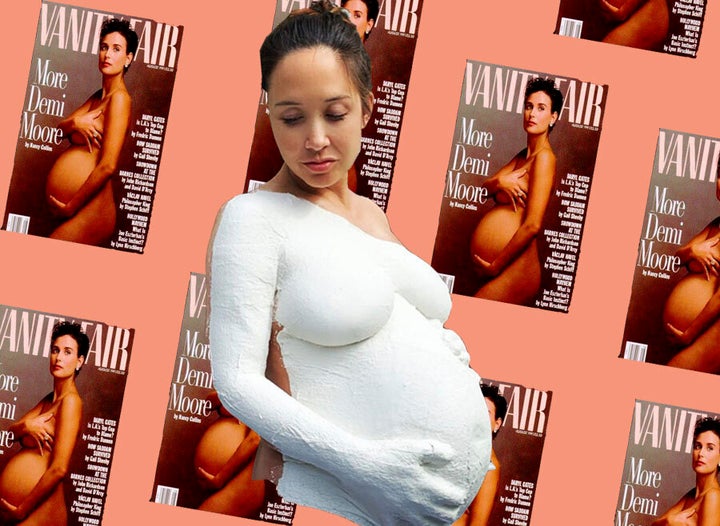 Myleene Klass has become the latest celebrity to turn her growing baby bump into a plaster cast mould.
Following in the footsteps of Coleen Rooney and Khloe Kardashian (who, obviously, opted for a gold glitter version), Klass, 41, shared photographs of the process on Instagram.
She captioned the snaps, which showed her upper body coated in plaster of Paris: "Plastered. Baby's first casting. Love this so much!"
Klass is expecting her third baby – her first with boyfriend Simon Motson, who she has been dating since 2015. She already has two daughters, Ava, 11, and Hero, eight, from her marriage to Graham Quinn.
The trend of celebrity mums immortalising their pregnant bodies isn't new – actress Demi Moore was seven months pregnant when she graced the cover of Vanity Fair in 1991 in nothing but her birthday suit.
Now it seems mums-to-be are shunning naked photographs in favour of a more permanent keepsake. Klass used 'Rock The Bump Belly Casting' for her pregnancy mould, who charge upwards of £125 for a casting.
The process involves applying a layer of vaseline to the skin, then adding strips of wet medical grade plaster bandage.
You can choose to have a 'belly bowl' or – as Klass chose to do – a personalised cast with your arms included. The process takes about 20-30 minutes and is said to be completely painless.
And what do you do with a sculpture of your stomach? Use it as a bowl, or a decorative piece around the home, according to Instagram. Baby bassinet, anyone?