Stories about teachers paying out of their own pocket for student's food and teaching materials, are nothing new, but a study has now shown the extent of the practice in UK schools in 2018.
More than 50 per cent of classroom-based support staff have revealed they are spending their own money on items for children at school, ranging from tampons and toilet paper to pens, pencils, books, and toys for break time.
And nearly one in 10 said they were forced to bring in food from home to feed hungry children: many reported seeing pupils attending school without having eaten breakfast, or without any money for food at break times.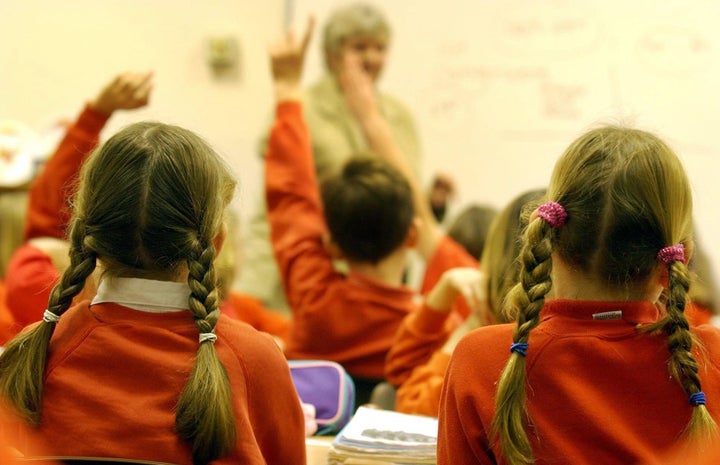 The research, carried out by trade union GMB, received responses from 4,600 classroom-based support staff, and a number of anonymous testimonies, as part of a nationwide survey of its members, .
One person surveyed said: "I often purchase sandwiches, biscuits etc in order to provide food for those pupils who haven't had any breakfast/lunch, otherwise they go without."
Another said they buy breakfast cereal "as we are in a deprived area where children often arrive having had no breakfast".
They added that they also buy books for the classroom "as we no longer have a school library service".
A total of 78 per cent of those surveyed said their school had been forced to make "significant financial cutbacks" due to government funding issues.
In a separate study of more than 2000 primary school teachers, 74 per cent of primary school teachers admit to having teeth brushing sessions every morning, after children revealed they don't brush their teeth regularly at home.
Two thirds (69 per cent) have had to personally deal with head lice, including buying treatment, more than half (64 per cent) admit that they brush pupil's hair in the morning, and a quarter (25 per cent) said they now feel this is the norm and it is the teacher's duty to do it.
Nearly three-quarters said they hold tooth-brushing sessions each morning after children revealed they do not brush their teeth regularly at home.
The survey of 2,369 teachers, carried out by childcare.co.uk, saw 81% of teachers admit to providing breakfast for pupils as the children would not eat otherwise, while 95% said they had bought resources for children using their own money, from toothpaste and toothbrushes to food and sanitary products.
Two thirds of primary school teachers said they had had to personally deal with children's headlice - including buying treatment for them.
Richard Conway, founder of childcare.co.uk, said: "Whatever the reason children haven't had breakfast or brushed their teeth, it shouldn't be up to a teacher to do these things."