Fergie time: double bubble, toil and trouble?
'Boris Boosts Bonking Britain'. That may end up being the Thursday morning tabloid headline after the prime minister's latest lockdown relaxation. Yes, thanks to 'support bubbles', single people young and old can from this weekend stay overnight with lovers, friends and relatives - for the first time in nearly three months. The 'sex ban' will be a little less, ahem, rigid this Saturday.
If this practice had been in place earlier in the pandemic, Professor Neil Ferguson - famously exposed for breaching the rules with visits from his new girlfriend - would still be a member of the Sage group of scientists advising the government. The 'bonking boffin''s nocturnal arrangements would be nobody's business but his, and the public wouldn't bat an eyelid.‌
Prof Ferguson still managed to grab the headlines today, as he told MPs that imposing lockdown just one week earlier would have halved the UK's death toll from Covid-19. The dramatic claim felt like a shared mea culpa rather than any attempt to slight the PM, but it nevertheless managed to make Boris Johnson look uneasy at his No.10 press conference.
Not for nothing did the PM highlight that "Professor Ferguson was a member of Sage at the time, as he fully accepts." It was a point he made not once, but twice. And it's true that the academic was part of the group that appeared to be slow to realise just how rapidly the virus was spreading in March.
Ferguson's Imperial College modelling was of course responsible for the government finally gripping the enormity of the problem. Its warning of up to 250,000 deaths made everyone sit up and take notice and within days, the lockdown was finally imposed. Without it, we would be in even more dire straits than now.
Yet the UK's death numbers still ended up among the highest in the world, and today his team's own modelling came under fire. In a blog for HuffPost UK and on Radio 4's More or Less statistics programme, Bath University's Kit Yates revealed that some members of the Sage subgroup SPI-M were worried in early March about the 'doubling rate' for Covid.
These modellers estimated that the virus was taking roughly three days to double its infections, yet "their estimates never found consensus within the group". This rival model was never even referred up the chain to the full Sage. Why? Because Ferguson's Imperial College model had "more influence over the consensus than others", members of SPI-M have told Yates. And that model was clear: the doubling rate was a much slower five to six days.
This was based on an R number of around 2.4 (as it turned out a serious underestimate) of the virus, which was itself grounded in data from Wuhan, China. Those arguing for an alternative to the Imperial model said you didn't even need to include data from Italy to get a shorter doubling rate, you just had to look at early data in the UK itself. Remember this is not hindsight, it's what was being argued at the time by those minority voices on SPI-M.
British data available on March 14 - nine days before lockdown - showed the doubling rate was already a scary three days. But on March 16, guided by Sir Patrick Vallance and Chris Whitty (relying on the Ferguson model published the same day), Johnson announced that "without drastic action, cases could double every five or six days". That underestimate was itself "drastically wrong", Kit Yates says.‌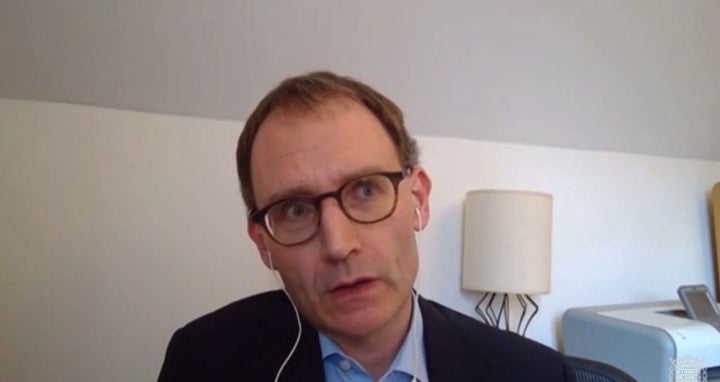 Ferguson today conceded he had got his own 20,000 estimate for deaths-after-lockdown wrong, because he "underestimated how far this country was into the epidemic". Yet he also had this key admission: "We knew the epidemic was doubling every three to four days before lockdown interventions were introduced." We 'knew', he said. But if he knew, why didn't he recalibrate his own model to get us into lockdown quicker?
These questions are clearly live ones for Vallance and Whitty. At the press conference today, the chief medical officer said part of the problem was that "we had very limited information about this virus". He added there was "a long list of things we need to look at very seriously" including why testing wasn't up to speed early on. Vallance said "the epidemic is shrinking, but not fast", and important questions "still needed to be addressed".
Johnson however refused to express any regret for the failure to lockdown earlier, ducking international comparisons once more and adding "a lot of these things are still premature". It was a reminder that the 'three amigos' own social bubble that has existed since the start of this pandemic is now under strain.
Like one of those giant soap bubbles seen at kids' birthday parties, the Johnson-Whitty-Vallance partnership has swirled and stretched for nearly three months (Vallance kept it intact with a new, cautious endorsement for the PM's pressure for removal of the 2m rule).
That bubble is now a source of toil and trouble, and it may pop at some point. If it does, today proved that it may be the scientists - including Neil Ferguson - who have their own questions to answer along with Boris Johnson.
Quote Of The Day
"This government has put its arms around people in its crisis and done its best to help."
Boris Johnson hits back at Keir Starmer saying he should not be 'proud' of UK covid death figures.
Wednesday Cheat Sheet
The PM revealed that Gavin Williamson will next week unveil plans for "a big summer of catch-up" for pupils hit hard by school closures, as experts warned of a 'tsunami' of anxiety for kids over the coming year.
Johnson announced £63m in social support for the poorest children, half of what it would cost to extend free meals to all who need them this summer.
The Organisation for Economic Co-operation and Development (OECD) said Britain's economy was likely to slump by 11.5% in 2020 - the worst in the world. It could contract by 14% if there is a second wave of Covid-19 later this year.
The number of deaths involving Covid-19 in the UK has passed 52,000, latest data showed.
Expanded and targeted coronavirus testing will be given to frontline workers in "high-contact professions", such as bus drivers, the PM revealed.
Private hospitals requisitioned by the NHS will carry out cardiac operations and perform chemotherapy to help reduce waiting lists. Zoos and safari parks will open from June 15 in the latest lockdown easing.
What I'm Reading
Got A Tip?
Send tips, stories, quotes, pics, plugs or gossip to waugh.zone@huffpost.com.
Subscribe To Commons People
Each week, the HuffPost UK Politics team unpack the biggest stories from Westminster and beyond. Search for Commons People wherever you listen to podcasts and subscribe.