New Brexit Secretary Stephen Barclay has been ridiculed for appearing to not know when Brexit will actually happen.
The minister was being grilled by MPs on the Commons' Brexit select committee on Monday when he claimed the UK will "leave the EU on the 31st of March".
In fact, the UK is legally bound to break from the bloc two days earlier – on March 29 – as per the triggering of Article 50 by his boss, Prime Minister Theresa May.
Amid widespread criticism of how thin plans for a future UK-EU trading relationship appeared, Barclay told arch-Brexiteer Jacob Rees-Mogg the UK had to leave before opening meaningful negotiations on trade.
"What is always striking is how much much their approach is informed by the legal process – and I think that is something we don't give sufficient weight to within the UK," he said.
"It is the legal process in Europe that a permanent trading relationship cannot be reached until we have left. I am committed to ensuring, and the PM is committed to ensuring that we do deliver on that, and we do leave the EU on the 31st of March."
Twitter reacted with disbelief to Barclay's error.
The appearance at the committee by Barclay and Robbins came as legal advice given to the government on the controversial Northern Irish backstop was revealed.
It said that the UK would remain in place "unless and until [the backstop] is superseded" by a different agreement.
Robbins, who as May's chief Brexit adviser was reported to have been skeptical about the backstop plan, was questioned on his view.
But he insisted the border backstop was a "slightly uncomfortable necessity" for both the UK and the European Union.
The fallback plan agreed with Brussels was "not the future relationship that either the UK or the EU wants to have with one another", he said, adding: "It is an uncomfortable position for both sides and the reality ... is that there is not a withdrawal agreement without a backstop.
"That reflects also, as I've said to this committee before, ministers' commitments to Northern Ireland and to avoid a hard border on the island of Ireland, rather than being something imposed upon us.
"So, it is a necessity and a slightly uncomfortable necessity for both sides."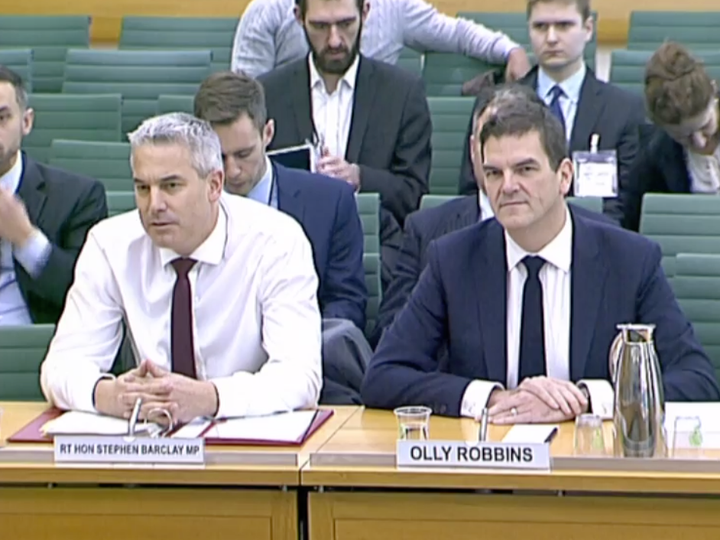 Asked if the government had drafted a clause for the Withdrawal Agreement which would have allowed the UK to opt out of the backstop unilaterally, Robbins said: "Ministers asked us to look at a whole range of options for how to bring the backstop to an end, and so we did.
"And the prime minister and other ministers tested some of those out on European partners.
"But, what we went into the negotiation with in the end was a text that delivered the termination clause very much as it is laid out there."