Exhausted, bleeding and naked except for a pair of knickers, Lauren Harris had just given birth to her baby boy, Joey, when a stranger walked into her room and stood at the end of her bed.
After a 30-hour labour that saw her rushed into hospital by ambulance, she was enjoying some much-needed private recovery time inside a private room at St George's Hospital in Tooting.
So secure was her room that her partner had to get special permission to stay with her. But the stranger – a representative for the company Bounty, was able to walk straight in, hand her a pack of samples including nappies, and offer to sell her photographs of her newborn, who still had blood matted to his head.
"It's degrading," Harris, who is 41, told HuffPost UK. "I was basically delirious and bleeding heavily... It's embarrassing enough having family come to visit you when you're basically wearing a nappy."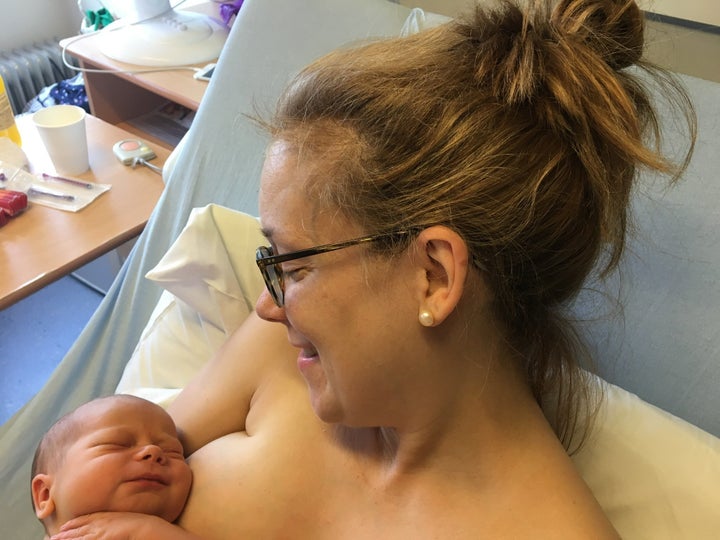 Some NHS trusts around the UK, which can be made up of more than one hospital, have earned thousands of pounds from allowing Bounty representatives to visit new mothers like Lauren Harris in the past year, HuffPost UK has found.
Freedom of Information requests to 126 NHS Trusts shows many hospitals are earning between 80p and £1.50 for each mother it gives access to.
Bounty, which has has been in operation since the 1950s, gives new mothers free packs of branded samples "just after your little one arrives" in hospital. It also offers free photoshoots of newborns, which set new families back anywhere between £19 and £129.
Harris gave birth at St George's hospital in Tooting. A copy of a contract between the hospital and Bounty, obtained by HuffPost UK, shows that the NHS trust operating the hospital gives "daily access" to Bounty staff in return for a fee.
After her son's birth in August, Harris was shocked and tweeted her experience. It struck a chord: more than 600 people liked it on Twitter, and more than 100 people commented – many to share similar experiences.
"The rep tried to come into the delivery room when I was still being stitched," one woman wrote. "I'd just had four blood transfusions and been in theatre for over an hour – all they want to do is sell, sell, sell! It's just not what you need after giving birth," another wrote.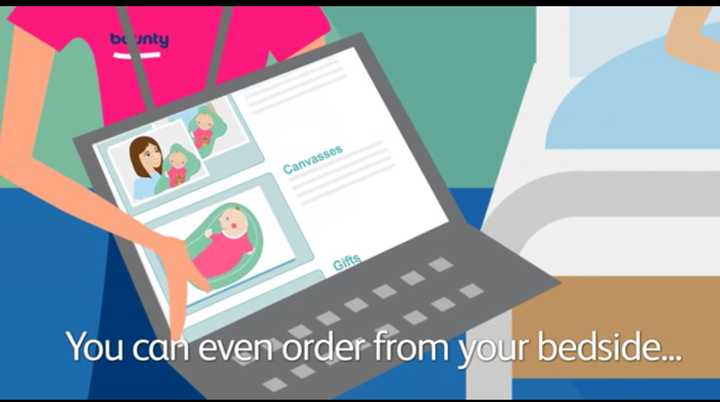 Concerned, Harris launched a petition last month that has been signed by 12,081 people to date. It called for the government to "urgently review the unethical practice of allowing access to new mothers and babies, who rightly expect privacy, dignity and safety in hospital in the days following the life-changing (and often traumatic) experience of giving birth."
On Thursday evening the Department of Health and Social Care responded. It said commercial representatives on wards were "often a valuable source of information for new mothers" but that it took seriously the concerns shared about NHS trusts allowing them to approach new mothers in maternity wards shortly after they have given birth. The government would consider how to "clarify guidance", it said.
Of the 126 hospitals contacted by HuffPost UK, only 38 disclosed the amount of money they had earned in the year to August 2018, totalling £225,075.
11 said they did not have a contract with Bounty in place, 36 didn't respond at all and the rest confirmed they had an arrangement in place but declined to provide information concerning their relationship with Bounty, citing commercial confidentiality.
The hospital trusts which said they had been paid the greatest amount was University Hospitals of Leicester NHS Trust, paid £12,016 by Bounty, and the University Hospitals of North Midlands NHS Trust, which received £11,560.
University Hospitals Coventry & Warwickshire NHS Trust, the Newcastle-Upon-Tyne Hospitals NHS Foundation Trust, University Hospital Southampton NHS Foundation Trust, Royal Free London NHS Foundation Trust, Frimley Health NHS Foundation Trust and Bradford Teaching Hospitals NHS Foundation Trust and all received £9,000 or more over the period.
Meanwhile, several NHS trusts, including Royal Devon and Exeter NHS Foundation Trust, James Paget University Hospitals NHS Foundation Trust, East Suffolk and North Essex NHS Foundation Trust, and Portsmouth Hospitals NHS Trust all recorded complaints from patients about Bounty staff.
One complainant described a representative as "pushy" and another raised concerns over "vulnerable" women being approached. One mother agreed to listen to Bounty's sales pitch but subsequently complained, saying she had experienced "quite a lot of worry" after spending money on the photos when she was "not in a good place to make decisions."
Another hospital, part of Royal Cornwall Hospitals NHS Trust, told HuffPost UK it had decided not to renew its contract with Bounty in December 2017, in part following verbal complaints from patients during 2017.
"The Royal Cornwall Hospitals Trust received only verbal complaints from patients during 2017, these included the disruption to rest and privacy which in part led to the termination of the contract," the trust said.
University Hospitals Plymouth NHS Trust did not state whether it had received complaints but said in 2014 "management within maternity made the decision that Bounty representatives could not visit patient bedsides.
"The Bounty representative appears at the same time each day and sits in a discharge lounge for women to approach her for a bag should they so wish," the trust said.
But despite the cash rolling in and the complaints on social media, there is a clear lack of consistency from hospital to hospital when it comes to the measures put in place to protect new and possibly vulnerable mothers.
HuffPost UK asked each hospital what policies it had in place. Most said all mothers could refuse to see a representative and pointed to Bounty's "strict" code of conduct, which states representatives must show "compassion" and respect for "personal space" at all times and must ask ward staff to confirm which mums they can or cannot visit.
Many NHS trusts had no particular internal policy in place relating specifically to Bounty, but said they had hospital-wide safeguarding policies in place, that representatives were required to wear ID, and that ward staff decided who they should not approach on a case by case basis.
Other trusts said the midwife in charge would tell Bounty representatives which mothers should or should not be visited, and a handful of trusts said new mothers were made aware in advance that Bounty representatives would visit and were given the opportunity to opt out.
Mumsnet founder Justine Roberts told HuffPost UK that she was concerned about what she said was a "real lack of consistency" in policies to protect new mothers who may be vulnerable and overwhelmed.
Roberts wants Bounty reps "off wards altogether" – and at the very least for hospitals to only allow Bounty representatives to talk to women who have proactively asked to see them.
"Mumsnet users think commercial sales reps do not belong on hospital wards," she said in response to the new findings.
"We don't allow mobility aids sales reps to roam orthopaedic wards, so why are postnatal women considered fair game for the hard sell? Even if you've had the easiest birth in the world, you're likely to be tired, emotionally wrung out and at the very least a bit sore. Others will be recovering from abdominal surgery, taking strong medication, seriously sleep-deprived, traumatised from a difficult birth, or trying to establish breastfeeding for the first time," Roberts said.
HuffPost UK has contacted Bounty but the company had not responded at the time of writing.