Coronavirus has changed everything. Make sense of it all with the Waugh Zone, our evening politics briefing. Sign up now.
The NHS spent £6bn on agency and temporary staff last year in what Labour called a "sticking plaster" to cover "huge shortages" which left England "ill prepared" for coronavirus.
In total, £3.8bn was spent on NHS England "bank" staff, who are contracted to take on temporary shifts, and £2.4bn on agency workers in 2019/20.
While there was no increase in cash going to outside agencies, an extra £800m was spent on bank staff than in 2017/18.
Shadow health minister Justin Madders, who obtained the data, said the extra spending highlighted "pressing workforce gaps" which meant England "paid the price" during the pandemic, which left the country suffering one of the world's worst death tolls.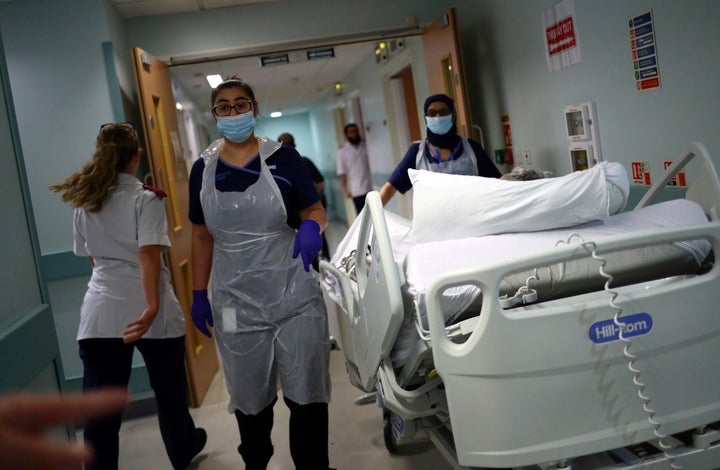 It comes after the Nuffield Trust health think-tank last month said the NHS had "consistently failed to train and retain sufficient numbers of staff to keep pace with demand" going into the Covid-19 crisis, "leading to chronic workforce shortages and vacancies in key areas".
The briefing goes on to note that countries with higher numbers of staff going into the pandemic are "likely to be better placed to recover care for everyone who needs it".
NHS Digital figures released last month showed there were nearly 90,000 vacancies in the health service in England at the end of last year, with 36,083 in nursing jobs.
Nearly one in 10 nursing roles were unfilled in the fourth quarter of 2020.
After Boris Johnson announced a £300m cash injection to help the NHS get ready for winter pressures, Madders said: "For years, the Conservative government has failed to address stark NHS workforce shortages and unfortunately the country has paid the price for this.
"Using costly temporary staff to plug workforce gaps is a sticking plaster to cover up the pressing workforce gaps in our NHS.
"A decade of Tory inaction left our NHS ill-prepared in the run up to the Covid-19 pandemic.
"We now need a proper workforce plan, and urgent and sustained action to train and retain our valuable NHS staff."
A Department of Health and Social Care spokesperson said: "This government is delivering on its commitment to have more people on the frontline of the NHS with record numbers of doctors and nurses and thousands more on the way.
"Throughout this global pandemic we have ensured the NHS had the resources it needs so that it could expert provide care for everyone who needed it.
"The deployment of a flexible workforce is an important element of running the NHS and reduces unnecessary agency spending by avoiding expensive commissions."