At least 84 people have been killed, including at least 10 children
202 people are injured, including 25 in intensive care
Revelers were celebrating France's national holiday, Bastille Day
A truck was driven for 2km through the Promenade des Anglais in Nice
The attacker was named as 31-year-old Tunisian-born Mohamed Lahouaiej Bouhlel
The truck driver was shot dead by police
'Many' children are undergoing serious surgeries at hospital today
President Francois Hollande said 'the terrorist character cannot be denied'
Prime Minister Theresa May said Britain must redouble its efforts to defeat terrorists
At least one British national was injured in the attack, Boris Johnson said
London Mayor Sadiq Khan announced he will be 'reviewing our own safety measures'
Downing Street is in touch with the local authorities in France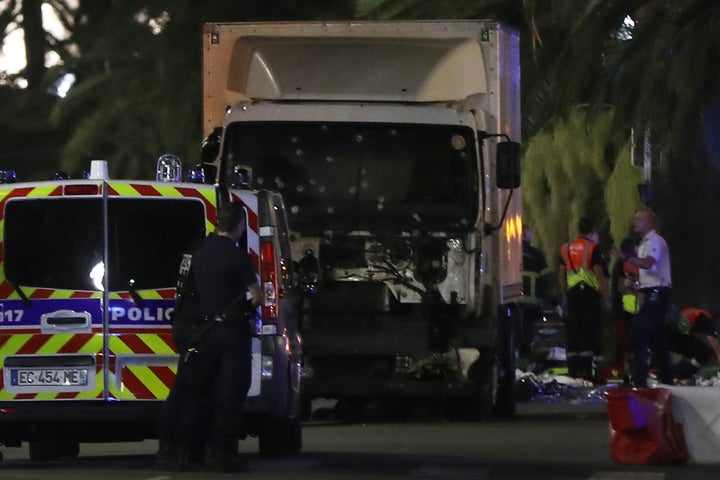 At least 84 people have been killed after a truck drove through a crowd in France on Thursday night as people gathered for a Bastille Day fireworks display in the Riviera city of Nice.
Eyewitnesses reported there were "bodies everywhere" after the 25-tonne truck zigzagged for 2km (1.2 miles) through the crowd.
Several children are believed to be among the dead and scores of people were wounded in the attack along the famed seafront Promenade des Anglais as the fireworks ended just after 10.30pm local time.
The driver opened fire before police shot him dead.
The man was not on the watch list of French intelligence services, but was known to police in connection with common law crimes such as theft and violence, the source said.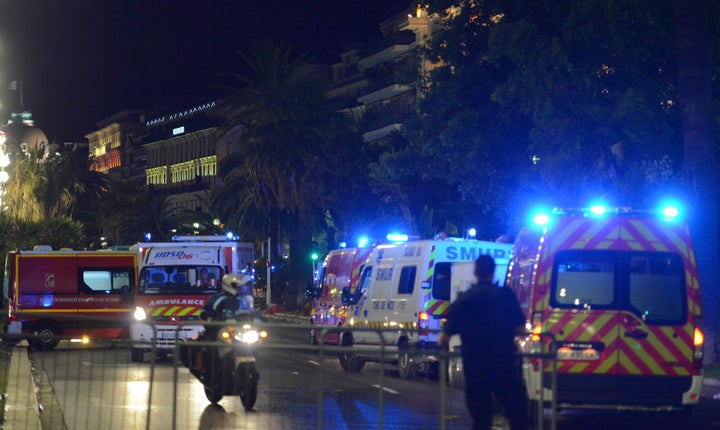 A state of emergency, which was imposed following the Paris attacks and was due to end on July 26 has now been extended for another three months.
In a pre-dawn address to the nation, President Francois Hollande said: "France is filled with sadness by this new tragedy."
"The terrorist character (of the attack) cannot be denied," he said. "All of France is under the threat of Islamic terrorists."
He called the carnage, which came as France celebrated the anniversary of the 1789 revolutionary storming of the Bastille, an attack on liberty by fanatics who despised human rights.
Hollande said that France would be bolstering its presence in Iraq and Syria, where he said earlier military advisers would be on the ground to help Iraqis take back the Islamic State stronghold of Mosul.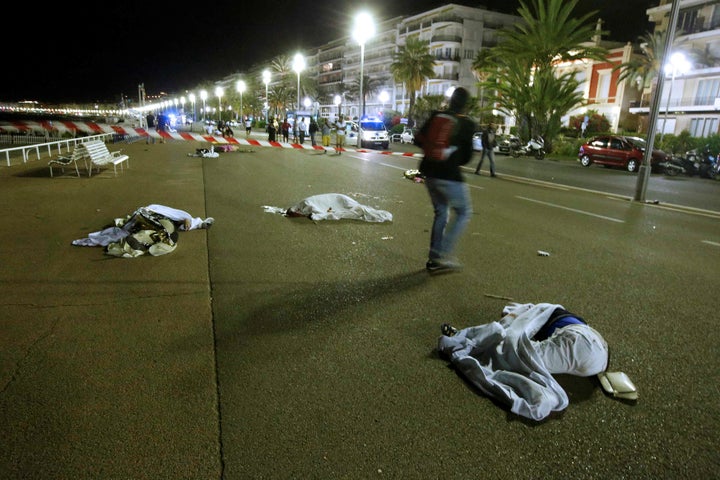 The regional president, Christian Estrosi, told BFM TV that more than 10 children were among the dead.
Local newspaper Nice Matin reports that 54 children have been admitted to the Lenval Hospital since Thursday night. Many are undergoing serious surgery at hospital today.
Witnesses said they saw parents frantically throwing their children over fences to avoid them being struck by the lorry, the Guardian reports.
Eyewitness Simon Saunders, who had been watching the firework display on the beach, was just about to leave the seafront when the truck attack began.
Restaurants and bars pulled their shutters down during the panic, Saunders recalled.
"Bars and restaurants closed their doors, buttoned down their hatches, let no one in, even to use the toilet," he said.
"The owners were obviously terrified the same thing we'd all seen in Paris would happen here, that gunmen would go roaming. Instead, people raced by in panic, frantically dialing their friends."
Interior Minister Bernard Cazeneuve said police were trying to determine the driver's identity, refusing to confirm reports an ID card had been found in the truck.
Cazeneuve said "we are in a war with terrorists who want to strike us at any price and in a very violent way."
A local government official said weapons and grenades were found in the unmarked articulated truck.
British Prime Minister Theresa May condemned the "horrifying" terror attack, saying that Britain must redouble its efforts to defeat "brutal" terrorist "murderers".
An emergency Cobra committee has been called.
May said in a statement: "I am shocked and saddened by the horrifying attack in Nice last night.
"Our hearts go out to the French people, and to all those who have lost loved ones or been injured.
"While the full picture is still emerging, it seems that at least 80 people are feared dead and many others have been injured.
"These were innocent victims enjoying a national celebration with their friends and families.
"We are working urgently to establish whether any British nationals were caught up in the attack."
It continued: "And I will speak to President Hollande today and make clear that the United Kingdom stands shoulder to shoulder with France today as we have done so often in the past.
"If, as we fear, this was a terrorist attack then we must redouble our efforts to defeat these brutal murderers who want to destroy our way of life.
"We must work with France and our partners around the world to stand up for our values and for our freedom."
Police forces in the UK have been asked to review major events over the next week "to ensure the appropriate security is in place" following the Nice attack, the National Police Chiefs' Council said on Friday.
Foreign Secretary Boris Johnson said that one British national had been injured.
He told ITV News: "The only information I have is that there is one UK national who is injured but it is still too early to say at the moment."
He condemned the attack as "appalling" and said it represented the "continuing threat" to Europe from terrorism.
London Mayor Sadiq Khan announced that he will be "reviewing our own safety measures" in light of the attack.
A No10 spokesperson said: "The Prime Minister is being kept updated on reports coming in from Nice.
"We are shocked and concerned by the scenes there. Our thoughts are with all those affected by this terrible incident on what was a day of national celebration.
"The FCO are in touch with the local authorities to seek more information and we stand ready to help any British nationals and to support our French partners."
Footage has emerged of the moment just before the truck mowed down and killed scores of people.
The video, which contains distressing images, shows the large van being driven down the promenade just before it hit the crowd.
A video later recorded at the scene shows police swarming the vehicle as gunfire is exchanged.
Officials said hundreds were hurt as the driver swerved along the seafront, knocking people down "like skittles".
French media broadcasts showed people running for their lives down Nice's palm tree-lined Promenade des Anglais.
The Paris prosecutor's office opened an investigation for "murder and attempted murder in an organised group linked to a terrorist enterprise."
Flags were lowered to half-staff in Nice and in Paris.
France has lived with soldiers in the streets since the November attacks, and just days ago authorities beamed with pride at the close of the month-long European football championships that ended July 10 without incident.
"There was carnage on the road," he said. "Bodies everywhere." He said the driver emerged with a gun and started shooting.
Sylvie Toffin, a press officer with the local prefecture, said the truck ran over people on a "long trip" down the sidewalk that ended near Nice's Palais de la Mediterranee, a building that fronts the beach.
The president of the Provence Alpes Côte d'Azur region, which includes Nice, said the truck was loaded with arms and grenades, although police have not confirmed that.
Christian Estrosi also told BFM TV that "the driver fired on the crowd, according to the police who killed him."
Hollande called a defence council meeting Friday with key ministers, and will head to Nice after that.
Hollande announced a series of measures to bolster security.
Besides continuing the state of emergency and the Sentinel operation with 10,000 soldiers on patrol, he said he was calling up "operational reserves," those who have served in the past and will be brought in to help police, particularly at French borders.
President Barack Obama condemned what he said "appears to be a horrific terrorist attack."
European Council president Donald Tusk said it was a "tragic paradox" that the victims of the attack in Nice were celebrating "liberty, equality and fraternity" - France's motto - on the country's national day.
Jo Cox's funeral is today. Her husband, Brendan Cox, sent his condolences to the victims of the attack, saying that his late wife would ask people not to "fight hate with hate but draw together".
A minute's silence was held at the start of the Tour de France on Friday morning to remember the victims of the attack.
Race director Christian Prudhomme told reporters that a minute's silence would also be held at the end of today's stage.
Writing online, Nice Matin journalist Damien Allemand who was at the waterside said the fireworks display had finished and the crowd had got up to leave when they heard a noise and cries.
"A fraction of a second later, an enormous white truck came along at a crazy speed, turning the wheel to mow down the maximum number of people," he said.
"I saw bodies flying like bowling pins along its route. Heard noises, cries that I will never forget."
Graphic footage showed a scene of horror up and down the Promenade, with broken bodies splayed out on the asphalt, some of them piled near one another, others bleeding out onto the roadway or twisted into unnatural shapes.
"Help my mother, please!" one person yells out on the video. A pink girl's bicycle is briefly seen overturned by the side of the road.
Details of the footage could not immediately be verified.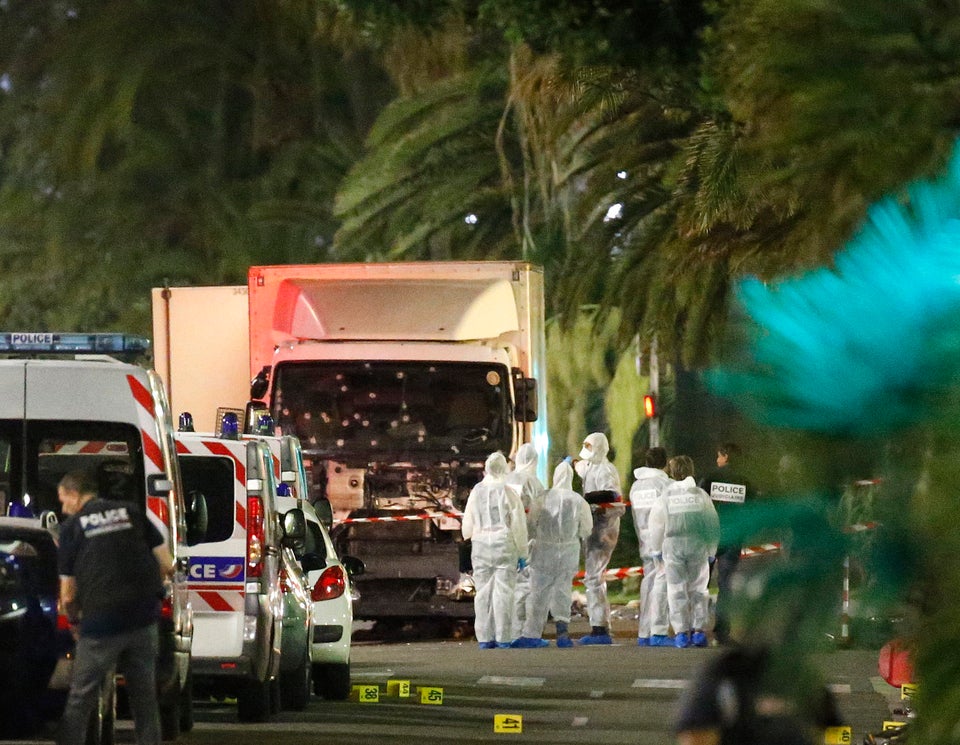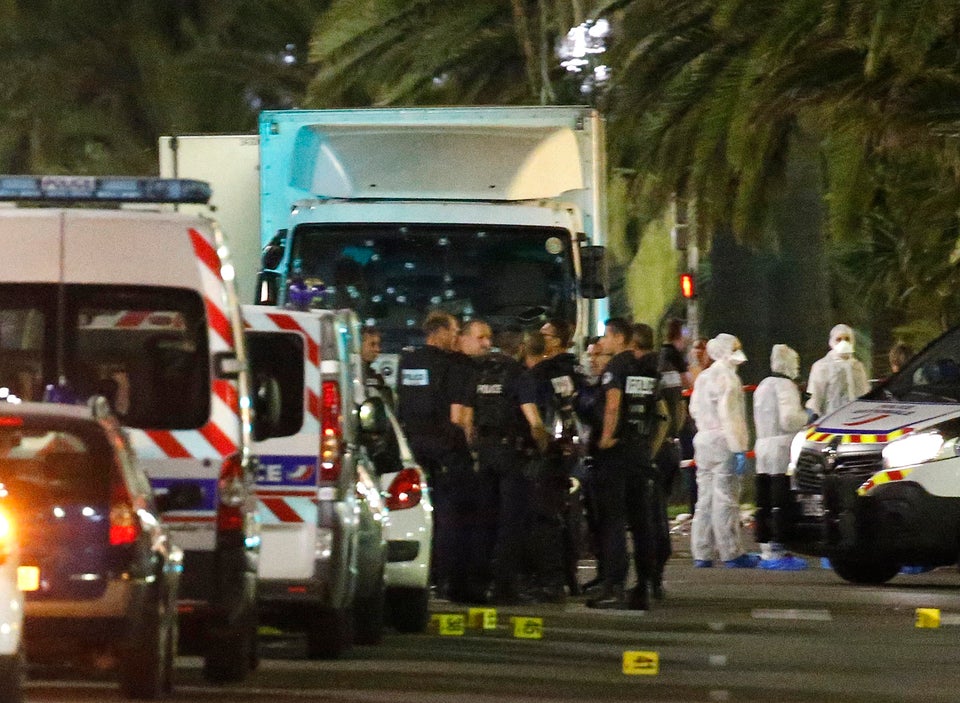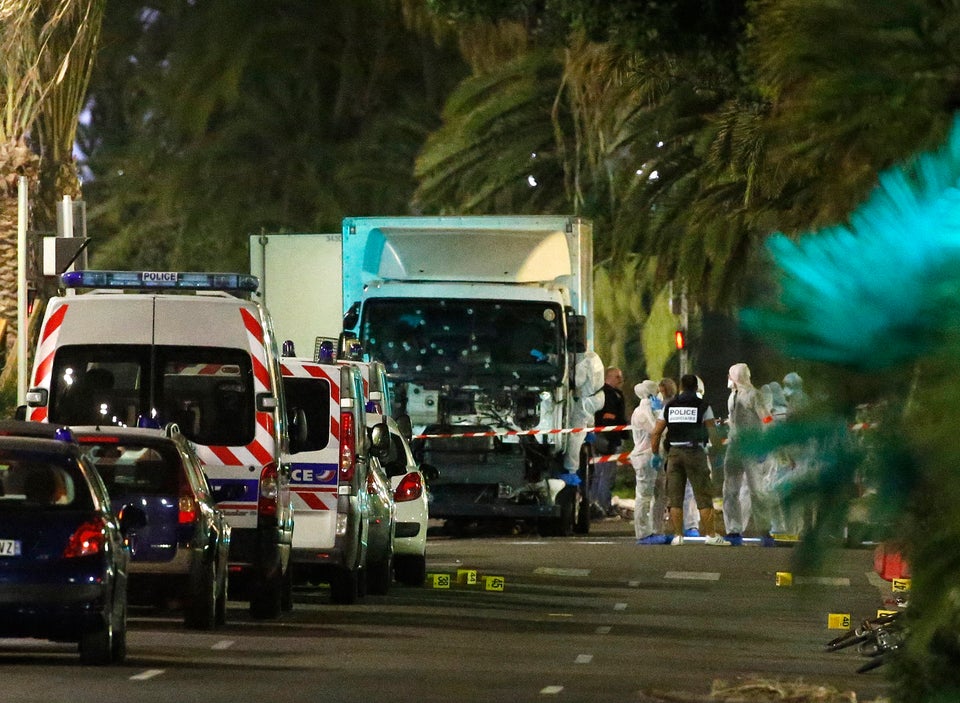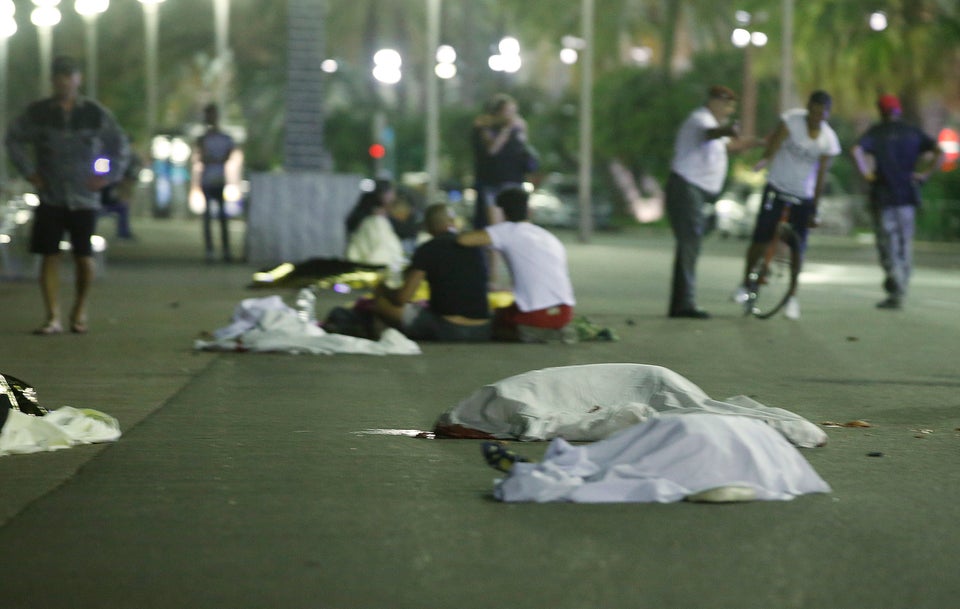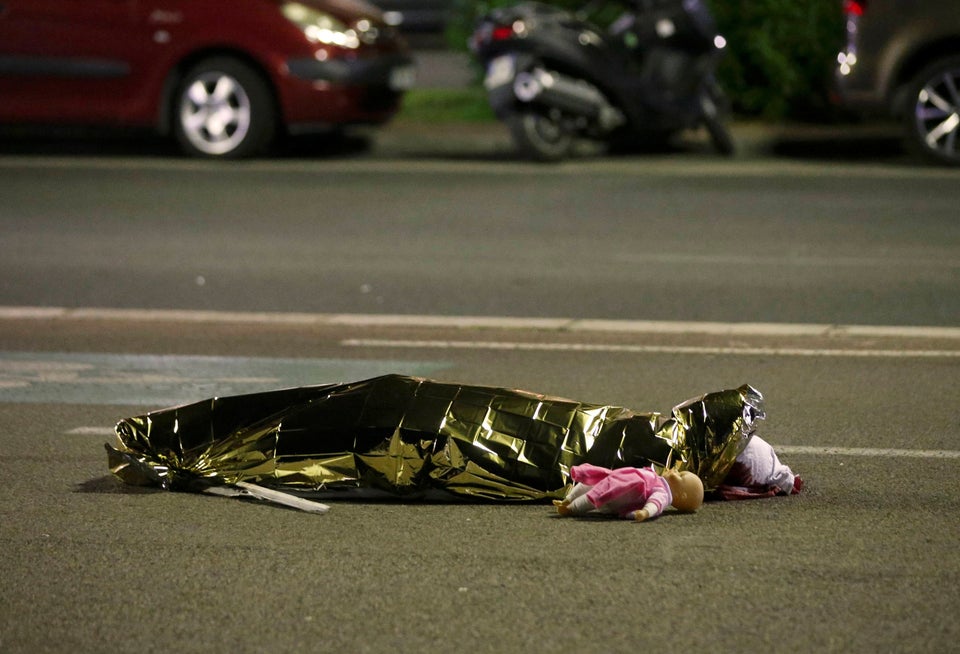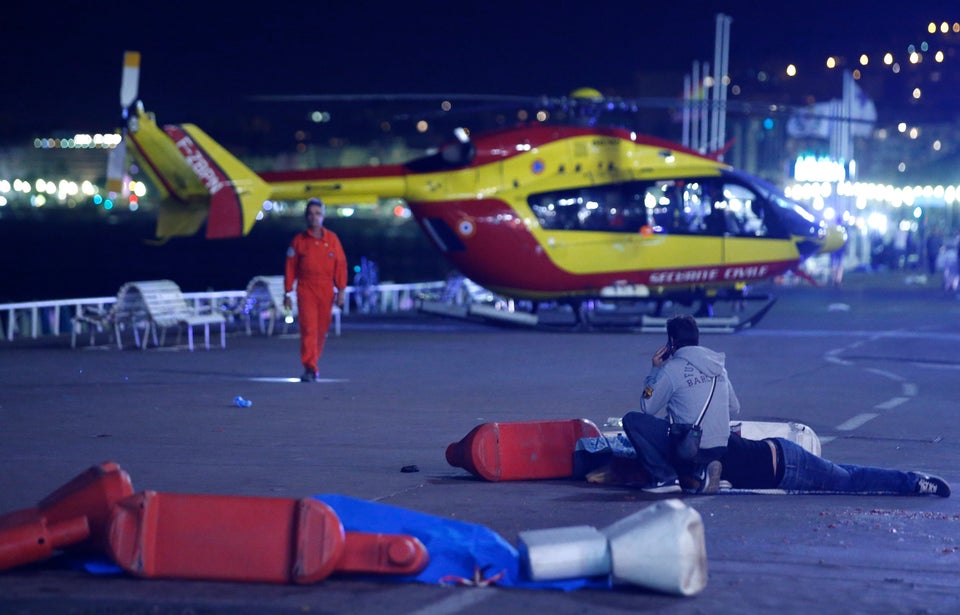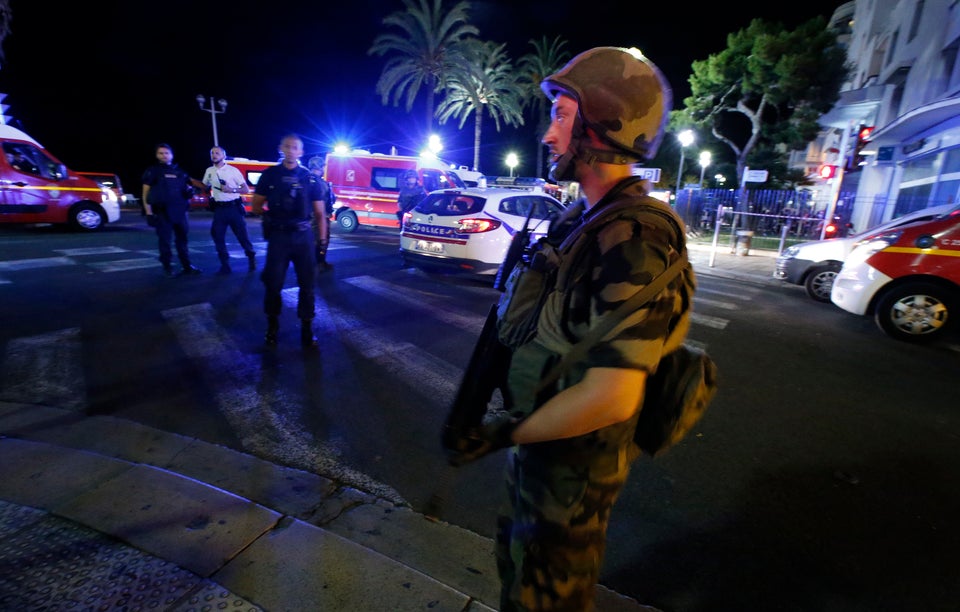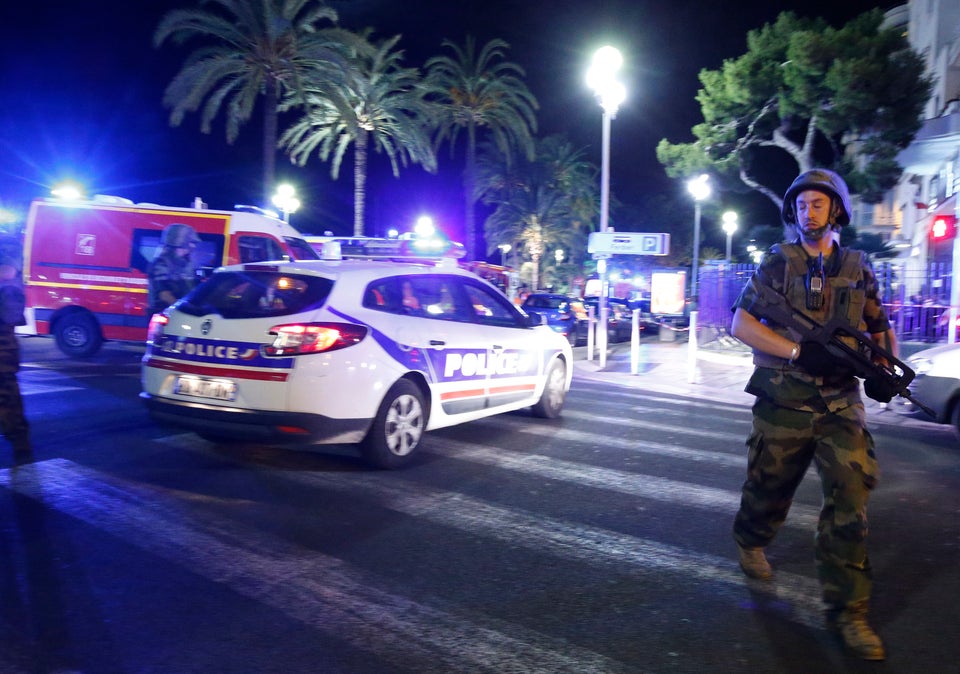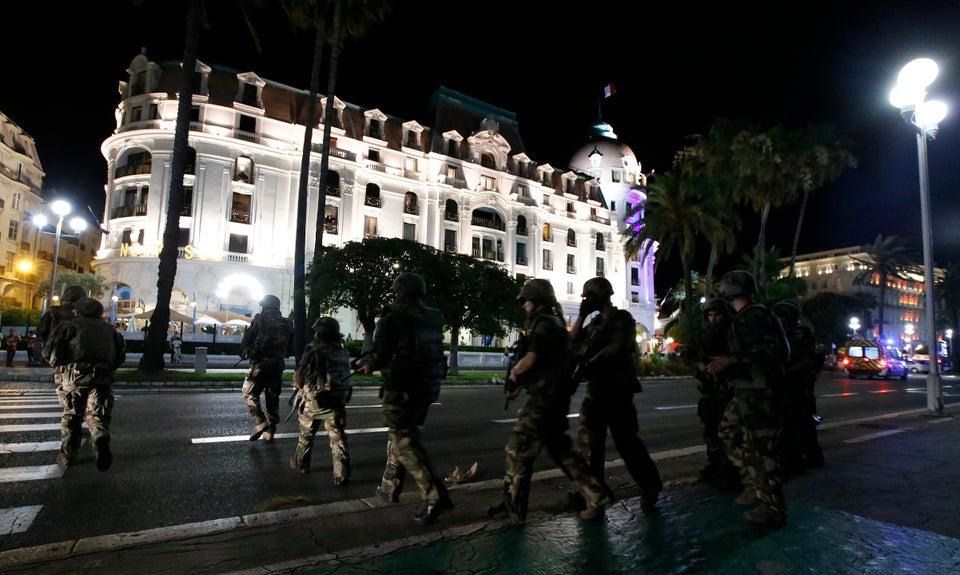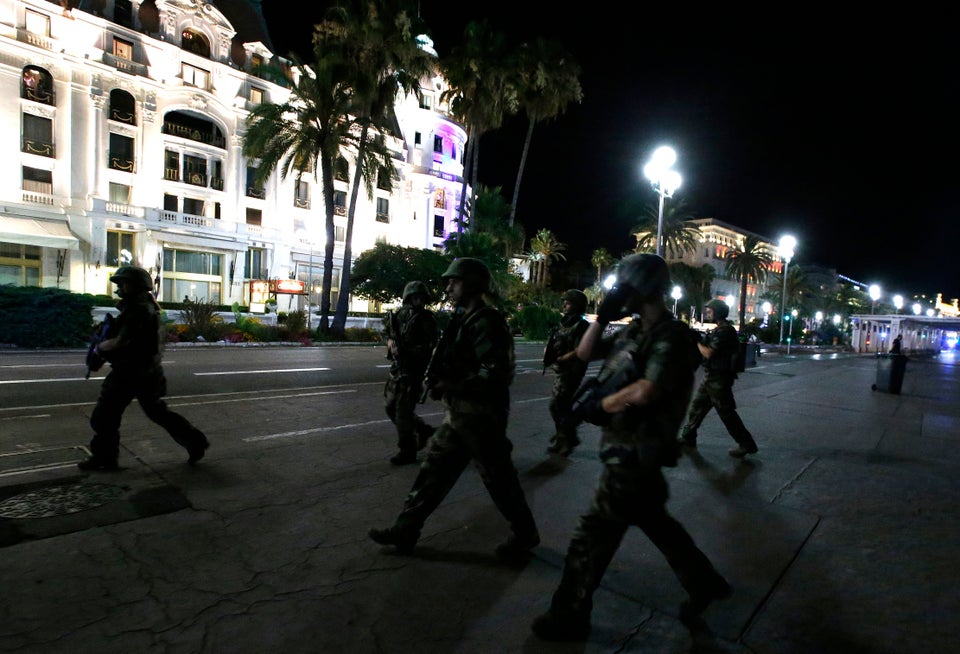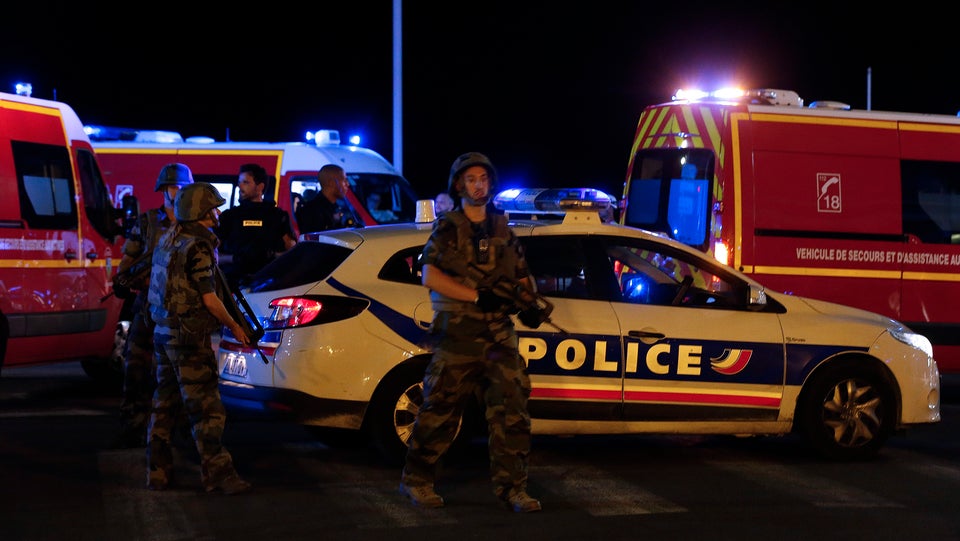 Related