Nick Clegg and Miriam González Durántez have spoken in public for the first time about their teenage son's battle with cancer.
The former deputy prime minister and his wife told ITV's Lorraine programme this morning about how their 14-year-old son Antonio was diagnosed with Hodgkin's Lymphoma in September 2016.
González Durántez and Clegg took Antonio to the doctor after finding a "very small lump" on his neck.
After the diagnosis, Clegg said: "Certainly if you are unfamiliar with it, as we were, and your initial reaction, I think, we found, was like any mum and dad, it's irrational, but you just have this almost physical wish to try and take it off your kid and take it yourself."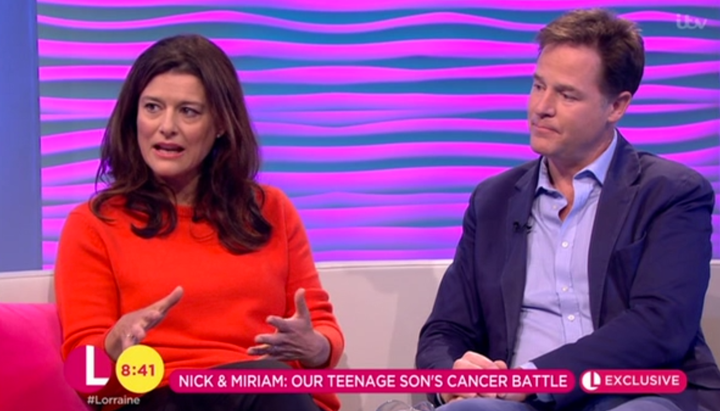 Antonio is now in remission and his parents used the interview to raise awareness for charity Bloodwise.
González Durántez added: "Eventually you realise that there is not so much that you can do as a parent, the only thing you can do is be there for him and some of these treatments are very tough.
"This is precisely the research that Bloodwise does to try to target the treatment, to try to make it as gentle as possible and also to try to limit the side effects because some of these treatments can be very toxic in the long term."
Clegg, who lost his seat at the election, said his son's illness put politics into perspective.
"You have got your work and you've got all sorts of other things going on in your life but when something like this happens it just becomes the sole principle, objective, just to make sure he is better," he said.