Nicola Sturgeon has published her tax return, saying she will continue to do so every year while she is in office, as David Cameron tries to defuse an argument about his own finances.
Over the weekend, all four main party leaders in Scotland published their returns amid an argument over how publicly accountable politicians should be for their finances.
It comes amid the storm over Mr Cameron's connections to the offshore fund of his father, revealed in the recent 'Panama papers' leak.
The accounts also show he received £200,000 from his mother in a potential bid to avoid inheritance tax on money his father left him.
On releasing her return, Ms Sturgeon said: "There should be a presumption that if you earn money in this country, you should pay tax on that in this country.
"I'm going to continue to argue very strongly for reform of tax avoidance."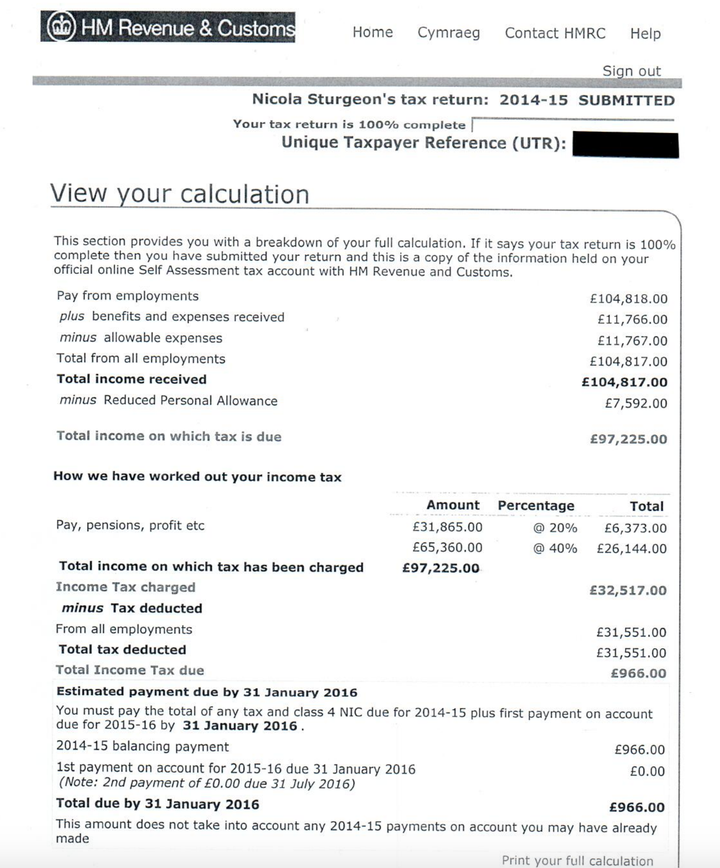 Ms Sturgeon's tax return shows she pays tax on the full salary she is entitled to, but only draws her salary at its 2008/09 level.
The rest is automatically paid to the Scottish Government for use in "general public spending" according to the SNP. She and her predecessor Alex Salmond have foregone £20,000 in salary since 2009, she said.
In 2014/15, Sturgeon paid around £3,000 to the public spending fund.
Scottish Lib Dem leader Willie Rennie also published his returns on Sunday, while the Tories' Ruth Davidson and Labour's Kezia Dugdale published theirs on Saturday.
Ms Dugdale said: "There is an obligation on all of us who seek to serve the public to be transparent.
"Not since the MPs' expenses scandal has there been such palpable anger at the sense of unfairness at the heart of our society.
"Politicians need to not only play by the rules, they need to be seen to be playing by the rules."
Mr Rennie said: "Compared with certain other party leaders my tax returns are rather dull, but here they are anyway."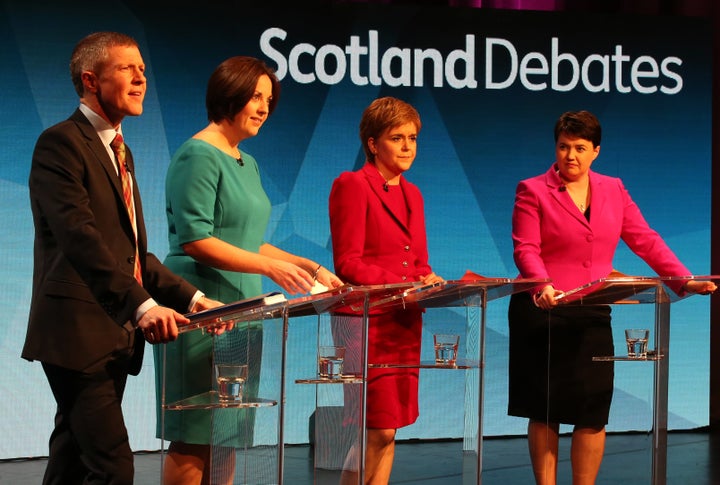 He told Andrew Marr: "I think we are moving in that direction, I think it's probably a good thing if we move generally in that direction so everybody knows what influences are at play.
"I think we need to consider how far it goes, how far it goes to other people involved in public life."
The SNP is calling on Cameron to publish a statement detailing whether or not any of his ministers benefitted from offshore tax funds, after questions were asked over whether Chancellor George Osborne had done so.
The BBC quoted a Treasury source who said: "We have been clear that the chancellor has never had any offshore shareholdings or other interests.
"His income and interests are straightforward and declared publicly: his salary, rental income from a property in London and a shareholding in his father's firm, Osborne and Little.
"He is always happy to consider ways to offer even more transparency."
Popular in the Community